EXI(s)T 2013: The Artists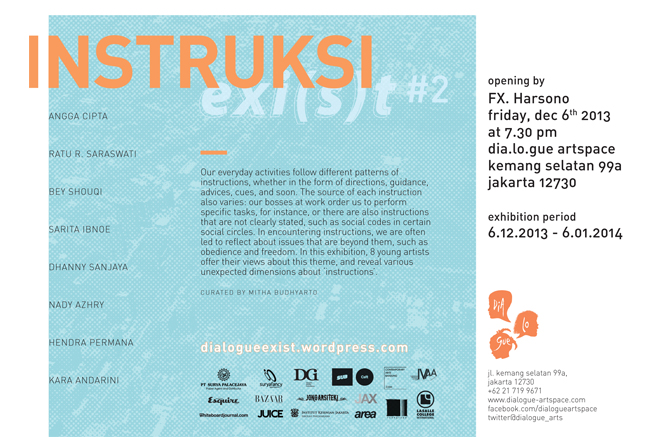 It is not easy to make as an artist in Jakarta, especially for young artists who are at the beginning of their career. However, despite the hurdles, there are communities as well as institutions that are very supportive towards various artistic endeavours.
Dia.Lo.Gue Artspace's annual exhibition, EXI(s)T, is one concrete example of a platform that welcomes the fresh ideas of budding artists based in Jakarta. But the most appealing feature of this exhibition lies in the process that precedes it. The goal is to let the participating artists explore their ideas with the guidance of established artists and curators.
This year, EXI(s)T will exhibit the works of the following artists from December 6, 2013 until January 6, 2014:
– Angga Cipta
– Bey Shouqi
– Dhanny Sanjaya
– Hendra Permata
– Kara Andarini
– Ratu Saraswati
– Nady Azhry
– Sarita Ibnoe
For more information, please visit EXI(s)T's blog.