Visions of Mundane Madness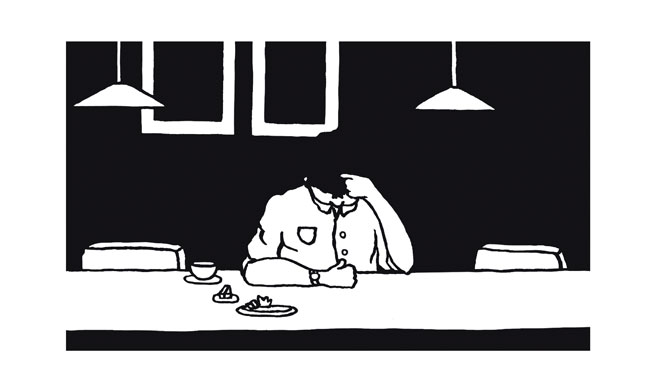 Nowherelandian Launches Visions of Mundane Madness: Drawings and Poems by Andri Nirmala and Dwiputri Pertiwi
Nowherelandian is a self-publisher based in Jakarta, Indonesia. Following the 2014 release of Hiatus, the independent unit will release its second publication, Visions of Mundane Madness, a collection of 50 drawings by illustrator Andri Nirmala and 50 poems by Dwiputri Pertiwi.
The idea behind Visions is summarized by the excerpt of the introduction below.
We begin with seeing, but we will eventually pick up our pens so that we can arrive at the end with more than two pairs of tired eyes. The hand-drawn pictures contained in this book are visual playgrounds. They were made to show you what we have seen, what we do not wish to see, as well as what we hope to see. But we also invite you to see through and around them: we would like you to show us what you see in them. The poems you will find here are our own attempt to reshape those things and non-things we have encountered in our waking hours and our dreams. Each line and the verses they amount to are just another way of seeing, of opening our eyes to the world through the enigmatic mechanism of language.
The essence of this book is interpretation. The first step requires converting both real and hypothetical experiences into pictures. These pictures will then become various combinations of symbols—chains of words, rows of sentences—that dictate the second stage of conversion. Layers and layers of meaning are added in the process.
To introduce the book, Nowherelandian would like to invite all appreciators of visual art and poetry to the following launching event:
Nowherelandian Presents: Visions of Mundane Madness by Andri Nirmala and Dwiputri Pertiwi
Date and Time: Sunday, September 13, 2015 at 16:30
Venue: Opah Mami
The Promenade, Lot 10
(Behind Ace Hardware Pejaten)
Jl. Warung Buncit Raya No. 98
Jakarta Selatan
www.nowherelandian.com
nowherelandian@gmail.com
Details
• A brief presentation of the book by the authors
• Performances by Mallaka and Pandu Priyanto
• Copies of Visions of Mundane Madness will be available for purchase Rp. 150.000
• Free entry
• Food and beverages will be provided