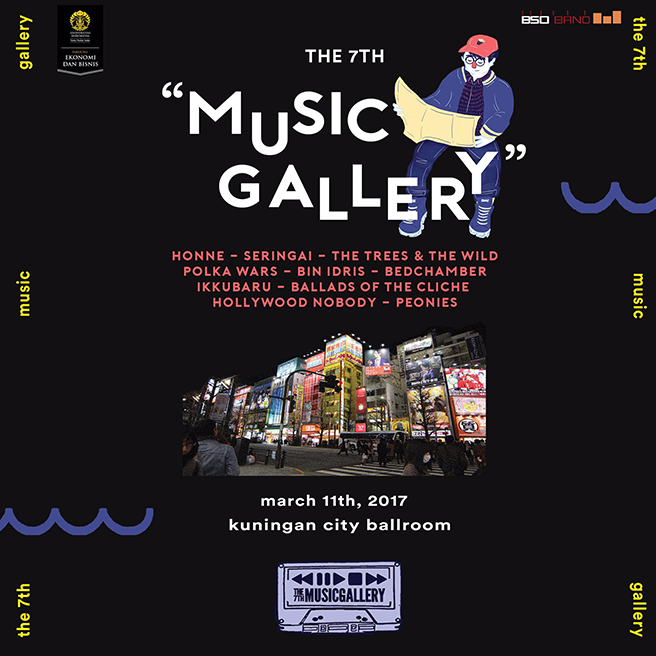 Ajang musik tahunan dari BSO Band, Fakultas Ekonomi dan Bisnis Universitas Indonesia kembali hadir di awal bulan Maret ini untuk yang ke-7 kalinya. Mengangkat deretan band indie dari Indonesia, festival ini tidak hanya menampilkan suara baru bagi pecinta musik, tapi juga menjadi wadah ekspresi bagi mereka yang ingin memperkenalkan musik.
Mengangkat tema "Urban," dalam episode kali ini Music Gallery berupaya untuk menggambarkan keselarasan dalam batasan yang ada antara musik, seni dan festival. Bertindak sebagai melting pot, ajang inipun menawarkan hiburan bertaraf internasional dengan adanya musisi dari luar negeri, seperti Tahiti 80, Panama dan Last Dinosaurs. Dan, pada kesempatan kali ini, Music Gallery akan menampilkan Honne sebagai special act di antara Bin Idris, Peonies, Trees and the Wild, Goodnight Electric dan band lokal lainnya.
Terkait tema urban, vinyl pun sebagai salah satu tren yang kembali menyentuh skena musik dan tepatnya para millennials. Di sini, Music Gallery mengajak pecinta piringan hitam untuk bertemu dan saling tukar referensi. Selain musik, terdapat pula pameran mural yang akan melengkapi pengalaman musik layaknya indoor block party serta ada pula workshop interaktif yang menghadirkan sosok kreatif dari beberapa subkultur.
Tiket Music Gallery tersedia secara online di website serta aplikasi smartphone Go-Tix dan Kliring.
11 Maret 2017
Kuningan City Ballroom
http://www.the-musicgallery.com/