Sri Harunaga Trio Live at Salihara Jazz Buzz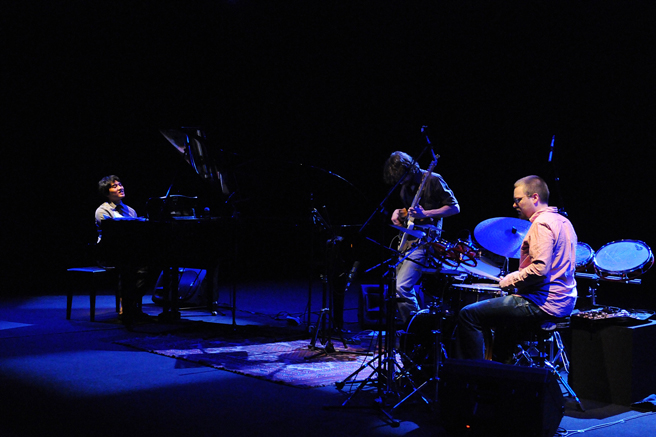 So there I was, at my first jazz concert since my return from my European adventures. And as far as introductory shows go, this one was a pretty good start. A Netherlands-based jazz trio comprising of an Indonesian (Sri 'Aga' Hanuraga on piano), an Italian (Mattia Magatelli on bass) and a Slovenian (Kristijan Krajnčan on drums), was apparently just what the doctor ordered. The Sri Hanuraga Trio were the third performers of Teater Salihara's Jazz Buzz event, which ran from 26 January up to 9 February 2013.
The set opened with Aga's personal ode to McCoy Tyner, John Coltrane's pianist at the height of his career (1960-1965). And a beautiful avant-garde tribute it was too, with Mr. Hanuraga concocting 'a blues that is not a blues', capturing the essence of the legendary pianist perfectly. The second and third compositions of the first half, two of Aga's personal compositions, were less to my liking as it delved more into jazzy version of classical chamber music rather than the improvisational jazz playing of the opening track.
The final two compositions to end the first half, starting with a reinterpretation of the classical traditional Javanese song Ilir-ilir were quite impressive. Bassist Mattia Magatelli temporarily utilised the cello bow for his double bass, and set the tone for the piece of music beautifully. The final piece before the break, Four In One, is of course Aga's reworking of the Thelonious Monk classic of the same name.
Being the person that I am, I managed to come in late for the second half of the show and missed the first number of the set. When I did manage to get in, Aga and his trio were in the middle of their creative rendition of John Coltrane's Countdown from his 1959 classic Giant Steps: one of the cornerstones of jazz improvisation. Unsatisfied with merely playing a jazz standard, the trio promptly followed it up with a composition heavily inspired by Sri Hanuraga's gamelan classes that he took in Holland. An untitled piece, this composition saw Aga let loose on his piano, hammering keys down with his elbows, perfectly impersonating the percussive gamelan influence without sounding over elaborated. The final two pieces, the nostalgic 'Pulang' and the swingy 'Spyros Te Dragon' rounded an impressive performance by the multi-national trio.
Despite a few tracks of the evening being perhaps a bit too rigid for my personal taste, it is very clear that Sri Hanuraga is one talented young man. While a special shout out must also be given to the older and more experienced duo of Kristijan Krajnčan's for his virtuoso thunderous drumming and Mattia Magatelli for his skilful bass playing, much props has to be given to Sri Hanuraga himself. Besides writing many of his own compositions, his skills on the piano and his sheer joy in playing his instrument (he has a nice knack of cracking a smile and having small conversations with his piano) was very much a breath of fresh air, and a boost to Indonesian jazz.