Menyambut International Museum Day bersama Museum Nasional dan RURU Corps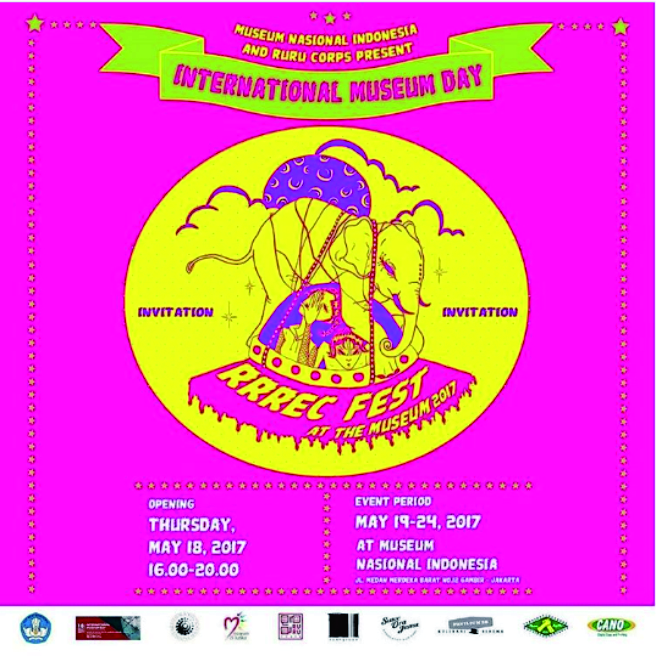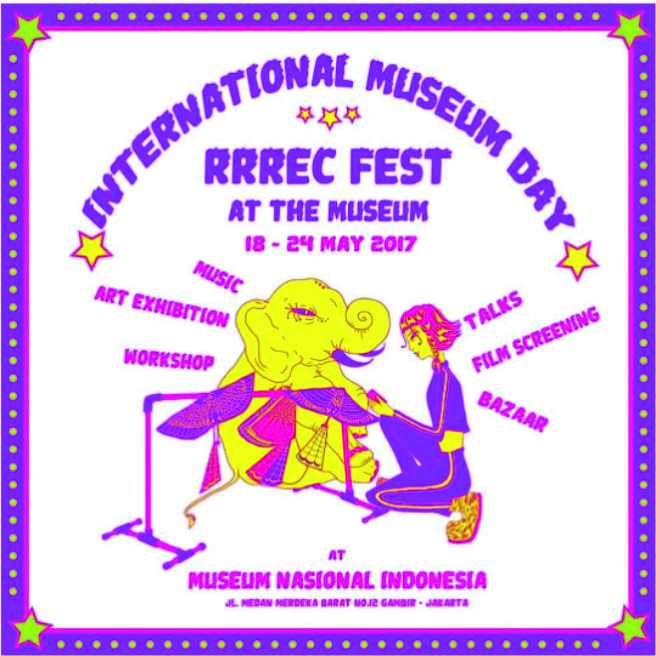 Teks oleh Ditya N. Subagja
Setiap tahun sejak 1977, tanggal 18 Mei diperingati sebagai International Museum Day. Museum Nasional adalah museum terbesar dan yang dikelola oleh pemerintah untuk menampilkan artefak dan produk kebudayaan Indonesia. Dalam waktu dekat Ruang Rupa sebagai kolektif Ibukota menjadi penampil sekaligus pengampu sebuah showcase memperingati International Museum Day dengan Museum Nasional bertajuk "RRREC Fest at The Museum 2017".
Jika sebelumnya RRREC Fest dikenal sebagai perhelatan konser musik Ruang Rupa yang beberapa tahun belakangan digelar di alam terbuka, kini kemeriahan dan keceriaan dalam RRREC Fest dibawa ke celah-celah lorong museum. Sejalan dengan tajuk International Museum Day yang digelar di seluruh dunia: "Museums as tools for creating peaceful communities" dan lewat garis besar Museums and contested histories: saying the unspeakable in museums, RRREC Fest membawa ruang museum sebagai alat untuk membicarakan nilai-nilai keseharian dan mengembalikan pengetahuan serta nilai kebudayaan sebagai alat membangun perdamaian di antara masyarakat.
Berikut adalah siaran program RRREC Fest At The Museum 2017 yang berlangsung dari tanggal 18-24 Mei 2017 di Museum Nasional:
OPENING:
Thursday, 18 May 2017 / 16.00 – 20.00
Lobby Gedung B, Museum Nasional Indonesia
Jl. Medan Merdeka Barat, No.12, Gambir, Jakarta Pusat.
Opening Program:
16.30 – 17.00 Opening Ceremony
17.30 – 18.00 Bina Vokalia Choir
18.30 – 19.30 Pasar Ilmu by Serrum, Live Printing by Grafis Huru Hara
19.00 – 20.00 DJ Sattle
20.00 – 20.30 Music Performance: Jason Ranti
18 – 24 MAY 2017 Pameran Karya "The Archive of Nowhere", menampilkan Aprilia Apsari, Cut & Rescue, Grafis Huru Hara, Kelas Pagi Jakarta, Marishka Soekarna, Serrum, The Jadugar, dan The Popo
18, 20 & 21 MAY 2017 MUSIC PERFORMANCES, lineup: A Fine Tuning Creation, Adrian Adioetomo, Bina Vokalia, Bottlesmoker, Dangerdope, Jason Ranti, Joe Million, Nona Ria, Ramayana Soul, White Shoes & The Couples Company, Music Selecta': Sattle'.
Untuk mengetahui lebih lanjut informasi mengenai program festival dapat diperoleh di:
Twitter: rrrec_fest | @MuseumNasional
Instagram: rrrec_fest | @MuseumNasional
Facebook: RRRec Fest | MUSEUM NASIONAL INDONESIA
MUSIC – ART EXHIBITION – FILM SCREENING – WORKSHOP – TALKS – BAZAAR – ART EXHIBITION "THE ARCHIVE OF NOWHERE"
---
International Museum Day (IMD) 2017: Museums as tools for creating peaceful communities. The worldwide community of museums will celebrate International Museum Day on and around 18 May 2017. The theme of International Museum Day 2017 is Museums and contested histories: Saying the unspeakable in museums.