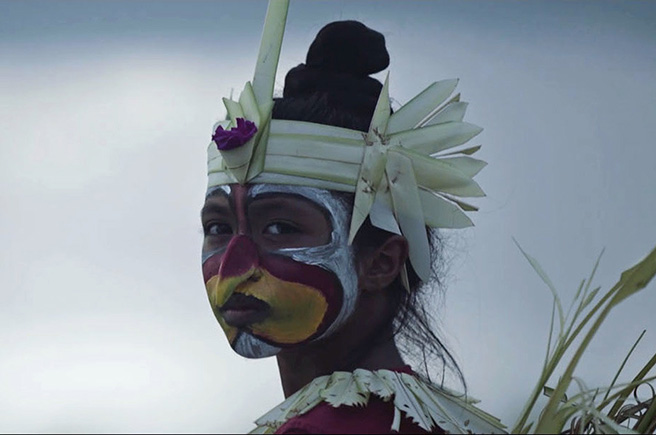 Jika sempat menungjungi Art Jog kemarin, ada sebuah karya interaktif yang mengajak pengunjung untuk merangkak ke dalam ruangan dengan instalasi sawah dan bulan berpendar. Itulah karya dari Kamila Andini bersama Ifa Isfansyah yang mengambil salah satu shot dari film terbarunya, "The Seen and Unseen." Bukan hanya itu saja kejutan yang datang dari Andini, tapi ia kembali menorehkan cerita baru, dan kali ini tidak hanya pada dunia film lokal, tapi juga internasional – tepatnya Toronto, sebab film tersebut menjadi satu-satunya film dari Asia yang akan tayang perdana dan berkompetisi dengan 11 film lainnya di dalam sesi Platform di Toronto International Film Festival 2017 (TIFF). Adapun yang membuatnya spesial adalah sesi Platform yang merupakan sesi kompetisi paling prestisius di ajang festival tersebut.
Pada film panjang keduanya ini, Andini membahas isu perempuan yang dikemas dengan cerita antara Tantri dan Tantra dalam pengalaman spiritual mereka yang sarat dengan kearifan lokal, mitos, cerita rakyat, tradisi, serta budaya Bali. Hadir dengan banyak elemen yang menempel pada isunya serta atmoster lokal, wajar jika Platform meloloskan film ini di antara jaajran film kelas dunia lainnya dari Eropa, Inggris, dan Amerika.
Diproduksi oleh Treewater Productions dan Fourcolours Films serta diproduseri oleh Gita Fara dan Ifa Isfansyah, "The Seen and Unseen" menjalani proses produksi selama 5 tahun dan mendapatkan berbagai dukungan, antara lain dari Hubert Bals Fund (Belanda), Asia Pacific Screen Awards Children's Film Fund (Australia), dan Cinefondation La Residence (Perancis) dalam proses pengembangan. Selain TIFF, film ini juga berkesempatan dipresentasikan dalam Hong Kong Asia Film Financing Forum, Filmex Talents Tokyo dan Venice Production Bridge.
Pada pemutarannya di TIFF kali, Andini akan menghadapi juri handal – Chen Kaige, Malgorzata Szumowska, dan Wim Wenders – yang akan mengumumkan pemenang pada seremoni penghargaan tanggal 17 September 2017.
Pemain dan Kru Produksi:
Pemain: Thaly Titi Kasih, Gus Sena, Ayu Laksmi, I Ketut Rina, Happy Salma
Penulis Skenario: Kamila Andini
Penata Kamera: Anggi Frisca
Penata Artistik: Vida Sylvia
Editor: Dinda Amanda, Dwi Agus
Sound: Yasuhiro Morinaga, Hadrianus Eko
Musik: Yasuhiro Morinaga