We Discuss #7: Recommended Reads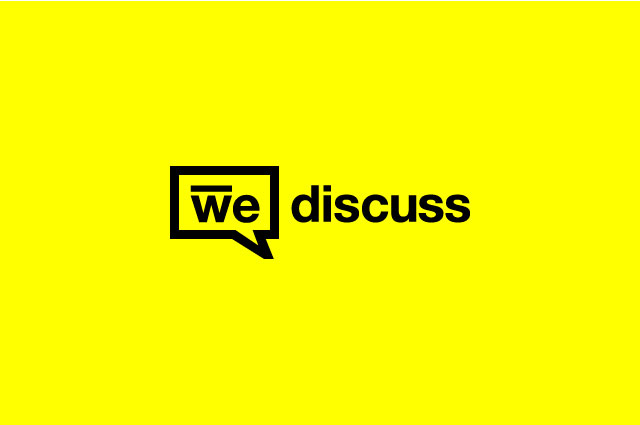 1. D. I. Y. Culture by Michael Kimmelman
"A generation or more ago, aside from what people did in their home or from what's roughly called folk or outsider art, culture was generally thought of as something handed down from on high, which the public received.
"Today it's made and distributed in countless different ways, giving not just governments and institutions but nearly everyone with access to the Web the means to choose and shape his or her own culture, identity, tribal fidelities — and then spread this culture, via Youtube or whatever else, among allies (and enemies) everywhere, a democratizing process. The downside of this democratization is how every political niche and fringe group has found a culture via the Web to reinforce its already narrow views, polarizing parts of society despite the widened horizon."
Kimmelman goes on to conclude that the "myth of an avant-garde serves the same market forces avant-gardism pretends to overthrow."
Do you agree with Kimmelman's arguments? Do you think that downsides of the democratization enabled by the D. I. Y. culture can outnumber its advantages?
2. Do-It-Yourself Education Is the Ideal by Anya Kamenetz
"It [education] must be radically affordable, near-universally accessible, diverse, and endlessly customizable to students' needs. Universities can simply get out of the way of this movement, or they can guide an increasing number of students toward self-direction by certifying and assessing prior learning and multiple paths toward mastery of a subject, and by offering learning resources, mentorship, support, and even physical meeting spaces, all at low cost and on an as-needed basis."
What are the possible challenges of movements that support "customizable education"? How achievable is it in a society that still holds on to conventional institutional standards?
3. The Revenge of Print by Eric Obenauf
"I believe that book publishing will re-generate in the near-future into two separate models: the corporate model, which strives to attain the widest possible 'readership' in as short of a time-span as possible by use of electronic devices, interaction, and gimmicks; and the print model, sustained by independent, university, and re-branded imprints of large houses, that believe as Eggers, in reading as a 'beautiful rich tactile experience,' and who are satisfied with a book selling five thousand copies."
Apart from the old "corporate vs. indie" and "quality over quantity" argument, what are the other advantages of independent publishing (as well as other productions such as record labels, fashion labels, etc.)?
4. Making It by Evgeny Morozov
"[Mark] Hatch assumes that online platforms are ruled by equality of opportunity. But they aren't. Inequality here is not just a matter of who owns and runs the means of physical production but also of who owns and runs the means of intellectual production—the so-called 'attention economy' (or what the German writer Hans Magnus Enzensberger, in the early sixties, called the 'consciousness industry')."
Morozov suggests that the D. I. Y./Maker movement does not necessarily guarantee freedom and equality. What are your thoughts on that?
5. Making Good / The Art of Repair by Philip Ball
"Equally detrimental to a culture of mending is the ever more hermetic nature of technology. DIY fixes become impossible either physically (the unit, like your MacBook lead, is sealed) or technically (you wouldn't know where to start). Either way, the warranty is void the moment you start tinkering. Add that to a climate in which you pay for the service or accessories rather than for the item – inks are pricier than printers, mobile phones are free when you subscribe to a network – and repair lacks feasibility, infrastructure or economic motivation."
"Some feel this is going to change — whether because of austerity or increasing ecological concerns about waste and consumption. Martin Conreen, a design lecturer at Goldsmiths College in London, believes that TV cookery programmes will soon be replaced by 'how to' DIY shows, in which repair would surely feature heavily. The hacker culture is nurturing an underground movement of making and modifying that is merging with the crowdsourcing of fixes and bodges – for example, on websites such as ifixit.com, which offers free service manuals and advice for technical devices such as computers, cameras, vehicles and domestic appliances."
Ball brings up an important point, in that he sheds light on the importance of re-creating (or fixing) rather than creating (or beginning from scratch). How do the two activities intersect, and how important are both in the D. I. Y. culture?
Event time and location:
Date
Tuesday, January 28, 2014
Time
7—9 pm
Place
Kinokuniya Plaza Senayan
(near the language section)
Jl. Asia Afrika 8
Sogo Plaza Senayan
Lt. 5
Jakarta 10270
Look out for updates on our Facebook page and Twitter account! If you'd like to share your opinions, or if you have friends who'd like to share theirs, please sign up via e-mail with the subject title "We Discuss" at contact@whiteboardjournal.com! If you have comments or questions, tweet us @wjournal.