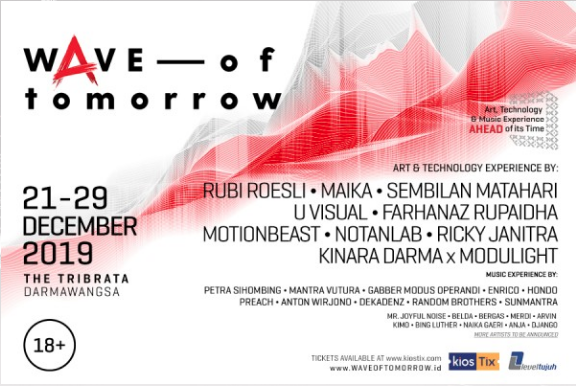 WAVE OF TOMORROW 2019
Pameran seni media baru bertajuk Wave of Tomorrow kembali membuat perpaduan atau kombinasi yang menarik antara seni, teknologi, dan medium musik. Dimana WoT (Wave of Tomorrow) berangkat dari sebuah pengakurasian antara perkembangan seni dan teknologi baru yang kemudian dikembangkan. Sehingga pameran karya seni mampu beradaptasi dan menjadi relevan juga up to date. Selain itu, ruang karya yang cukup, memudahkan para kreator semakin menumbuhkan kreasi seni yang lebih luas.
Wave of Tomorrow (WoT) hadir sebagai ruang pameran seni media baru yang memadukan karya-karya seni kontemporer, unsur teknologi, sekaligus pertunjukan musik. Sambutlah akhir tahunmu bersama pameran seni media baru WoT yang menampilkan elemen seni dari kreator lokal dan internasional untuk pengunjung dapat menikmati ekspresi sebuah seni.
Special Music Experience : Studiorama DJ's – Anja – Elephent Kind – Haai –  Django – Kunto Aji – Sunmantra – Bergas – Petra Sihombing – Random Brothers – Merdi – Dekadenz – Arvin – Hondo – Anton Wirjono/Future 10 – Kimo – Sal Priadi – Preach – Bing Luther – Enrico Octaviano – Maribou State – Naika Gaeri – Danilla – Mantra Vutura – Mr. Joyful Noise – Eva Celia – Gabber Modus Operandi – Belda
Spesial Art & Technology Experience by: Rubi Roesli – Maika – Sembilan Matahari – U Visual – Farhanaz Rupaidha – Motionbeast – Notanlab – Ricky Janitra
Tiket tersedia di : https://www.kiostix.com/id/event/731/wave-of-tomorrow-2