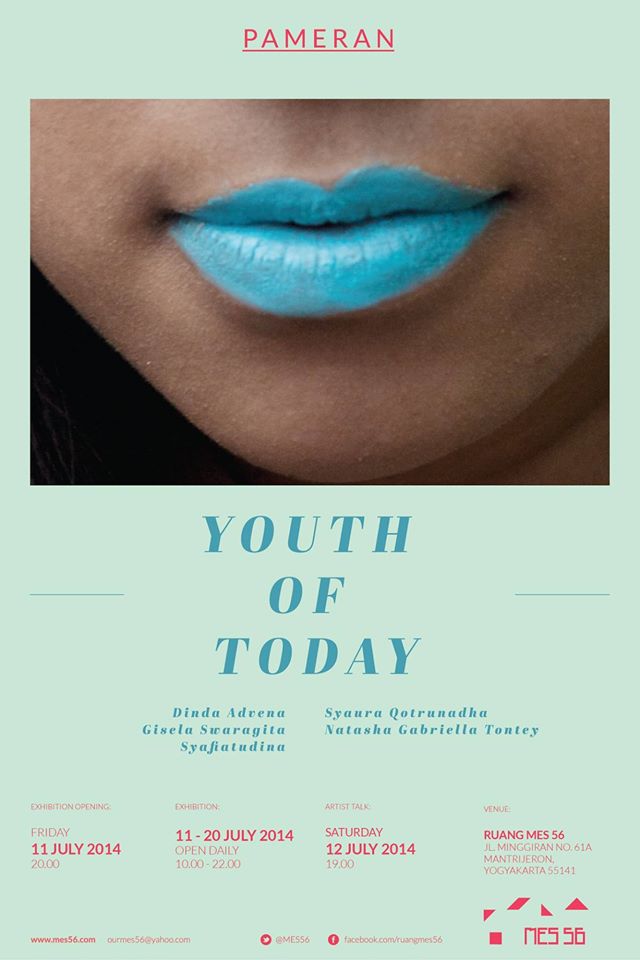 Seniman/Artist:
Dinda Advena
Gisela Swaragita
Natasha Gabriella Tontey
Syafiatudina
Syaura Qotrunadha
Pembukaan Pameran:
Jum'at, 11 Juli 2014
20.00 – 22.00
Pameran berlangsung hingga tanggal 20 Juli 2014
Artist Talk:
Sabtu, 12 Juli 2014
19.00 – 21.00
Apakah hal yang paling membuatmu gelisah? Inilah pertanyaan yang berulangkali dibicarakan oleh para peserta residensi Youth of Today di Ruang MES 56. Lima perempuan dengan latar belakang yang berbeda-beda, mengeskplorasi pengalaman dan pandangan personal mereka mengenai ruang, keluarga dan kematian. Pameran ini merupakan presentasi hasil dari proses diskusi dan mentoring yang dilakukan bersama dengan kelompok MES 56 selama dua bulan.
—
What makes you anxious? A question which is constantly being discussed by the participants of 'Youth of Today' residency program in Ruang MES 56. Five women with different backgrounds have been exploring their personal experiences and views on space, family and death. This exhibition is presented as the result of discussions and mentoring that have been conducted with MES 56 for two months.
www.mes56.com
youthoftodaymes56.tumblr.com