Burgreens
Tasty Does Not Have to Be Unhealthy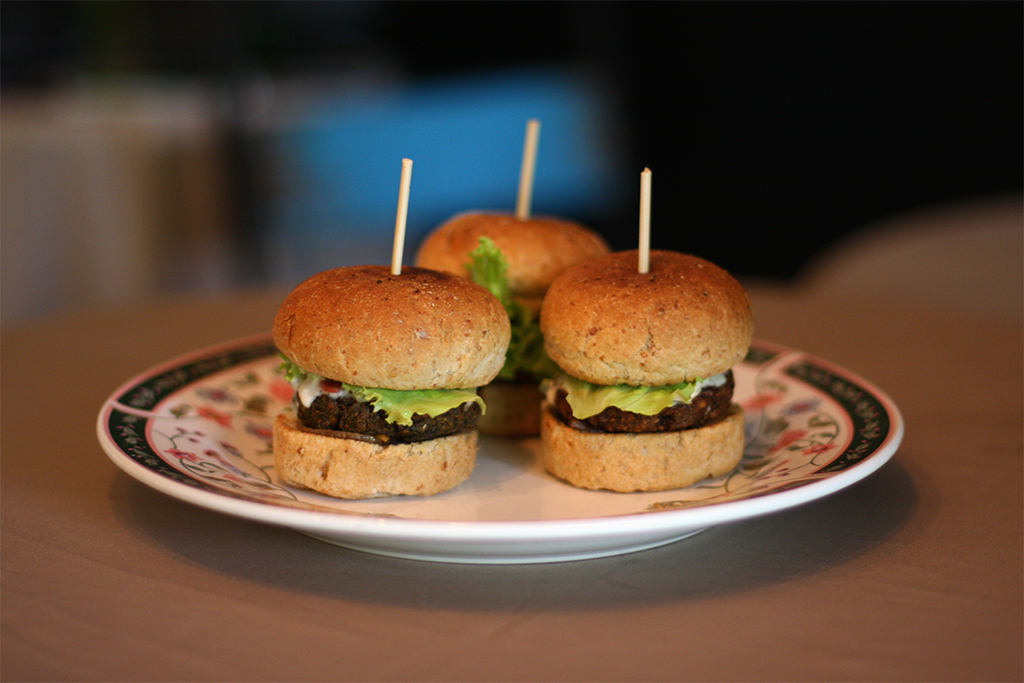 Burgers – delicious though they are – are at the top of the modern fast food culture. They are the kings of the fast food kingdom whose ingredients are often dubious. Even Aldous Huxley, the author of Brave New World, linked (ham)burgers with the passivity of society in the dystopian novel's follow-up essay. "Give me television and hamburgers, but don't bother me with the responsibilities of liberty," he wrote – expressing his concern towards the increasing passivity of humanity.
But perhaps Huxley's comment was the product of a time where burgers were exclusively made of unhealthy ingredients. Nowadays, despite the continuous distribution of greasy burgers at various fast food chains, consumers have more – and not just more, but also healthier – alternatives. These alternatives, along with the rise of the organic movement and vegetarianism, give way to a new "burger culture" that does not have to be detrimental to our health.
Burgreens, a vegetarian eatery that aims to promote the "green lifestyle," proves that burgers are not always a guilty pleasure. Located in Rempoa, the small establishment that opened in November 2013, was founded by Max Mandias and Helga Angelina. Max, the mastermind behind the restaurant's menu, creates his original recipes based on his interest and faith in the organic movement. He has read extensively on the damage that the overproduction as well of overconsumption of meat products has had on the environment, and therefore tries to reduce the destruction by focusing on developing vegetarian and vegan dishes. "We purchase our ingredients from local suppliers," noted Helga.
As a vegetarian himself, Max, the sole chef of Burgreens, is meticulous when it comes to choosing the right ingredients and spices in order to get the flavor he, and of course his customers – omnivores and herbivores alike – will enjoy. "All of my recipes are a result of trial and error," remarked Max. Despite the health benefits, vegetarian and vegan meals are often described as bland, deterring many from adopting them into their diet. The Burgreens duo wants to prove that healthy food can be delicious.
The innovative menu offered by Burgreens is indeed one of the restaurant's appeals, but Max and Helga stated that it is just one part of the concept. After returning from Amsterdam, they noticed that Jakarta has very few hangout spots other than shopping malls that are not only getting bigger, but also increasing in number. "Humans are not made to live in a box," commented Helga. Most activities in Jakarta do indeed take place indoors, but if more establishments – even those that are operating at a small scale like Burgreens – can offer alternatives that reconnect humans with nature, maybe things can change for the better.
At the present moment, Burgreens is still at the very beginning of its long journey. While there are future plans that include establishing another branch, nurturing an on-location organic garden, improving the waste management system, along with creating new recipes, Max and Helga are still concentrating on further enriching their restaurant's personal touch. They want to connect with their customers through food. And thanks to social media and good old word-of-mouth, their restaurant is slowly, but steadily attracting more visitors every day.
In this competitive age, striving for originality is a great challenge. But Max and Helga believe in the strength of their innovation as well as their plan to rely on their own organic garden. "The best way to be rebellious is to grow your own food," said Helga. Perhaps burgers are not the sign of the end of liberty after all. Huxley would have been proud.
Burgreens
Organic Eatery and Home Delivery
Jl. Flamboyan No. 19
Rempoa
For further information, visit Burgreen's website, Facebook page and follow their Twitter account.