The Scent of Surabaya's Arab Village
A tour of Surabaya's Arab Village
by Ken Jenie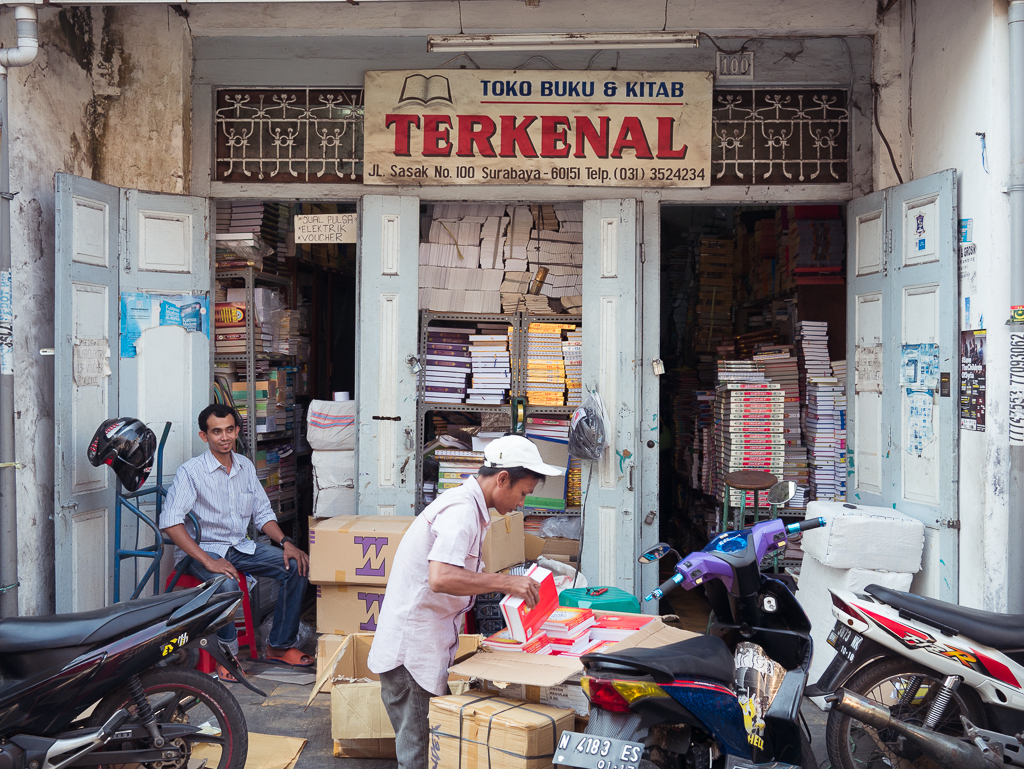 The scent of spices, fresh fish, and perfume can be smelled from Panggung Steet, one of the entryways to Surabaya's Arab Village. Roads are narrow with rows of colonial era oriental-style two-story shop buildings whose designs have been adapted to the tropical climate. Roads crowded until the late afternoon, filled with the traffic of shopkeepers of Indian descent, Chinese, Arabic; the workers (consisting of mostly of Madurese), and visitors from different corners of Surabaya – it is an interesting experience to be in the midst of the hustle and bustle.
As a pre-colonial town (721 years old), Surabaya was a central Dutch Indies port town since the 16th century, until its decline in 1930 due to the Great Depression. Surabaya has two harbors, the traditional port of Kali Mas and the modern port of Tanjuk Perak – both located in North Surabaya and was the center of the city during the colonial era. "At the beginning of the Twentieth Century, Surabaya was by population and the volume of trade the foremost city of Java. A prosperous urban economy based on foreign trade and associated services had been sustained by Decades of rapid development of plantation agriculture in the hinterland. Surabaya Grew into one of the great port cities of modern Asia. ", Wrote Howard W. Dick.
As a port town, Surabaya has a multi-ethnic population – the majority being Javanese and Madurese, as well as minorities consisting of Chinese, Arabic, and Indian descent. L.W.C. van den Berg wrote that the Arabs that have settled in the archipelago came from Hadramaut. Only a few originated from Maskat (in the Persian Gulf), Yemen, Hijaz, Egypt, and the east coast of Africa. In Java, there are six major Arab colonies, namely in Batavia, Cirebon, Tegal , Pekalongan, Semarang, and Surabaya. Arab colonies in Batavia are the largest colonies in the country. But now, the Arab Village in Surabaya is the most flourishing of them all because generations of Arab-descendants still live and work in the area, as well as continue to practice Arabic and Islamic tradition.
Surabaya's Arab Village, located in North of the city, is easily reached by public transportation, the identifying landmark being Jembatan Merah (the Red Bridge) which is still very popular. Built during the VOC-period to link the European area west of Kali Mas (Golden River) to the Arab and Chinese area east of Kali Mas. Walking across Kali Mas, which has been famous since the Majapahit era, through Jembatan Merah provided a view of the exquisite façade of the two floor buildings looking over the river. We were then greeted by the Chinatown gate, but that isn't our destination, we turn left to Panggung Street. Because the Chinese area is adjacent to the Arab Village, it is no surprise that the Chinese and Arab communities often meet and are neighborly. The Arab Village is populated by people of Arabic, Indian, Chinese, Maduranese, Javanese, and Bugis. As written by Howard W. Dick: "The city is the frontier of modern Asian society."
The smell of spices, fresh fish, and perfume guided us down Panggung Street to find Pabean Market, a surprise welcome in the afternoon. A variety of seafood and fresh water fish merchants poured into the Panggung Street because Pabean Market couldn't accommodate the large number of sellers. We were fascinated by the porters who were mostly Madurese women. Wearing Maduranese garments and rubber boots, they carried tubs full of fishes on their heads – such strength. Welcome to Pabean Market – the oldest market in Surabaya (established in 1899), and the largest traditional market in Southeast Asia.
Including porters, parking attendants, and coffee shop owners, the mostly Madurese traders offered their catch, starting with fresh fish, salted fish, and shrimp paste. After passing the hectic seafood, be ready for the scent of onions! The rows of onion and garlic made these eyes water. There are also spice shops here where you can purchase cinnamon, cardamom, ginger, pepper, nutmeg, and cumin by the ounce. On the right wing of the market there are vegetable, pork, and grocery stalls that operate from dawn until noon. On the left are Muslim clothing shops that open late. It is a festive Market.
Back to Panggung Street. After the smell of fresh fish and spices, a fragrant smell greets us from a perfume shop adjacent to the seafood stalls. In one of the alleys leading to Kali Mas is a coffee shop packed with regular shoppers. With a small amount of money we bought a cup of robusta boiled with spices. Continuing down an alleyway heading to North Kalimas Street, we see a watchtower decorated with logos from the early-years of Surabaya – a parallel shark and crocodile (not fighting like many know today). On the banks of Kali Mas, a row of warehouses were still being used, trucks delivered goods, while a number of Madurese families now inhabit neglected colonial buildings. We entered Kalimas Udik Street, momentarily enjoying the peaceful and clean Arab neighborhood before heading to KHM Mansyur Street, which was busy with motor vehicles and pilgrims.
Along KHM Mansyur Street are a number of Middle Eastern and Madurese food stalls that are guaranteed to be delicious. Also apparent is a two-floor colonial style hotel whose façade is painted white and light green called Hotel Kemajuan. An icon of KHM Mansyur Street, Hotel Kemajuan was established in 1928 by Al-Ershad Foundation, who also built a hospital and school in the area. Also present were Arabic grocery stores selling goods imported from the Middle East such as cosmetics, honey, camel milk, olive oil, cumin oil, and zam-zam water. We had to put off eating roasted goat because we did not want to miss visiting the shops in Jalan Sasak, which were mostly open until 4 o'clock in the afternoon and closed on Sundays. The best time to visit Surabaya's Arab Village is Monday through Saturday, all year round!
Sasak Street is one of the Arab Village's centers of economy, with a large number stores in a two-story colonial-style building selling Islamic holy books, hajj souvenirs, perfume mixes, and Muslim accessories. Shop signs are hand painted, giving a feeling of nostalgia when visiting shops such as "Terkenal" , "Menara Kudus", "Nun", "Mesir", "Dar Ibn Aboud". Other than shops, which has been there for three generations, Sasak Street hold historical stories that are noteworthy, one of them the story of Abdul Kadir, an Arab descendant who formed Orkes Melayu Sinar Kemala, the biggest Indonesian orchestra in the 1960s.
It is impossible to miss Ampel Suci Alley, which is one of the entry points to Ampel Mosque – the center of pilgrimage of Sunan Ampel. Along the alley is Gubah Market, which sells a variety of Muslim equipment and accessories, accompanied by the melodies of nasheed and lute pieces from the music vendors' stereos. Leaving fragrant smell of Gubah Market and Sasak Street, we entered Ampel Melati Alley to find rows of houses with bamboo curtains covering doors and windows, as well as children of Arab descent who had just finished practicing reciting the Quran. Entering Ampel Lonceng Alley we found the home of AR Baswedan – a nationalist, journalist, and the chairman of the Indonesian Arabic Party.
Interestingly, the dozens of alleys in Surabaya's Arab Village all point towards the Ampel Mosque. Wallking down the alleys which seemed labyrinthine, we greeted the friendly locals, and enjoyed the many oriental, art deco, the Empire Style, de Stijl, jengki, and Malay-style buildings. Once we were satisfied with exploring the village, it was time to taste traditional drinks found in the jamu (herbal drinks) shop called "Kantil", which served a variety of homemade herbal drinks to accompany the Middle Eastern snacks sold along the street such as roti Maryam, samosas, martabak, kue lumpur rempah, and pukis arab. Let us end this trip by tasting the delicious nasi kebuli, kambing kecap, and date juice in the ground floor of Hotel Kemajuan.