"Ideas For a New Art World": Sebuah Kritik dari The White Pube Terhadap Ketidaksetaraan Dunia Seni di Inggris
"If I were Tate, I would simply remove my racist paintings."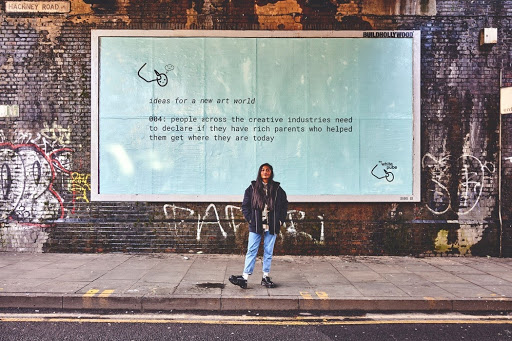 Teks: Ratu Intan Mutia
Foto: Dazed/The White Pube
The White Pube yang merupakan identitas kolaboratif dari dua penulis dan kurator sangat terkenal sebagai suara baru dalam kritik seni di Inggris. Hal ini pernah dibuktikan saat Zarina Muhammad dan Gabrielle de la Puente melakukan aksi protes terhadap mural rasis Rex Whistler untuk dihapus pada platform online Tate. Kini, keduanya beraksi kembali dengan menyuarakan pemikirannya untuk dunia seni yang lebih adil dan menempelkannya di papan reklame di London dan Liverpool. 
Proyek ini merupakan bagian dari sebuah platform yang dipimpin oleh grup media BUILDHOLLYWOOD bernama Your Space or Mine. Akan berlangsung selama tiga bulan, perubahan karya seni pun akan dilakukan setiap dua minggu. Menurut Muhammad dan de la Puente, aksi ini menampilkan poster dan baliho yang membahas beberapa ketidakadilan dan ketidaksetaraan sistemik dalam dunia seni sembari memberikan saran juga cara untuk memperbaikinya. Beberapa saran atau "ideas for a new art world" yang tertulis pada papan iklan berbunyi seperti, "Universal Basic Income and affordable housing so that everyone, including artists, can make a living", "Curators should ask the public to see what they think galleries and museums should be used for", dan "Dear museums, give back all stolen objects".
Mengutip dari Dazed, Muhammad berkata bahwa ia tidak yakin bahwa pihak Tate akan menindaklanjuti mural dari Rex Whistler secara serius dalam waktu dekat. Meskipun begitu, ia tetap ingin mengucapkan kata-kata mutiara kecil seperti yang tertulis di papan iklan sebagai solusi sederhana dan layak. Muhammad pun menambahkan hal ini dilakukan karena untuk membuktikan betapa mudahnya solusi jika perubahan dicari dengan tulus. 
"They're not finite solutions, they're just starting points – the art world wouldn't be fixed if those six things were reality. We chose those six because they were the easiest, the most simple ones, fully bare minimum because the bar is in hell," tutur Muhammad.