Michelin Rancang Ban Tanpa Angin, Kurangi Produksi Limbah Tahunan
Langkah untuk mengurangi efek samping lingkungan dari mobil pribadi.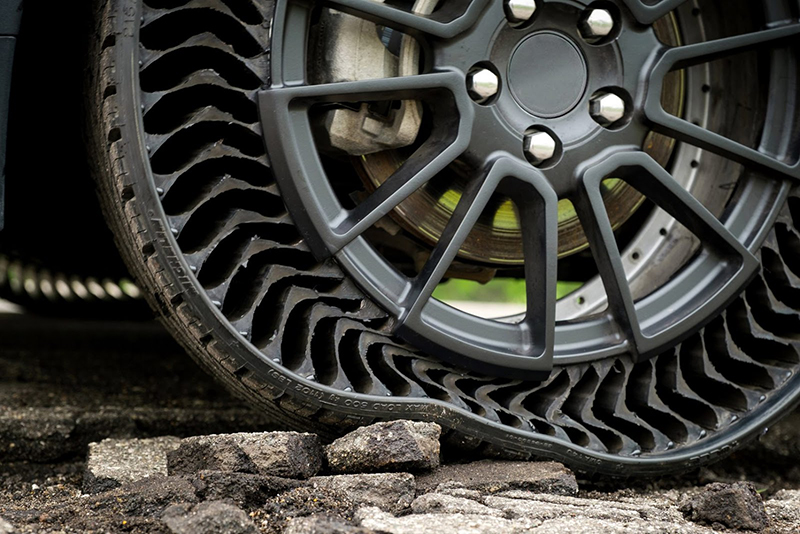 Teks: Wintang Warastri
Foto: Michelin
Efek samping lingkungan dari kendaraan pribadi ternyata tidak hanya dalam bentuk polusi udara, namun juga lewat komponen-komponennya yang pada akhirnya harus rutin diganti. Berusaha memberikan solusi terhadap problem ini adalah Michelin dan General Motors, lewat rancangan ban tanpa angin yang nantinya diharapkan dapat mengurangi limbah ban bekas sebanyak paling tidak 200 juta buah per tahun. Dinamakan UPTIS atau Unique Puncture-proof Tire System, diharapkan ban tersebut dapat mulai berjalan pada 2024.
Riset kerjasama antara kedua perusahaan otomotif tersebut diumumkan dalam Movin'On Summit di Montreal, sebuah konferensi tentang sustainable mobility. Tahap selanjutnya adalah untuk menjajal ban tersebut pada mobil elektrik buatan GM Chevrolet Bolt. Michelin juga menganggap nantinya inovasi ini akan dapat digunakan untuk segala jenis kendaraan, tidak hanya mobil perkotaan. "The vehicles and fleets of tomorrow – whether autonomous, all-electric, shared service or other applications – will demand near-zero maintenance from the tyre to maximise their operating capabilities," ujar Michelin.
Menggunakan material karet komposit dan high-strength fibreglass berunsur resin, UPTIS didesain dengan konstruksi internal yang kompleks dan suportif sehingga tidak lagi memerlukan pengisian angin ke dalam ban. Ketangguhan material membuat Michelin menyatakan bahwa ban ini akan hampir tidak membutuhkan perawatan, yang nantinya akan mengurangi kebutuhan jumlah produksi ban utama maupun cadangan. UPTIS merupakan pengembangan dari inovasi lainnya yaitu Tweel, teknologi sejenis namun baru dapat mengampu sebagian dari beban kendaraan.