Koleksi Virgil Abloh Untuk Louis Vuitton FW21 Dihadirkan dalam Aksi Teatrikal yang Mengkritik Dunia Tempat Kita Hidup
Dengan adegan-adegan yang merujuk pada esai James Baldwin berjudul "Stranger in the Village".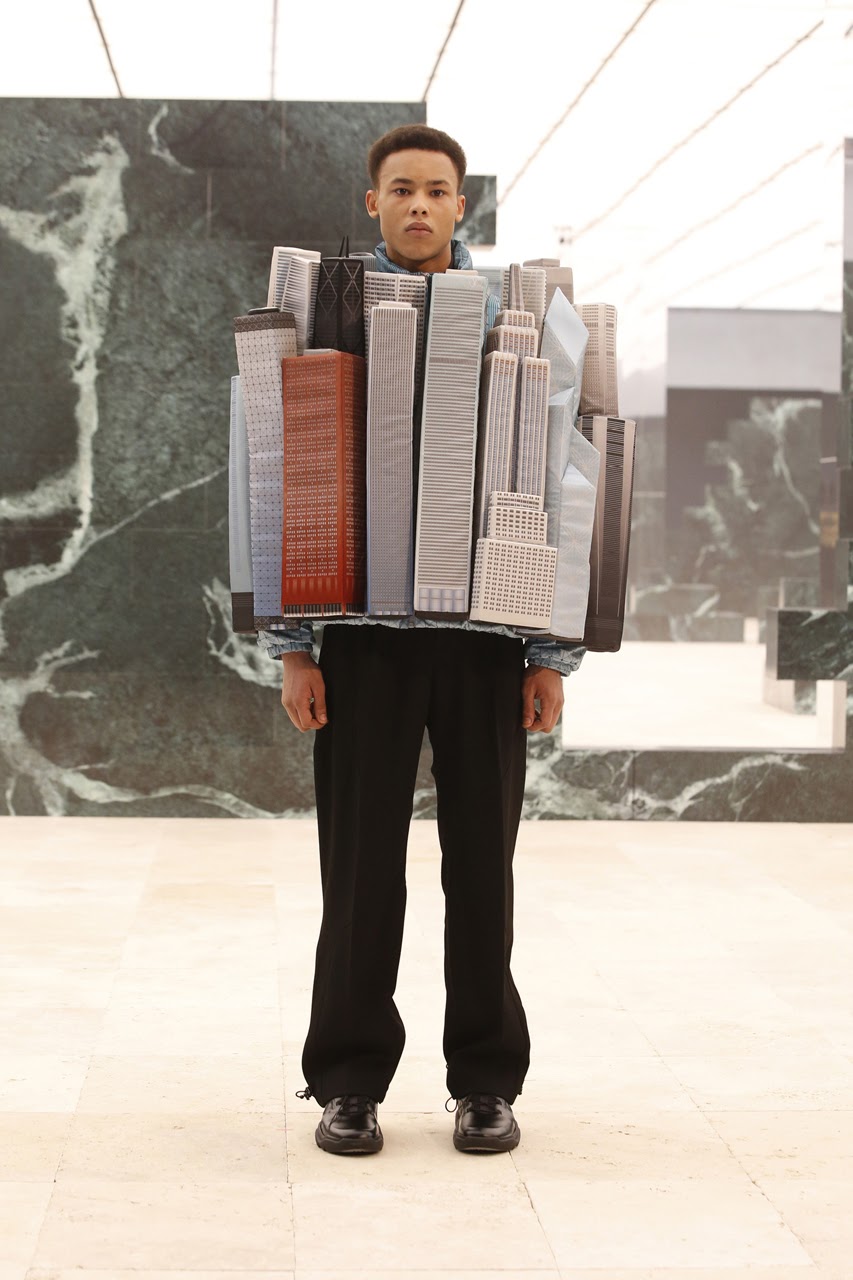 Teks: Ratu Intan Mutia
Foto: Hypebeast/Louis Vuitton
Pada 21 Januari 2021 kemarin, Virgil Abloh telah mempersembahkan koleksi terbarunya untuk Louis Vuitton. Koleksi pakaian yang disebut "Ebonics / Snake Oil / The Black Box / Mirror, Mirror" ini merupakan persembahan untuk Fall/Winter 2021. Pertunjukan dimulai dari pemandangan lereng bukit di Swiss dan menampilkan Saul Williams yang mengenakan pakaian formal terbaru Louis Vuitton bersama salah satu item unggulan musim ini: chrome monogram trunk bag.
Pertunjukan kian berlanjut, pemandangan pun berubah menjadi ruangan yang diterangi cahaya di Tennis Club de Paris. Ruangan ini dipenuhi dengan struktur marmer hijau monolitik dan menjajarkan model yang dihiasi warna favorit musim ini, yaitu hijau. Adegan-adegan yang ditampilkan merujuk pada esai James Baldwin berjudul "Stranger in the Village". Esai ini mencatat keseharian penulis di desa Swiss dan kehidupannya di Amerika sebagai pria Afrika-Amerika. Pertunjukan yang terinspirasi dari esai Baldwin ini dibagi menjadi tiga babak yang diekspresikan melalui tarian, seluncur es, puisi, dan skenografi. Di luar struktur, model berjalan di sekitar patung dengan beberapa berbaring di lantai, di dinding, atau duduk di kursi Barcelona ikonik Mies van der Rohe dan Lilly Reich.
Bersamaan dengan ini, Williams berkeliling mencatat nama-nama tokoh budaya utama, sebelum transisi suara menjadi jazz dan bass di tangan Yasiin Bey. Singkatnya, presentasi tersebut mencoba meneliti tentang "the presumptions we make about people based on the way they dress: their cultural background, gender, and sexuality." Pesan ini menjadi lebih jelas ketika potongan-potongan dalam koleksi menjadi semakin diteliti. Kata-kata mutiara yang diciptakan oleh seniman konseptual Lawrence Weiner berbunyi, "YOU CAN TELL A BOOK BY ITS COVER", "THE SAME PLACE AT THE SAME TIME", "SOMEWHERE SOMEHOW," dan terminologi "Turis vs. Purist" Abloh terdapat di beberapa koleksinya. 
Berbicara tentang koleksinya, Abloh berkata, "Within my practice, I contribute to a Black canon of culture and art and its preservation. This is why, to preserve my own output, I record it at length." Simak lebih dekat koleksi runway lengkap di bawah ini.