Tiny Studio dan The Store Front Luncurkan Merchandise yang Menyentil Kecilnya Royalti Digital Streaming
Membahas penundaan pertunjukan musik, kecilnya royalti digital streaming, dan lain-lain.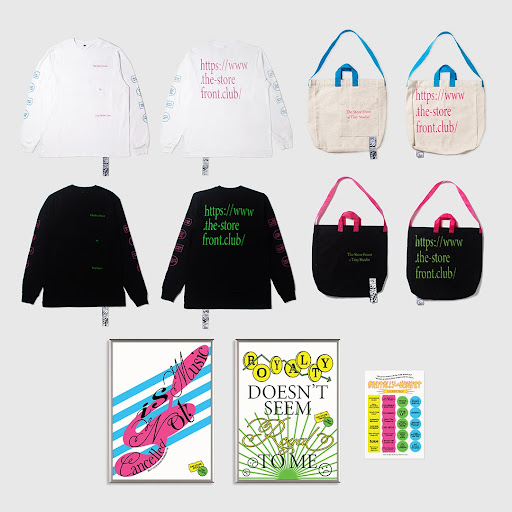 Teks: Deandra Aurellia
Foto: Tiny Studio/The Store Front
Kanal distribusi musik independen The Store Front bergabung dengan studio desain asal Jakarta, Tiny Studio untuk meluncurkan sebuah koleksi merchandise. Koleksi tersebut mengekspresikan keresahan hingga kegelian atas fenomena industri musik lokal mulai dari eksploitasi angka royalti bagi musisi independen serta tren musik bedroom-pop yang belakangan ini sedang ramai.
Koleksi tersebut melahirkan dua buah poster, sticker pack, tote bag, dan baju lengan panjang dalam dua warna.
Dua poster yang dikeluarkan hadir sebagai pernyataan sikap dari koleksi ini, dimana grafik dengan nuansa eksperimental digabung dengan dua buah kalimat yang mengingatkan bahwa meski pertunjukkan musik sedang tidak bisa digelar, musik itu sendiri tidak sedang ditunda, serta perasaan miris melihat royalti yang diberikan oleh digital streaming platforms yang tidak ada royal-royalnya untuk sebagian besar musisi.
Sticker pack juga didesain secara blak-blakan dalam mengejek industri musik lokal, diisi oleh ekspresi umpatan, sindiran, dan sedikit pujian terhadap tren musik lokal dengan kesadaran bahwa sasaran ejekan juga ada di mereka sendiri.
Baju lengan panjang melanjutkan fungsi stiker dengan menghiasi bagian lengan menggunakan kalimat dari sticker pack, dipadukan dengan teks simple di depan dan belakang bertuliskan halaman situs The Store Front.
Produk tote bag didesain secara khusus untuk memberikan fungsi tambahan bagi para kolektor plat sebagai pengangkut piringan hitam yang baik dengan kantong dalam yang cocok untuk membawa plat berukuran 12 inci dan kantong luar untuk plat 7 inci. Di luar itu, tote bag ini juga tetap didesain agar cocok digunakan untuk berbagai fungsi lain, seperti belanja harian ataupun jalan-jalan.
Koleksi kolaborasi ini sudah tersedia dan bisa dibeli melalui situs The Store Front dan Tiny Studio di www.the-storefront.club dan www.tttinnyyy.com.