100 Hari Telah Berlalu, NASA Rilis Gambar Pemandangan di Mars
Spacecraft seukuran mobil ini telah menangkap lebih dari 75.000 gambar dari Mars.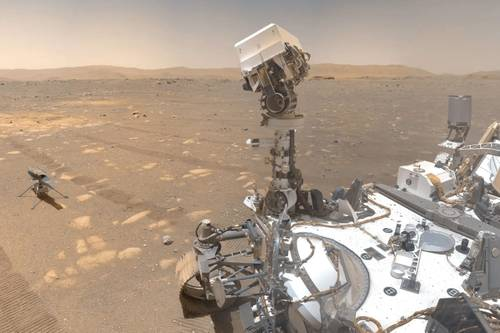 Teks: Hanindito Buwono
Foto: NASA
Perseverance Rover milik NASA akhirnya sudah hidup selama 100 hari dalam waktu Mars. Setelah melalui perjalanan kurang lebih 203 hari dan menempuh jarak lebih dari 293 juta mil, spacecraft seukuran mobil ini mendarat di kawah Jezero Mars pada 18 Februari 2021. Semejak itu, Perseverance Rover telah menangkap 75.000 gambar serta merekam suara pertama dari planet yang berwarna merah tersebut.
Akun Twitter dari Perseverance Rover memperingati hari bersejarah dengan tweet berisikan semua pencapaian yang sudah dilakukan oleh spacecraft tersebut.
100 days (sols) on Mars, and feeling productive:

✅ Tested all cameras & instruments
✅ Returned 75,000+ pics
✅ Deployed #MarsHelicopter & captured its flights
✅ Recorded sounds of Mars
✅ Extracted oxygen from atmosphere
✅ Started south to first exploration zone

Onward. pic.twitter.com/ER5vWebqpb

— NASA's Perseverance Mars Rover (@NASAPersevere) June 1, 2021
Tujuan misi kali ini adalah untuk mencari tanda-tanda kehidupan purba di Mars dan juga mengumpulkan sampel batuan serta "Regolith" (pecahan batuan dan tanah) untuk bisa dibawa ke bumi agar bisa diteliti lebih lanjut.
Perseverance Rover dilengkapi dengan teknologi yang canggih, salah satunya "Mastcam-Z", sebuah alat yang digunakan untuk menganalisa komposisi kimia, dinamika lingkungan, pemetaan radar, dan piawai untuk mengubah kadar karbondioksida di Mars menjadi oksigen.
Durasi misi yang harus dilaksanakan Perseverance Rover memakan waktu setahun Mars, yang artinya jika di bumi setara dengan dua tahun.