Things We Like: Sustainable Initiatives
Kumpulan gerakan/initiatives pilihan kami.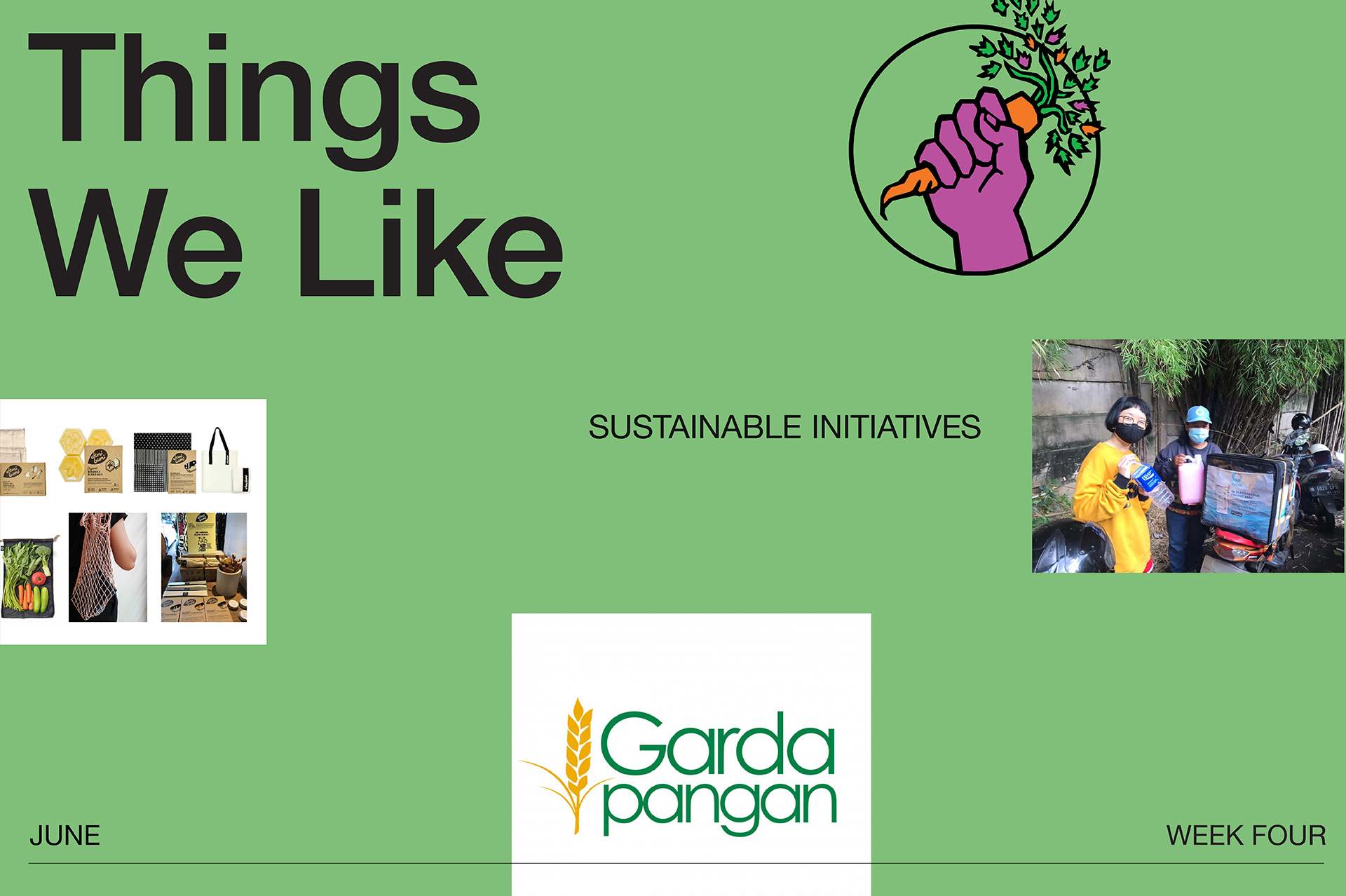 Kini sustainability bukan lagi hal baru yang diketahui oleh hanya segelintir orang, melainkan sudah diangkat menjadi topik bahasan sehari-hari. Dalam gerakan ini pun telah muncul banyak inisiatif dari kelompok yang peduli dan ingin membawa perubahan pada masyarakat. Untuk edisi kali ini, kami mengumpulkan beberapa sustainable initiatives yang patut diikuti untuk bumi yang lebih baik.
M. HILMI
Managing Editor
What:
Food Not Bombs
Description:
Jujur kurang yakin apakah Food Not Bombs itu sesuai sama konsep green initiatives. Tapi gagasan untuk berbagi makanan gratis kepada yang memerlukan dan kontra terhadap buang makanan adalah pergerakan yang memberdayakan kita, lingkungan sekitar dan bumi. Yang menyenangkan adalah bagaimana gerakan ini menyebar cukup luas di Indonesia bersama gerakan punk, dan telah berlangsung cukup lama. Sedikit berita baik di antara berita tentang lingkungan yang semakin mengerikan. Harusnya hal-hal seperti ini yang diingat dari punk, jadi tak melulu soal gaya rambut, gaya pakaian, dan tokoh-tokoh "punk" yang kini lebih identik dengan omong kosong. Ya nggak, bli?
GHINA HANA SABRINA
Editorial Staff
What:
Garda Pangan
Description:
Indonesia is among the largest food wasters in the world, with around 300 kg of food being wasted per person every year. Regarding this problem, while the government needs to come up with regulations, there is also an urgent need for community-driven solutions. 
Garda Pangan is one of them. An organisation that aims to distribute surplus food to those in need, they are one of the few food banks in Indonesia that strives for the cause. Fighting the food fight so that nothing goes to waste.
EMMA PRIMASTIWI
Editorial Staff
What:
Recycling Empty Skincare Bottles 
Description:
So to be honest I don't really know what to put but recently I saw the skincare brand Somethinc launch an initiative to recycle our empty skincare bottles. That proves to be especially useful because I guess a lot of us usually just throw it away without giving it a second thought, not realizing that it ends up as piles of junk. So since I have no idea how to do it myself, why not have other people do it for me 🙂 
MARDHI LU
Graphic Design
What:
Demi Bumi
Description:
Meskipun ini bukan green movement, tetapi gue ingin shout out ke Demi Bumi yang menurut gue adalah salah satu yang bikin gue melek dan ingin sadar akan lingkungan (dan bumi). Meski sekarang lifestyle gue belom totally green, gue udah mencoba mengurangi output sampah plastik dengan membawa botol air kemana-mana. Salah satu alesan gue memilih Demi Bumi adalah produknya yang stand out dibanding lainnya. Terlihat bahwa dibalik pemilihan material dan bentuk produknya, ada pemikiran dan careful consideration untuk para pembeli gunakan sehari hari (dibandingkan yang ngomong go green tapi hanya print desain vector murahan di totebag bermaterial murah juga).
MAR GALO
Bamboo Twist
What:
Siklus Refill
Description:
Pas banget! Hari ini baru kedatengan Siklus Refill untuk isi ulang sabun cuci piring, cuci tangan, dan body wash. Total isi 5 liter dengan wadah-wadah bekas. Mbaknya ramah banget. Pelayanannya mantab! And the most important thing, mengurangi sampah plastik dengan harga murce hehe. Layanannya H+1 setelah pemesanan. Tinggal siapin wadah dari kalian atau bisa beli juga dari mereka kalau mau. 
https://www.instagram.com/siklusrefill/?hl=en