Things We Like: Magazines
Kumpulan majalah favorit kami.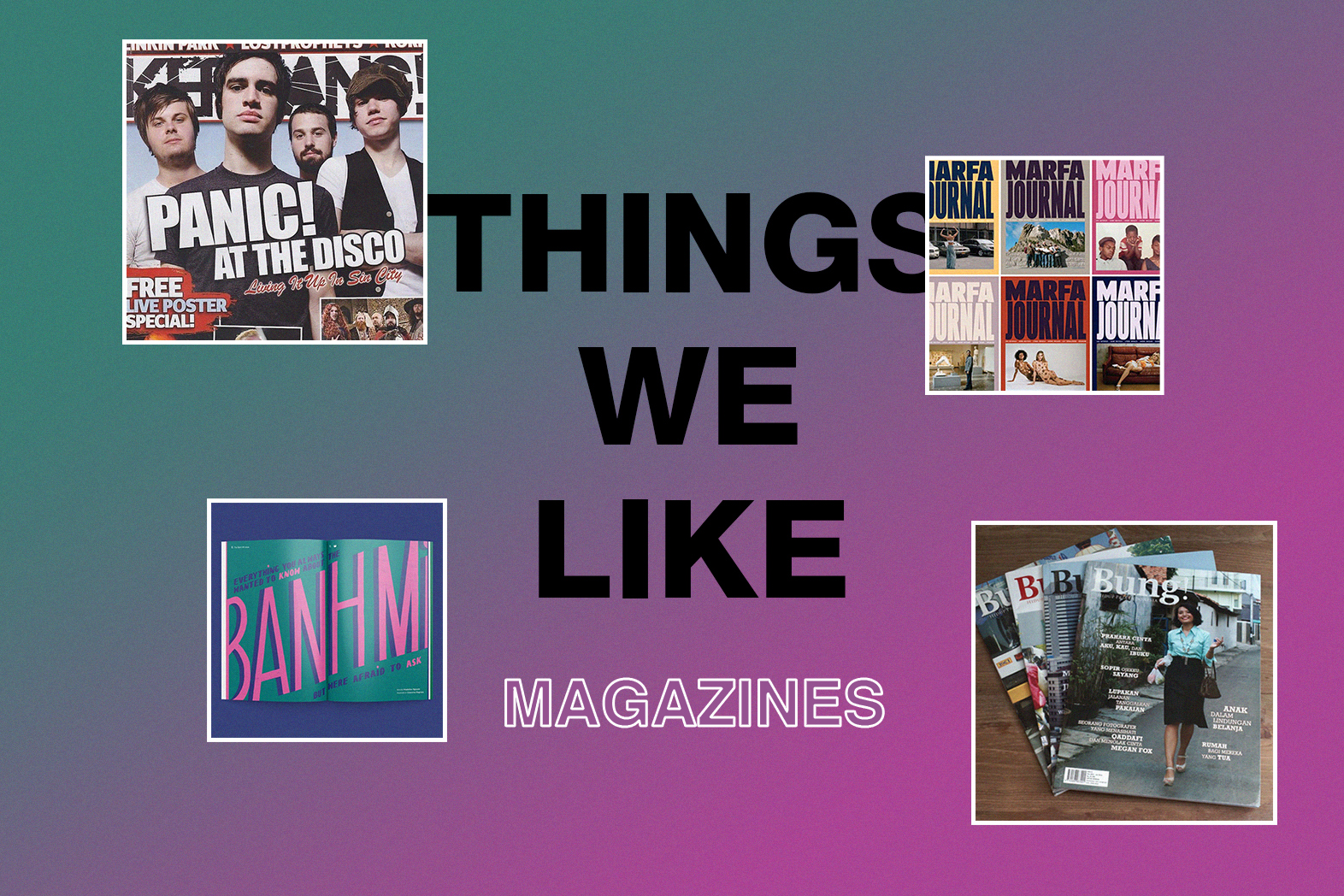 Pada "Things We Like" kali ini, kami ingin meng-highlight ragam majalah lokal maupun internasional yang kami sukai. Melihat banyaknya topik menarik – mass atau niche – yang bisa diangkat dalam sebuah majalah dan faktanya bahwa print is not dead, kami mengumpulkan sederet majalah favorit tim Whiteboard Journal. Dari majalah Bung!, Kerrang, Sandwich hingga Marfa Journal, berikut adalah beberapa pilihan kami.
M. HILMI
Managing Editor
What:
Majalah Bung!
Description:
Kebayang nggak gimana jadinya kalau ruangrupa bikin "majalah pria dewasa" dengan tim dan kontributor andal seperti Eka Kurniawan, Reza Mustar (komik azer), Roy Thaniago (Remotivi), Budi Warsito (Kineruku)? Beruntunglah beberapa di antara kita yang sempat membaca majalah Bung! Cuma empat edisi, majalah Bung membumikan konsep majalah pria dengan perspektif manusia Indonesia. Di dalamnya, kita akan diajak fenomena keseharian seperti kaos kaki favorit, hubungan antara mertua dan menantu, hingga tentang pengakuan tentang ejakulasi dini. Dan, alih-alih mengikuti stereotip majalah pria yang maskulin, majalah Bung! Justru tak jarang mempertanyakan konsep maskulin itu sendiri. Membaca majalah ini seperti diajak berkenalan dengan Indra Ameng di hangat suasana Kineruku. Coba mampir ke Gudskul, sepertinya mereka masih menyimpan beberapa edisi di sana. 
FEBRINA ANINDITA
Editorial Staff
What:
Sandwich Magazine
Description:
Selama work from home kan jadi banyak waktu browsing. Terus suatu hari BM cari majalah dan nemu MagCulture. Pas cek ada yang lucu namanya Sandwich Magazine buatan Amerika. Konsepnya kupas jenis sandwich di tiap edisi. Pertama tuh bahas BLT, kedua bahas banh mi. Alhasil gw beli yang available yaitu edisi 2. Lumayan nyebelin sih usaha gw buat beli ini, karena shipping sebulan lebih dari Inggris, sampai gw pasrah kayanya ilang nih.
Isinya menarik banget buat reference lah dan layout-nya juga mantep. Nih kalau mau beli, tapi yang available cuma edisi 3 tentang lobster roll! 
GHINA HANA SABRINA
Editorial Staff
What:
Marfa Journal
Description:
Marfa Journal initially began as a graduate project by Alexandra Gordienko when she was still in Central Saint Martins (of course). Created by artists for artists, it's a fashion publication which plays by its own rules. It's hardcover and uses the good kind of paper (don't know what it's called). Also, they're championed towards mismatched typography, analogue photography, and tongue-in-cheek headlines and illustrations. In other words, nyeleneh banget.
Their website's equally interesting, go check them out. 
EMMA PRIMASTIWI
Editorial Staff
What:
Kerrang!
Description:
Another throwback, graduated from J-14 to Kerrang (LOL). This was THE shit zaman-zaman SMP. Kalau nggak dapet poster dari promo bundle album, carinya Kerrang. Dulu lumayan susah nyari ini, untuk ukuran anak SMP mahal juga, jadi mesti nabung-nabung dan nitip orang kalo keluar negeri (atau numpang baca di rumah Dinda). Pokoknya paketnya dulu ini sama kaos Hot Topic. Sayangnya gue suka because of superficial reasons yaitu boys. Whether it be PATD (halo Ryan Ross apa kabar?) or ATL or Blink or MCR, I could always count on Kerrang for in depth interviews and beautiful photos of my favorite emo/punk golden boys.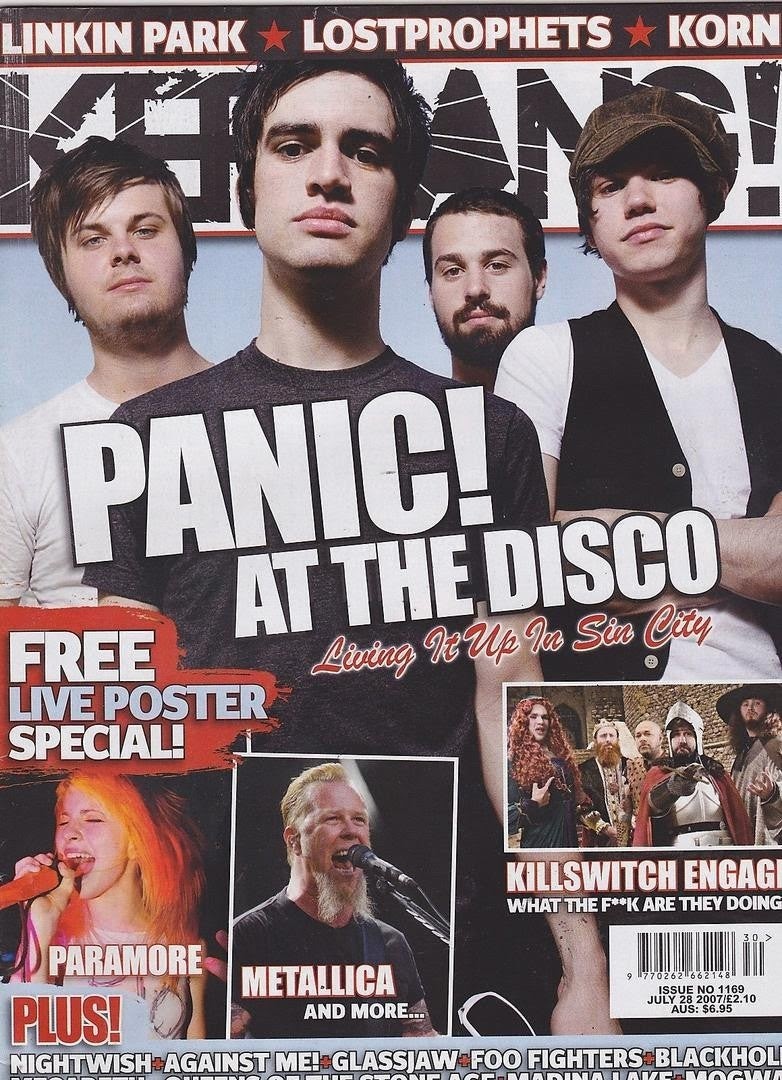 CLARISSA AMABEL
Art Director
What:
Bloomberg Businessweek
Description:
Here's my truth: I've amassed a collection of design-y indie magazines, spent lots of money on them, but I've only read 5% of them. Why? Other than my sharply diminishing attention span, I just find that most of the pretty magazines are either (A) not interesting, content-wise, or (B) not designed for a comfortable reading experience. I KNOW, I KNOW, unpopular opinion, but I'm happy to be proven wrong.
However there are a few titles that are both well-designed and well-edited. I've only begun skimming through the actual print editions of Businessweek a few weeks ago, when I was working on an upcoming Whiteboard Journal book (TEASER!). I was frustrated to understand the logic behind an economical and legible editorial design. When I was studying the layouts behind Businessweek (and a few other titles), I found myself unconsciously reading the stories and getting engrossed with the reporting. I wish I could testify for more indie, non-mainstream titles, but Businessweek it is.