Merayakan Episode ke-5, Sun Down Circle Menawarkan Dimensi Baru
Kembali menghadirkan Young Marco namun dengan konsep baru.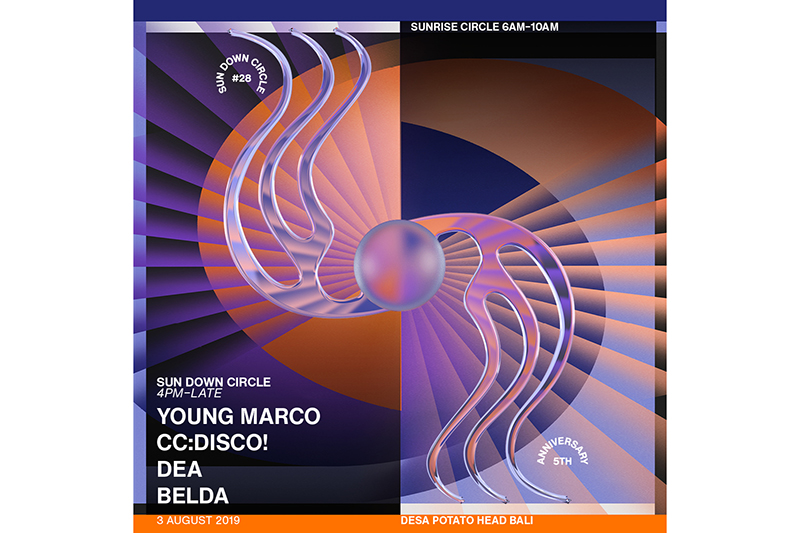 Teks: Gernas Geraldi
Foto: Desa Potato Head
Sun Down Circle (SDC) adalah perayaan musik yang diadakan di Beach Club pada saat sore hari kala matahari berubah menjadi bola energi neon yang memancarkan pelangi merah merona melintasi Samudera Hindia. Dimulai sejak lima tahun yang lalu, ketika seorang pria dari Belanda bernama Young Marco melakukan permainan legendarisnya di Bali dari siang ke malam dengan waktu lima jam untuk acara Sun Down Circle pertama kalinya di sebuah klub malam yang lebih menyerupai sebuah festival kecil. 
Sun Down Circle sendiri akan merayakan hari ulang tahunnya yang ke-5 dengan mengundang Young Marco kembali yang akan berkolaborasi dengan CC Melbourne: DISCO!. Selain itu juga akan menampilkan Dea Barandana dan Belda yang akan bermain dari jam 5 sore selama siaran langsung video SDC bersama stasiun radio indie NYC The Lot Radio. 
Kali ini SDC mempunyai konsep baru dengan membawanya ke dimensi baru. Mereka memulai acara saat matahari terbit, berkumpul bersama di pantai untuk 'mandi suara' di pagi hari yang dipimpin oleh para ahli gong di Pyramids of Chi lalu setelah itu sarapan bersama dengan Lawrence Blair. Kegiatan siang hari kemudian pindah ke Sustainism Lab di mana tim dari Green School's Innovation Hub akan menyelidiki hubungan antara suara, seni, dan alam dalam lokakarya cymatics untuk anak-anak.
Dalam memperingati ulang tahunnya yang ke-5 Sun Down Circle memiliki banyak rangkaian acara baru yang akan dilaksanakan di Desa Potato Head, hari Sabtu tanggal 3 Agustus, mulai dari pukul 6 pagi sampai pukul 2 pagi. 
Untuk informasi lebih lanjut, kunjungi https://www.ptthead.com/bali/events-in-bali/