Potret New York Tahun 80-an di Mata Ilustrator Asal Milan, Ilya Milstein
Ilya Milstein, seorang ilustrator kelahiran Milan membuat satu set gambar berisikan ilustrasi yang menggambarkan lingkungan dan kehidupan di New York tahun 80-an.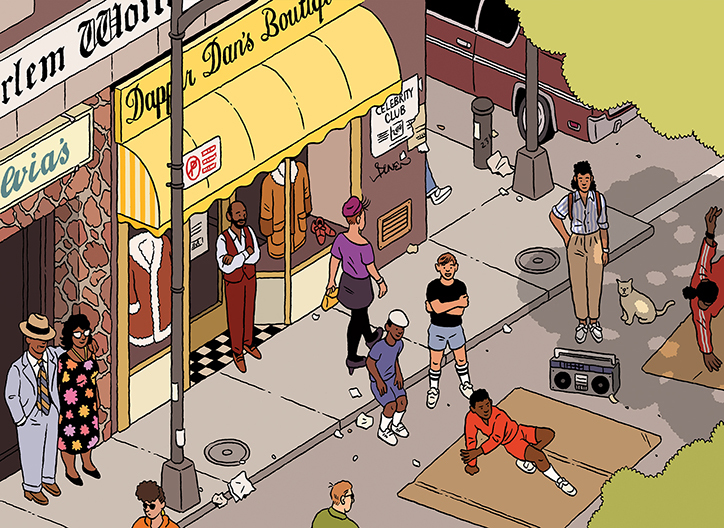 Teks: Carla Thurmanita
Foto: It's Nice That
Dalam salah satu kolomnya, publikasi lifestyle T: The New York Times Style Magazine menunjuk Ilya Milstein, seorang ilustrator kelahiran Milan untuk membuat satu set gambar berisikan empat ilustrasi yang menggambarkan bayangan lingkungan dan kehidupan di New York tahun 80-an berjudul "New Yorkers and Their '80s Routines – Block by Block" dalam konsep karya narasi kolektif untuk melengkapi artikel yang ditulis langsung oleh beberapa tokoh ternama mulai dari desainer Dapper Dan, Martha Rosler, sampai penyair John Giorno. Dibagi menjadi empat blok – SoHo/TriBeCa, East Village, Harlem, dan Upper East Side – tempat-tempat ini disatukan menjadi satu cerita melalui ingatan terdahulu yang dialami setiap tokoh di masing-masing daerah tersebut.
Sebelum aktif menggambar ilustrasi, Ilya Milstein lebih berkecimpung di dunia seni rupa dan sering menggelar pameran secara berkala saat masih tinggal di Australia. Dirinya lalu mengikuti kesenangannya akan ilustrasi dan komik, hingga akhirnya memutuskan untuk fokus menjadi seniman grafis dengan gaya khas klasik dan penuh dengan detail juga referensi.
Untuk ilustrasi ini, Ilya mengikuti bayangannya akan setiap tokoh ketika mereka menelusuri jalanan New York yang sibuk dan penuh semangat, sambil sesekali berpapasan dengan tokoh-tokoh seperti David Wojnarowicz, Sylvia Woods, dan Andy Warhol pada zaman itu. Seperti contoh untuk blok Harlem, Ilya menggambarkan kehidupan ramai di sana dengan sekelompok penari jalanan berkumpul di luar butik milik Dapper Dan. Keith Haring terlihat sedang melukis langsung di atas dinding di East Village, hingga para upper class yang sedang berkumpul di luar gedung Elaine di daerah Upper East Side.
Tanpa perlu sempat merasakan kehidupan di New York pada tahun itu, rasanya pembaca yang berasal dari berbagai tempat dan lahir di era berapapun dapat melihat sendiri kehidupan New York di tahun 80an – sampai bisa membayangkan sosok Andy Warhol sedang makan malam di salah satu restoran daerah Upper East Side, atau John Giorno tinggal bertetanggaan dengan salah satu ikon sastrawan generasi beat, William Burroughs!