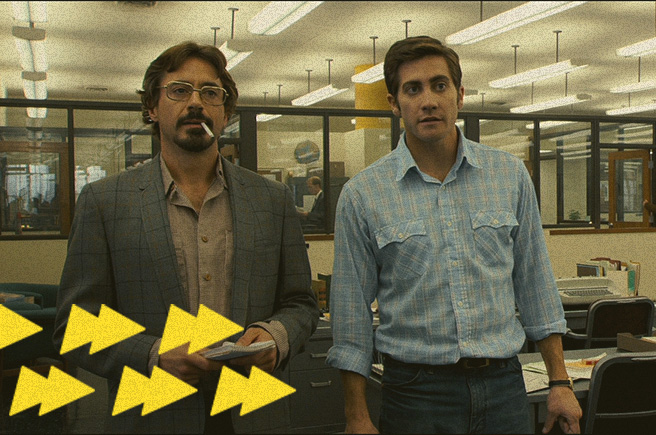 Teks: Ibrahim Soetomo
Foto: MUBI
Bicara film thriller yang diadaptasi dari buku fiksi maupun non-fiksi, kita tidak bisa jauh dari sosok David Fincher. Sutradara asal Amerika ini mampu mengadaptasi sebuah cerita, menarasikannya dengan lihai, serta menciptakan twist yang membuat penonton ingin melihat film-filmnya lagi. Di antara deretan film thriller suksesnya seperti "Fight Club," "Seven," dan "The Girl with The Dragon Tattoo," film "Zodiac" merupakan karyanya yang paling apik di genre ini.
Diadaptasi dari buku non-fiksi yang ditulis oleh Robert Graysmith pada 1986, film ini mengisahkan pemburuan seorang pembunuh berantai yang menjuluki dirinya dengan nama "Zodiac". Semenjak kasus perdananya pada 1969, investigasi "Zodiac" digencarkan oleh berbagai pihak kepolisian dan media, walaupun berhasil mendapatkan tersangka yang kuat, kasus ini tidak mendapatkan hasil, lantas diberhentikan. Sosok "Zodiac" tidak diketahui hingga kini.
Film ini bisa dikatakan tidak memiliki tokoh utama, tapi fokus setidaknya pada 3 tokoh, yaitu kartunis dan penyelidik amatiran Robert Graysmith (Jake Gyllenhaal, penulis buku non-fiksi "Zodiac"), jurnalis Paul Avery (Robert Downey Jr.), serta inspektur David Toschi (Mark Ruffalo). The convenience and choice of companies selling ammunition online has to be good news for all shooters. There is no doubt that ease of shopping and the keen pricing offered, make such purchases very attractive indeed. The only real challenge with buying your bullets in this manner is finding a reliable, reputable source. We hope to help you with that by listing the 10 best place to buy ammo online We will also advise you on what to look out for and what to be aware of when purchasing. lease bear with us. We may well be stating the obvious, but feel it is important to reiterate the benefits of buying ammo online. Interaksi natural baik ketiga tokoh ini maupun tokoh lain dalam cerita turut memperkuat alur film ini. Plot film ini pun dibangun hampir tanpa jeda melalui dialog-dialog padat dan adegan-adegan cepat, namun Fincher mampu mempertahankan cerita agar berjalan mulus. Penonton tetap dapat mengikuti bagaimana misteri perlahan terkuak dalam cerita.
Film ini memang menampilkan beberapa adegan pembunuhan sadis, tapi penonton tidak akan menemukan adegan ini sebanyak di film "Seven" maupun "Fight Club." Poin penting dalam film ini adalah alur cerita padat yang justru membuat film ini lebih mendebarkan ketimbang adegan pembunuhan pada umumnya.
Quick Review Zodiac: 5/5
Zodiac (2007)
Sutradara: David Fincher
Sinopsis: Pada akhir tahun 60-an dan awal tahun 70-an, San Fransisco diselimuti teror oleh pembunuh berantai bernama Zodiac. Jurnalis Robert Graysmith dan Paul Avery, beserta penyelidik David Toschi terobsesi untuk menguak identitas pembunuh. Selama masa penyelidikan, Zodiac terus mencari korban dan menebar ancaman.