Setelah Menuai Kritik, Golden Globe Berencana Untuk Lebih Mengedepankan Keragaman Dalam Organisasi
Golden Globe sendiri tidak memiliki anggota kulit hitam selama satu dekade lalu.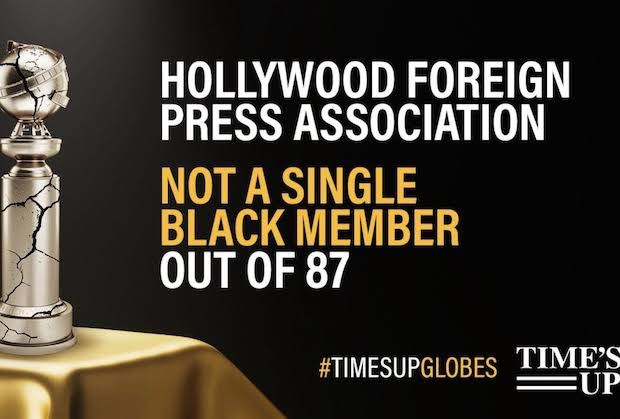 Teks: Rifqi Ramadhan
Foto:Timesup/Golden Globe
Rasisme dan representasi menjadi pembahasan yang sedang sering diangkat dalam ajang penghargaan bergengsi, dan belum lama ini, semua mata mulai tertunjuk untuk penyelenggara Golden Globe karena dituding kurangnya representasi dalam organisasi mereka.
Oleh karena itu, para penyelenggara dibelakang Golden Globe berjanji untuk menambah anggota mereka yang lebih merepresentasi kulit hitam. Golden Globe sendiri berencana untuk menambah anggota berkulit hitam untuk acara mereka. 
Penyelenggara berencana lebih menambah keragaman dalam bagan mereka setelah beberapa bulan lalu, Hollywood Foreign Press Association (HFPA), atau lembaga dibalik pemilihan dan kurasi dalam Golden Globe, dikritik oleh New York Times karena kurang representatif untuk seniman kulit hitam. Oleh karena hal ini, HFPA berencana untuk menambah anggota.
Golden Globe sendiri kini membuka fakta bahwa Golden Globe sudah tidak memiliki anggota kulit hitam selama beberapa dekade, selain itu juga membuka bahwa banyaknya kasus korupsi dalam keanggotaan HFPA. Oleh karena itu, HFPA berencana untuk mengajak pakar dan ahli dari berbagai bidang untuk mengevaluasi tindakan HFPA kedepan.
"Making necessary changes within our organisation and in our industry as a whole. We also acknowledge that we should have done more, and sooner," ucap para anggota HFPA melalui sebuah statement resmi.