Slow and Steady with Manfredas
We talked to renown DJ from Lithuania – Manfredas – to dig deeper about his passion in creating bold music and his relationship with Multi Culti boys – Dreems and Von Party.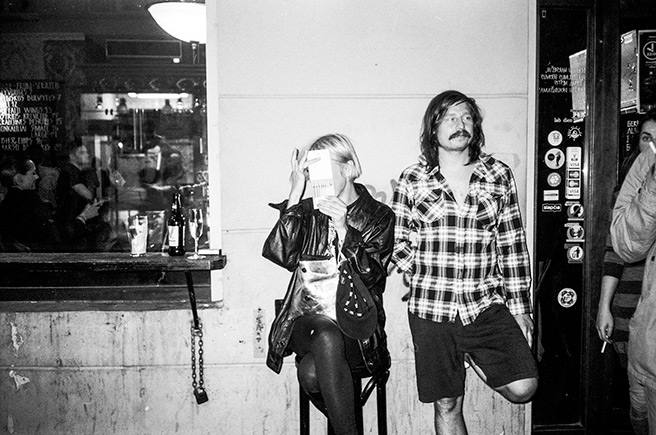 Photo: EDHID
There's something mysterious about Lithuania, but little that we know, the country has a lot to offer – so does the man we're going to talk about, Manfredas. He and his friends created a party with no curfew named Smala in Lithuania's capital, Vilnius. Since then, the country is on the other-Europe rave radar and famous for making foreign DJs coming back to experience special nights.
Though the man himself used to imprint his smooth mixing skill at hip hop radio, he then discovered his love to electronic and ever since DJed alongside the biggest names in the business. So it sounds natural when Ivan Smagghe saw the potential and signed him to his label Les Disques de la Mort in 2015. When we found out Dekadenz will bring him here, we sent some questions to dig deeper about his passion in creating bold music and his relationship with Multi Culti boys – Dreems and Von Party.
You were a hip hop DJ back in the days. What kind of revelation that made you want to dig leftfield/electronic music?
I think hip hop was just the first shift from the usual domestic music and first concept that I focused on as trying to turn it into some work, which was doing a hip hop radio show. It's not that now I'm only into electronic music, it's just some part of music that I find interesting and a bigger focus on it makes some sense in my life. I could be a folk DJ too, but not sure anyone need those and it's crazy to be all over the place all the time.
You're a 20-year professional radio DJ until Ivan Smagghe signed you under his label Les Disques de la Mort, through the release of "Pink Industry". Did that milestone contribute to the sound you have today?
I think I quit radio a bit before EP and all the rest happened as it was getting to feel more and more weird to play music I don't like there. I was making tunes for many years and even if I can hardly define "my sound" myself, I'm glad if something had a signature there. I felt Ivan would like those tunes and release just motivated to keep on going.
You and your friends created a party in Vilnius, named Smala which introduces Lithuanian nightlife and its perks to the world. Was that the main reason behind it?
Everything was just right. I've been making events for 10 years, but at that certain point I was having a break so I was pumped to start something new. A lot of new music that I really fell for emerged at the time, I met this cool DJ couple "12 incu po zeme", we did one party together, picked this name which means "black tar" and it just glued everything together. If you were in that room at the time, you could've seen for yourself how obvious it was and how it all made perfect sense.
Not sure anyone has different reasons then expressing themselves through some mediums and making a little money doing what they like, when starting a night. Now as it is the biggest club night in the city, that inspired people to make music, do their own nights, make beer, get married or visit Lithuania for the first time, we feel responsible to keep it interesting.
The way Smala is promoted with photoshoots that appear in weird places and mysterious situations adds more value to the party. Whose idea was this?
Well yeah, we were always serious about our posters. I think that's where the journey begins – you look at the artwork and it takes you somewhere. Then you add music and other things.
Photoshoots at mysterious places with a neon sign was an idea for the first seasons and was created by amazing artist and a friend Ruta Kiskyte, who also made a video for my track "Ummlemahaye" and photographer Visladas Morkevicius. These days we are very happy to work with Marko Vuleta-Djukanov aka Floating Bastard.
Vilnius is a small town, hence no one will never dance alone. Is this what makes Smala has a sense of familiarity and intimacy?
I guess there's some sense of community and you know basically everybody on the floor, but in general, Opium is just very well-curated club and Smala is a great night and it does not really matter if you're from Vilnius or you are visiting. People know what they come for, but there's some work behind it.
Speaking of Multi Culti, how did you meet Thomas Von Party and Dreems?
I met Dreems first when he was DJing in Vilnius for a friends party and we bonded pretty quickly over shots of Mezcal and ended up locked up in jail. The wild days… I'm kinda glad our activities slightly changed into jogging together or shopping for amber.
At the same time I had this track "Glasswalk" with sitars finished that I showed him and it was immediately adopted for their upcoming compilation.
Now Thomas is probably the second person after my girlfriend that I spent most time with.
Thomas Von Party and Dreems call you "The Turtle" because of how slow and steady you are when producing music. Is it because you always build something out of sampled bits?
Gladly I don't wear this badge on a daily basis and it really applies only to waiting for me to finish music. I guess I'm just a bit hard on myself. Maybe it's lack of talent or maybe just awareness of what I do and what's out there already and I just wish of not going into that huge pot of mediocre music. Simply if the result is not interesting for myself or only passable, I would never sent it out no matter the deadline or fee, even if that makes a feller mad.
As for technique, I wouldn't say it has much to do with it, as usually I finish up with 15 different versions of the remix and I'm pretty fast to come up with an initial idea, but then I can meditate on it for hours or… months. Sampling is very important, but mostly it only prompts an inspiration for a song. After that it's always a hybrid of sampled drums, live instruments and the same kick I stole from my friend Pedro.
Before your stop in Jakarta, you played at some parties in Hong Kong and Singapore – even stayed a bit long in Bali. How's Asia been treating you so far?
I've been to most of the places as backpacker 6 years ago, so it's nice to back. I'm glad I had some shows with Thomas. I love sharing a good plate of food with him even more than sharing the decks.
Dekadenz has both Dreems and Thomas Von Party as guest DJs before. What do you expect from its dancefloor?
I'm curious and open to whatever comes. I only hope you have a late hours license and we don't have to quit too early.
See Manfredas live and experience his set religiously this Saturday at Dekadenz!
Dekadenz
Saturday, 3 March 2018
Manfredas (SMALA, Les Disques de la Mort)
Jonathan Kusuma
Ridwan
Aditya Permana
Visual by: Cut and Rescue
FJ on 7
Colony 6, Rooftop
Jl. Kemang Raya No.6
Jakarta