Things We Like: Dari Minggu Kedua April
TV Series, film dokumenter hingga musisi yang kami sukai.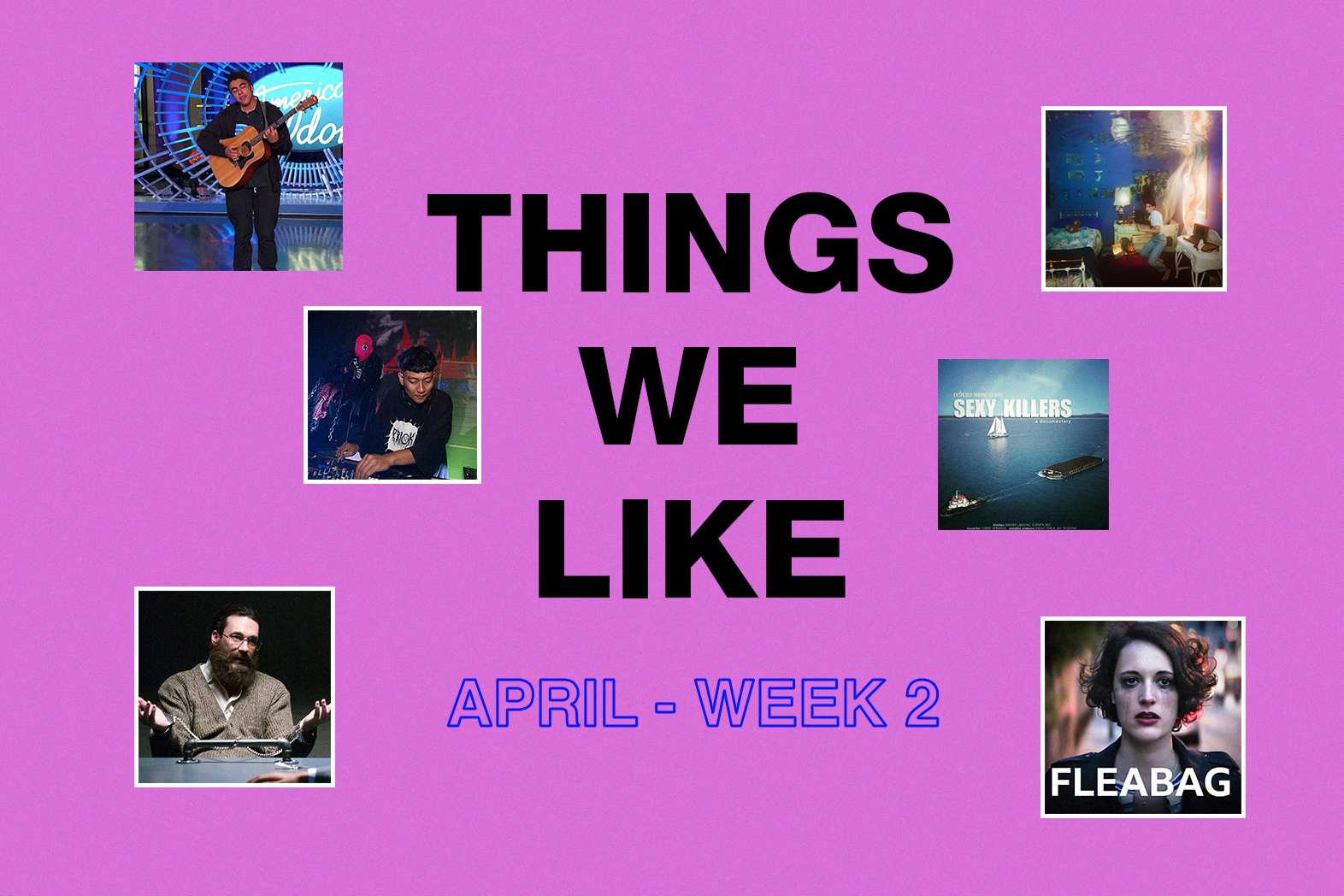 Di dalam program "Things We Like", kami mengumpulkan hal-hal yang sedang disukai oleh tim Whiteboard Journal berikut alasannya. Dari TV series komedi, live performance dari musisi lokal, hingga film dokumenter tentang lingkungan, berikut adalah "Things We Like" dari minggu kedua April.
M. HILMI
Managing Editor
What:
American Idol's Alejandro Aranda
Description:
Walau playlist di spotify adalah lagu-lagu underrated filed under "yg tahu-tahu aja", sebenarnya selalu menyimpan ketertarikan pada kompetisi nyanyi semacam Idol. Hehehe. Walau kebanyakan untuk bisa dikata-katain, tapi kadang ada satu-dua kandidat yang menarik diikuti – sebelum nantinya akan dirusak industri.
Tahun ini, talenta yang menarik itu bernama Alejandro Aranda. Di audisi American Idol, dia bernyanyi dengan merdu dan diiringi permainan gitar yang membawa pengaruh midwest emo. Tanda kalo midwest emo sudah overrated? Yang jelas ini cukup mengejutkan. Dan itulah yang bisa dilihat dari muka-muka Lionel Richie, Katy Perry dan Luke Bryan. Yang cupu sih Luke Bryan, katanya nggak pernah denger musik yang kayak gini. Yaelah bang, kemane aje?
Di video audisi ini pula, Alejandro Aranda bilang kalau influence-nya adalah Bach, Chopin dan Trent Reznor! Semoga doi kalah, terus di-sign sama Topshelf Records.
FEBRINA ANINDITA
Editorial Staff
What:
Weyes Blood – "Titanic Rising"
Description:
Bagus banget ini. Notasi dan vokalnya bikin segala situasi yang gue alami saat dengarkan album terasa bittersweet. Salah satu album favorit di tahun 2019. Sejak keluar, gue langsung looping cukup excessive hahaha.
Coba nonton set dia di KEXP deh, vokalnya jernih banget!
AMELIA VINDY
Editorial Staff
What:
Penampilan Gabber Modus Operandi
Description:
Untung Jakarta jadi salah satu kota yang disinggahi dalam rangkaian tur perdananya Gabber Modus Operandi, kalau nggak, entah kapan gue bisa ngeliat penampilan mereka. Meskipun diadakan di hari Minggu dan menurut gue salah tempat, tapi apapun itu kekurangannya, penampilan mereka tetap juara satu. Ican Harem dengan segala aksinya – yang sukses bikin set mereka makin nggak biasa, nggak lupa musik cadas yang dibawakan oleh Kasimyn – yang bikin gue nggak bisa diam dan buat malam hari itu nggak kerasa kaya hari Minggu. AAAAA MAU NONTON LAGI!

Buat lo yang juga mengikuti karya-karya dari GMO dan belum pernah nonton set live-nya, gue saranin kalau mereka mampir di kota lo: jangan sampai kelewatan!

Trek favorit: Kerjakaki Jawa & Dosa Besar.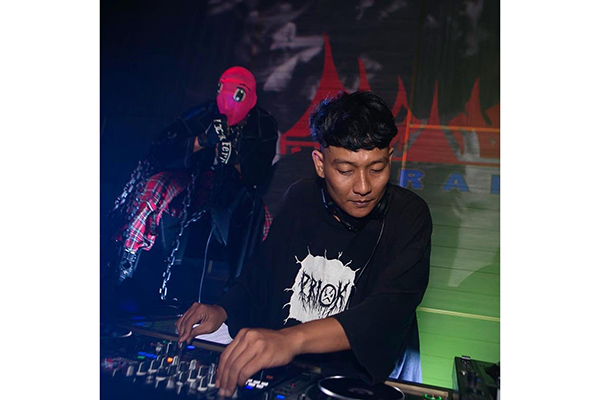 GHINA HANA SABRINA
Editorial Staff
What:
Fleabag
Description:
Before, "Fleabag" has been one of those shows that I've bookmarked but never managed to watch. Thankfully I finally did, because now I couldn't stop thinking about it. It is clever, scathingly funny, while also being deeply touching, with nuanced characters that you'd love and relate but also hate at the same time. It tells a story about Fleabag, played by show creator Phoebe Waller-Bridge, and how she navigates her wildly complicated life in London while also being in the aftermath of trauma (which builds up and revealed by the last episode of season 1). Although it's nothing new, what's also great about the show is how Fleabag constantly breaks the fourth wall, establishing an intimate relationship between her and the audience.
Anyway, I managed to watch both seasons in a day and is now reeling with the fact that the series has ended on its 2nd season because Waller-Bridge believed that her story is complete. Crying.
KANIA THEA PRADIPTA
Graphic Designer
What:
Sexy Killers (2019)
Description:
I barely know anything about coal mining industry in Indonesia, until this. Dokumenter ini sederhana, tapi straight forward, ngebuka mata banget tentang keadaan daerah-daerah di Kalimantan Timur yang terkena imbas dari penambangan batu bara. Imbasnya ini ga main-main, ratusan korban jiwa. Yet, our country still heavily relies on coal burning to provide steam as electricity's power source. Dibahas juga 'pemain-pemain' dibalik industri ini yang mostly prominent governmental people, including the President himself and his contender in the recent presidential election. Ada kabar-kabar kalau film ini sengaja di rilis berdekatan dengan hari-H pemilu, tapi terlepas dari itu, this movie is a must watch, at least bikin lo lebih aware akan environment dan keadaan negara sendiri, or even encourage lo untuk mulai menghemat listrik.
SABRINA FARIZKY
Marketing & Sales
What:
Party Monster: Scratching The Surface
Description:
Sebetulnya "Party Monster: Scratching The Surface" merupakan bagian dari salah satu episode di seri Netflix favorite gue, "Unbreakable Kimmy Schmidt," tapi sekarang di publish ulang sebagai film sendiri.
Mini mockumentary sepanjang 33 menit ini dipenuhi berbagai line-line jenius, sesungguhnya, there are just too many great jokes in one short movie. Tapi, to be completely honest, highlight dari short mockumentary ini buat gue, adalah Jon Hamm hehe.
MAR GALO
Bamboo Twist
What:
There's A Name For Joe Biden's Behavior Toward Women
Description:
It's called benevolent sexism. While hostile sexism is easy to identify, benevolent sexism is harder to pinpoint since it's a more subtle sexism. It is probably difficult to identify since there is also good intention in which the man acts as a protector but in doing so, he disempower women. There's more to it though and would love to see/hear good discussions about this.