Things We Like: Dari Minggu Kedua Desember
Film, musik hingga fotografer yang kami sukai.
Di edisi terbaru "Things We Like", kami mengumpulkan hal-hal yang sedang disukai oleh tim Whiteboard Journal berikut alasannya. Dari edisi terbaru dari majalah New York, film yang termasuk berani di Indonesia dan street photographer asal Amerika Serikat, berikut adalah "Things We Like" dari minggu kedua Desember.
M. HILMI
Managing Editor
What:
Hidden Folks
Description:
Ada beberapa catatan menarik dari ranah game di tahun 2018 ini. Banyak hal baik terjadi di indie games, genre Metroidvania yang kembali marak, juga beberapa pendekatan visual berbeda yang menyegarkan. Kalau boleh memilih game dengan visual paling menarik tahun ini, pilihan saya akan jatuh pada Dragon Ball FighterZ, Blazblue Cross Tag Battle dan Hidden Folks (yah walaupun sebenernya Hidden Folks udah rilis sejak 2017 sih, gahaha).
Saat kebanyakan developer berlomba untuk mengejar untuk menjadi realis dan beberapa yang lain mencoba bermain dengan pixel, Hidden Folks mengambil jarak dengan memilih pendekatan yang sangat minimalis. Hanya bermodalkan ilustrasi dan gameplay hidden object yang sederhana, game ini justru menyentuh dengan caranya sendiri. Hidden Folks juga berhasil dalam bagaimana tim developer memasukkan quirky personality di karakter-karakternya. Tapi sekali lagi, visual di sini adalah juara sejatinya. Apalagi saat di zoom-out dan kita bisa melihat ramainya komposisi, seakan mengingatkan kita tentang bagaimana kita hanya sejumput coretan pena di alam semesta ciptaan Tuhan Yang Maha Esa.
FEBRINA ANINDITA
Editorial Staff
What:
OST "Twin Peaks"
Description:
Gara-gara Dega (Xandega) putar beberapa lagu dari OST ini pas launching zine "Ticket to Nowhere" tanggal 8 Desember kemarin, jadi nonstop dengar ini kalau lagi di rumah. Cocok buat musim hujan dan berimajinasi terutama lagu "Audrey's Dance" karena I love the scene and the character. So daring.
AMELIA VINDY
Editorial Staff
What:
Bruce Gilden
Description:
"I'm known for taking pictures very close, and the older I get, the closer I get" and that's true. Gue rasa quotes tersebut sangat menggambarkan bagaimana Bruce Gilden dan karya-karyanya. Sosok ikonik yang satu ini bikin gue kagum, dan cukup memberikan perspektif lain tentang street photography. Siapa tau lo juga akan punya pendapat yang sama setelah simak video dari Nowness ini. Oh iya jangan lupa cek website pribadinya ya, untuk lihat karya-karya doi.
GHINA HANA SABRINA
Editorial Staff
What:
A Name out of Place Pt. II – Tzusing
Description:
Thanks to the weather, it has been an exceptionally sleepy week. At times I just feel like crawling back to bed and hide underneath the covers. But obviously I couldn't, so I've been trying real hard to keep my eyes open. One of the ways that has helped me go through the day is this EP by Tzusing. Needless to say, 3 cups of coffee plus this has been a great ride.
EMMANUELLA PRIMASTIWI
Editorial Staff
What:
Martha & Snoop's Potluck Dinner Party – Xmas Special
Description:
HO HO HO SIS, IT'S CHRISTMAS TIMEEE. Whether you celebrate Christmas or not, this time of year is always a good time to come together, and eat GOOD FOOD. In a world that's so divided, this show makes me so happy to see that two seemingly different people and the most unpredictable pairing can make such a good team. Love this show so much, Martha lowkey hood AF. Hope this show inspires you all to love thy neighbors. Merry CRISIS
JANUAR KRISTIANTO
Heart Attack
What:
Godzilla: King of the Monsters Trailer #2
Description:
I don't think I'm ready for this shit, ini sungguh terlalu overwhelming. I just can't. Ok seriously trailer kedua ini bener-bener bikin gue hooked completely, akhirnya a blockbuster monster movie yang bakalan membumihanguskan 2019. King Ghidorah? Rodan? Mothra? Godzilla? Anguiris? Holy mother mary, what a collision! Prepare for death & destruction on planet earth.
CLARISSA AMABEL
Art Director
What:
How to be an Artist by Jerry Saltz
Description:
Turns out, it's not that easy.
Jerry Saltz, New York magazine's art critic, is a strong believer that art is for everyone. His writing aims to demystify art and the business of art, without forfeiting any of the magic. Here, he shares thoughtful advice that he's learned from decades of experiencing art and spending time with artists. Yes, it takes a flash of inspiration and genius, but it also takes practice. Lots and lots of practice, with endless self-inspection.
It's a great read for the end of the year and I hope I could acquire a print copy of this edition, just for the pleasure of flipping through the pages.
Read the article: here.
ENRICO EMMANUEL
Graphic Designer
What:
Miles Morales DIY Spidey Costume
Description:
"Spider-Man: Into the Spider-Verse" akhirnya nongol juga di bioskop. Secara cerita sih emang ringan dan premisnya juga standard film superhero with its multiverses, tapi elemen grafik dan drawing style-nya menurut gue top banget (apalagi Gwen Stacy-nya), dan yang jadi highlight gue adalah gaya kostum spidey saat Miles pertama kali keluar dengan spider suit buatan nya sendiri, ditambah hoodie dan Air Jordan yang cocok banget dengan karakter Miles.

Kalau ada yang nemuin info tentang mainan Miles in this costume, please let me know! ??
VINCENT WIDJAJA
Graphic Designer
What:
Subway Hands
Description:
Scrolling down through this Instagram we could get a glimpse of NYC subway commuters' life and their personalities just by the cropped shots of their hands. Some are obvious, banal, sentimental, while some are of an enigma —which got us wondering nervously. Maybe hands are indeed window to the soul. And it's beautiful.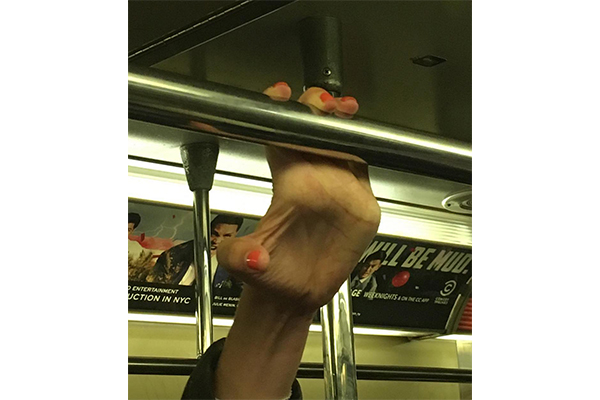 DILA F. HASAN
Graphic Designer
What:
Sleep, eat and repeat
Description:
Libur telah tiba libur telah tiba~~~ kalo kata kak Tasya Kamila hehe. Liburan tahun baru kali ini akan saya persembahkan kepada diri saya sendiri yang telah bekerja keras, banting tulang, keringat panas dingin, kepala nyut-nyutan mencari uang untuk menggapai cita-cita (huft yaudahlah maafin). Walaupun kantor libur tapi nyari nafkah untuk diri sendiri tidak berhenti disini huhu sadly masih banyak PR saya :)…Anyway HAPPY HOLIDAY bagi yang merayakan!! New year, new me! #jk
SABRINA FARIZKY
Marketing & Sales
What:
「ただいま考え中」
Description:
Ga sengaja nemuin lagu ini gara-gara abis nonton vlog-nya Hello Kitty, taunya enak.
Liriknya kurang lebih seperti ini:
ただいま考え中
ただいま考え中
ただいま考え中
Artinya? mikir deui.
RANDY RAIS
Sutradara
What:
Alfonso Cuarón's Roma
Description:
Nyesel !!….. Nonton online.
Buat yang belum dan mau nonton disarankan langsung ke bioskop (kalau masuk juga sih).
Masterfully crafted masterpiece ! Alfonso Cuarón bercerita tentang kehidupan seorang wanita beserta keluarganya dengan latar Mexico di tahun 70-an (katanya sih berdasarkan kehidupan personal).
Setiap scene dan setiap shot sejalan dengan apa yang mau diceritakan Cuarón, gak kurang gak lebih, yang berakibat gue jadi agak gak percaya sama DOP Robby Muller yang pernah bilang kalau "beauty (cinematography) kills the drama", udah mokat duluan sih doski.
Serius, kalau ada IMAX, gue nonton lagi (that Riot scene is the new 360 car scene).
9.65 out of 10, sorry Spider-verse.
MAR GALO
Bamboo Twist
What:
PRIA by Yudho Aditya
Description:
A very well made short film that's also very daring (in Indonesia). The film explores about the young man who is about to be married off to a young girl. He has doubts and soon we know why. It's simple, realistic, and touching.
A quick search on the director tells that he is finishing his MFA in Columbia University and this film is co-produced by Babibuta Film.