Things We Like: Dari Minggu Keempat Maret
Musik, seri animasi hingga majalah yang kami sukai.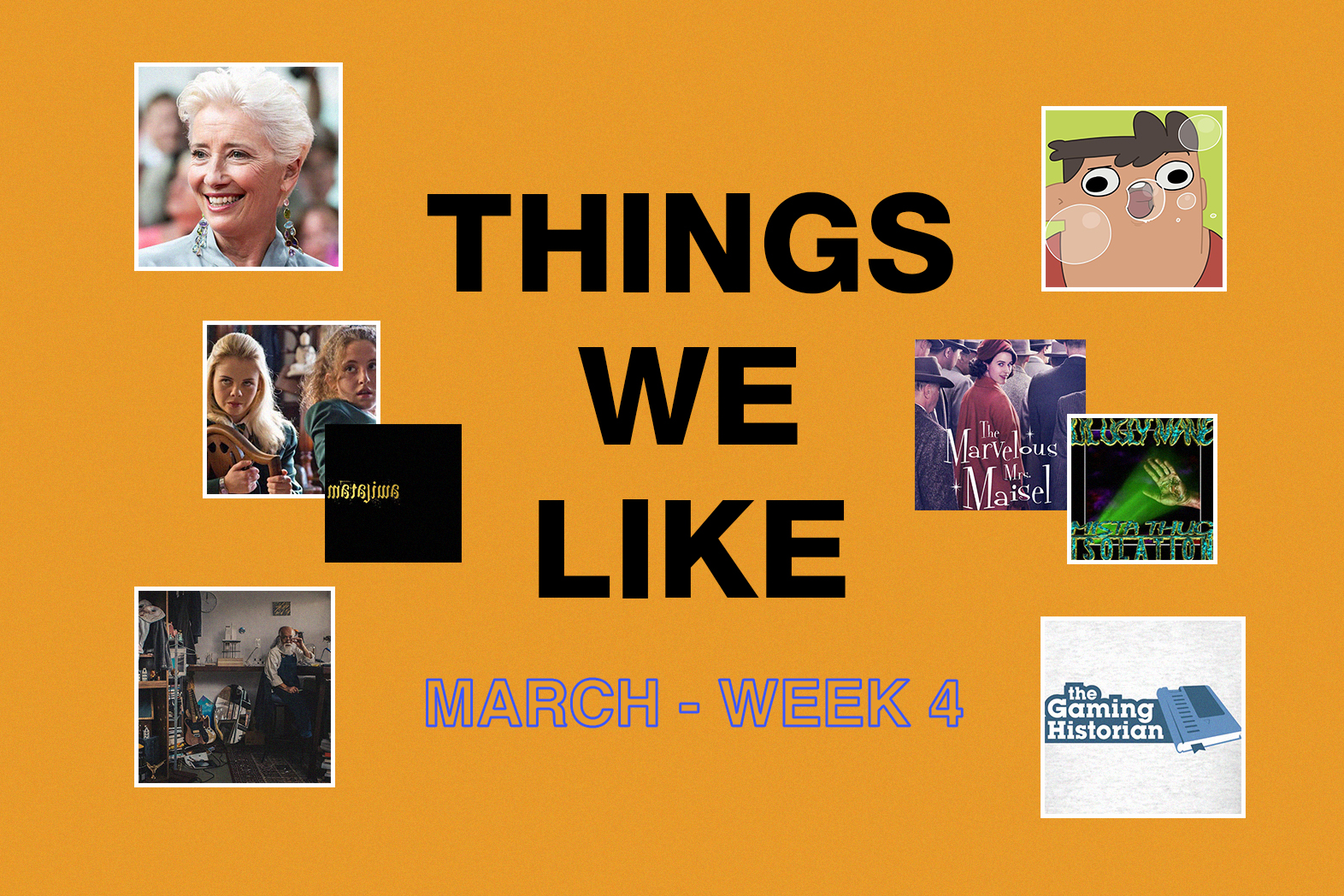 Di dalam program "Things We Like", kami mengumpulkan hal-hal yang sedang disukai oleh tim Whiteboard Journal berikut alasannya. Dari sosok yang inspiratif, seri animasi komedi, hingga album baru penuh potensi, berikut adalah "Things We Like" dari minggu keempat Maret.
M. HILMI
Managing Editor
What:
Gaming Historian
Description:
Secara personal, PS1 adalah konsol game paling revolusioner. Banyak sekali game-game yang sampai sekarang melekat di kepala, CTR, Bloody Roar, Twisted Metal, dan banyak lagi lainnya. Sayangnya, nggak pernah punya konsol ini di rumah. Jadi ya kalo pengen main harus ke rental PS. Dulu, sebagai anak desa yang FOMO, sempet bela-belain naik sepeda 7 kilo buat nyamperin rental PS di kota.
Sebelum akhirnya, mengenal yang namanya emulator. Bokap orangnya ngulik banget PC, dan suatu saat kita diperkenalkan dengan emulator untuk main game PS di PC bernama Connectix Virtual Game Station, maka sejak itu jadi jarang mampir ke rental PS lagi. Mungkin ini trik juga dari bokap biar anaknya nggak jajan ke rental PS mulu. Kemudian nemu lagi emulator yang lebih canggih bernama Bleem yang bisa bikin grafis game PS lebih mulus lagi, gila sih ini.
Pas nemu video ini, jadi nostalgia banget. Dan ternyata jadi tahu bahwa dua emulator tadi sempet beef-beef-an sama Sony, dan ajaibnya mereka menang di pengadilan!
FEBRINA ANINDITA
Editorial Staff
What:
Matajiwa
Description:
Nyesel nggak nonton konser Anda akhir Maret lalu. Sebenarnya gue dulu waktu kuliah lebih sering dengar Matajiwa sih – bahkan bisa dibilang borderline groupie kali ya karena selalu nonton bareng teman-teman. Kebetulan dulu Anda pacaran sama tantenya teman dan teman gue pernah jadi backing vocal pas Matajiwa tampil kalau nggak salah. Jadi, setelah pantau dokumentasi orang-orang yang nonton konser Anda, gue jadi mulai dengar album Matajiwa lagi.
Kalau ngomongin vokal dan performance, Anda bisa dibilang musisi yang tough tapi fragile banget dan itu terdengar dari vokalnya yang raw dan cara dia memainkan gitar sepenuh hati sampai sering putus senar.
Beda ya rasanya orang yang berkarya karena hard living dan passionate. Kaya Anda, kalau on stage energinya besar banget huehehe~
AMELIA VINDY
Editorial Staff
What:
Animasi Si Nopal
Description:
Lucu banget. Gue nonton sampai nangis. Cute girl is my favorite character and Nopal is #mood. Satu hal yang membuat kartun singkat ini menarik, cara mereka menjelaskan sesuatu di tiap episodenya itu ngehe, alias sudah tahu durasinya singkat tapi tetap mau menjelaskan panjang lebar padahal mah bisa singkat banget. MORE EPISODES PLEASEEEEEEEEE!!!!!
FAVORITE EPISODE:
"Kado ulang tahun"
"Pertanyaan Feat. KRL Commuter Line'
"Tebak-tebakan gila!"
"Lagu Libur Sekolah!!!"
GHINA HANA SABRINA
Editorial Staff
What:
The Gentlewoman's "Tagging Along" Feature
Description:
After months of not seeing "The Gentlewoman" on newsstands, I finally saw one and of course bought it right away. I'm a big fan of Penny Martin and consider her to be one of my idols, and honestly her immaculate taste is something I admire strongly.
Anyway, "Tagging Along" is one of the magazine's newest feature where the readers are invited to, well, tag along to a certain figure's particular activity. This time, we're invited to follow Claire Ptak, one of London's most reputable bakery and cafe owner, as she looked through layers of marvelous stones to find the perfect worktop for her kitchen. It's a simple feature, just two pages long, but it perfectly encapsulates a tiny glimpse of these women's lives and how particular they are with what they're doing – which is the type of content that I love.
EMMA PRIMASTIWI
Editorial Staff
What:
Emma Thompson
Description:
Favorite human alive. From one Emma to another, I salute you. She is everything I aspire to be. Funny, smart, beautiful, enigmatic.
CLARISSA AMABEL
Art Director
What:
The Marvelous Mrs. Maisel
Description:
I've been spending a lot of time in bed this week (sick lol) and I have been kept company by the delightful world of Amy Sherman-Palladino shows, aka the one who made GILMORE GIRLS!
In 1950s New York, Midge Maisel was a picture-perfect, Upper East Side Jewish housewife. That is, before her dud of a husband, a salaryman with failed dreams of being a stand-up comedian, left her for his secretary. Drunk and devastated, Midge found herself under the smoky spotlight of a downtown dive bar, rambling about her misery to roaring crowds who couldn't get enough of her and her wit.
As always, I am thoroughly charmed. I want to live in this world (without the corsets). I want to banter incessantly with my snappy manager/compadre who looks like a 50s newspaper boy but is actually a grown-up woman. I want people to look at me incredulously but secretly admire my chutzpah. I want to sink into this show like it's a hot, fresh pretzel dipped in room-temperature butter!
DILA F. HASAN
Graphic Designer
What:
Derry Girls – Netflix TV Series
Description:
TV series ini kerasa sangat "FULL", pengenalan karakter-karakternya sangat mudah di ingat, dan memang cuman sedikit karakternya. Cerita-cerita yang di bawa juga sangat light, seperti keseharian anak remaja pada dasarnya tapi dengan humor-humor yang sangat dry yang bikin kalian mikir seperti saya "apasih kok tingkah lakunya ada aja". Intinya kalau kalian lagi pengen nyari tontonan yang kocak, ringan dan terasa lengkap untuk hati dan jiwa raga (-,,-) ini cocok banget. Sadly, 1 season cuman ada 6 episode :(.
ALMER RASHAD
Graphic Designer
What:
Lust – Tekesima
Description:
Akhirnya setelah hampir 3 tahun setelah "chingichanga" EP, Lust balik lagi dengan debut albumnya. Band indie rock Malaysia ini berhasil mencuri perhatian gue setelah EP mereka di tahun 2016, mereka memiliki materi-materi yang eksploratif dan exciting. Mungkin gue punya ekspektasi yang lebih dari album ini apalagi dengan cover foto yang keren banget. Walaupun album ini ga sebagus EP mereka, album ini tetap solid untuk menjadi debut album dan tetap engaging untuk didengarkan. Gue ga sabar apa yang mereka akan lakukan untuk kedepannya. Album ini punya banyak potensi.
SABRINA FARIZKY
Marketing & Sales
What:
Lil Ugly Mane – Mista Thug Isolation
Description:
Terima kasih Spotify karena telah mempertemukan gue dengan album ini. Meskipun awalnya sensi dikit karena lagu yang masuk ke playlist Discover Weekly gue adalah "Alone and Suffering," apakah ini sindiran?! Thanks but no, Spotify.
WHAT A GREAT ALBUM. Tracks nya banyak mengingatkan gue dengan lagu-lagu hip-hop di era awal 90an, namun dengan lirik yang lebih relevan dengan hal-hal di masa kini -ish (FYI, album ini keluar di tahun 2012).