Things We Like: Dari Minggu Keempat November
Film, makanan, hingga tv series yang kami sukai.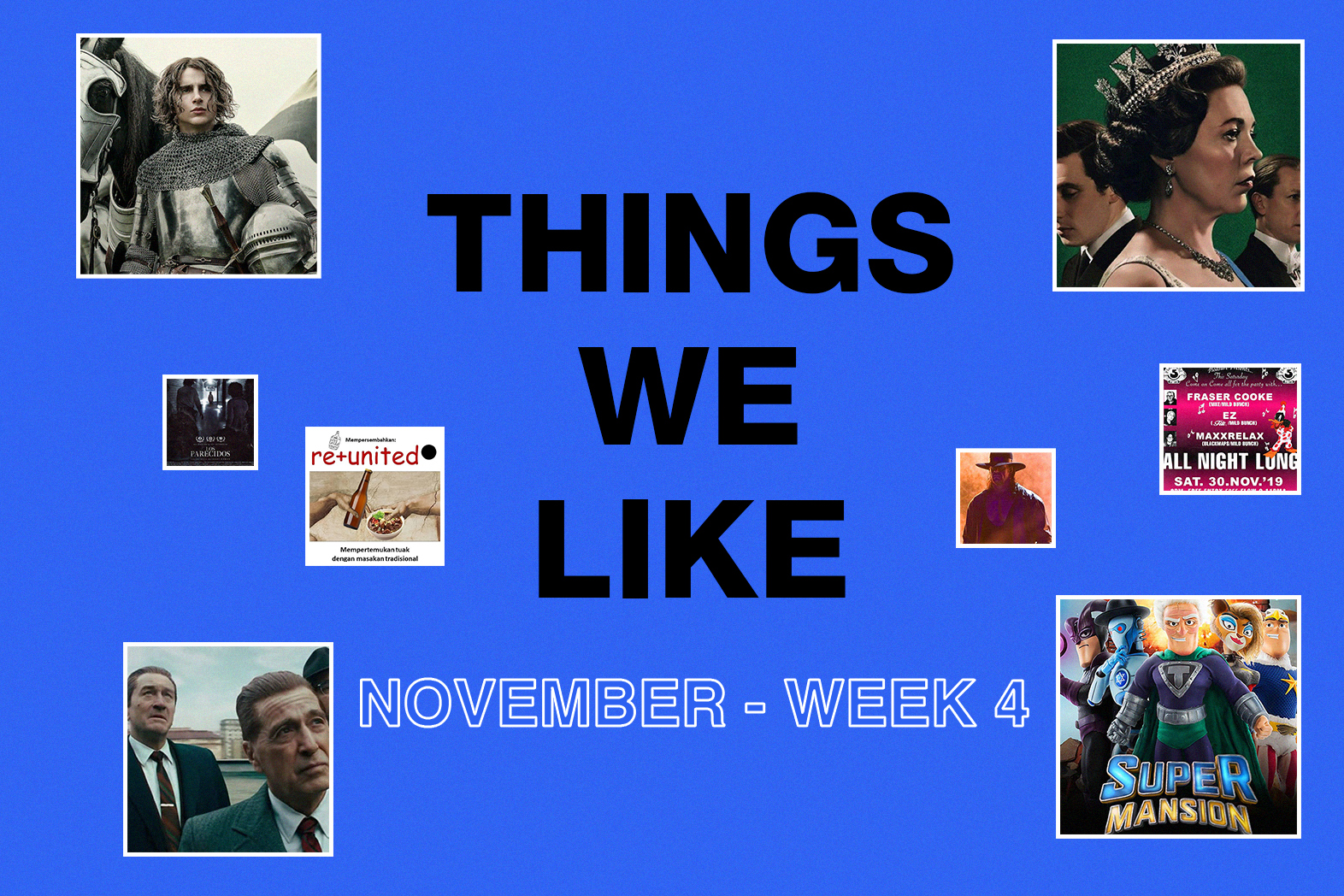 Kembali lagi dengan "Things We Like"! Di dalam program ini, kami mengumpulkan hal-hal yang sedang disukai oleh tim Whiteboard Journal berikut alasannya. Dari seri animasi "Supermansion", hingga sederet film-film menarik mulai dari "The Irishman" hingga "The King", berikut adalah "Things We Like" dari minggu keempat November.
M. HILMI
Managing Editor
What:
Supermansion
Description:
Bayangkan sebuah universe di mana kita punya lima superhero eksentrik. Yang pertama adalah superhuman semacam superman yang kini berjuang melawan usianya yang senja. Yang kedua adalah kucing bionik yang slutty. Ketiga adalah pangeran kegelapan yang manja minta ampun. Keempat adalah robot eksistensial yang memilih untuk menjadi Yahudi. Dan, yang terakhir, pahlawan Amerika yang membeku selama 40 tahun dan kini kaget dengan suasana negaranya yang sangat berbeda. Bayangkan kegilaan apa yang bisa terjadi jika mereka tinggal satu atap.
Salah satu yang paling kocak adalah saat si pahlawan Amerika ini kaget dengan presiden berkulit hitam, dan sidekick-nya dulu yang sekarang openly mengaku sebagai LGBT. 
Ada nama Bryan Cranston, Key dan Peele di series ini. Tonton untuk hiburan sepulang kerja:
FEBRINA ANINDITA
Editorial Staff
What:
Mild Bunch at Zodiac
Description:
Tanggal 30 November 2019 ada banyak acara menarik untuk didatangi. Beberapa masuk niatan, salah satunya nonton Gabber Modus Operandi lagi di MACAN buat olahraga (dan bener sih turun 1 kg lagi). Tapi justru acara yang impulsif didatangi yang seru. 
Selesai acara di MACAN, meluncur ke Zodiac buat nonton Mild Bunch (dan Max Mackee dari dekat). Setnya seru, Max manis banget. Set B2B tight sampai pagi.
Niat dalam hati "1 lagu lagi, pulang" tapi nggak pulang-pulang. 
Nih salah satu lagu yang dimainin semalam. 
GHINA HANA SABRINA
Editorial Staff
What:
Re+united, a program by @caktillebrewery
Description:
Jadi beberapa waktu lalu diundang sama Mas Rahmat (@caktillebrewery) untuk ikut acara yang nge-pairing tuak buatannya sendiri dengan masakan khas Jawa Timur. Gue pun langsung excited karena tuak bikinannya Mas Rahmat itu enak banget. 
Pada hari-H, setelah telat dan kena macet karena hujan, kita akhirnya sampai di Stasiun Senen, dari sana kita pun diajak jalan sedikit ke Warung Arema yang terletak di belakang masjid stasiun. Lalu kita disuguhkan rawon yang rasanya authentic lengkap dengan topping tambahan seperti mendol, tempe goreng, dan telur asin.
Anyway, yang membuat acara ini lebih seru adalah jenis-jenis tuak yang dibuat sendiri oleh Mas Rahmat. Ada yang terbuat dari melon, buah naga, ubi ungu, sampai hybrid antara buah naga + melon dan Mas Rahmat juga ngebuat coffee liquor yang bikin bangun. What a dinner!
JANUAR KRISTIANTO
Heart Attack
What:
The Irishman
Description:
Scorsese has just pulled off a modern classic, total stunner, old school film-making at the highest order. Brimming with great casts, "The Irishman" is a fine display of Scorsese's mastercraft of the Gangster genre. I mean….Joe Pesci, Al Pacino, Robert De Niro, Ray Romano, Anna Paquin & Action Bronson? Oh boy, you're definitely in for a ride!
TIANA LONDA
Graphic Designer
What:
The Crown Season 3
Description:
If you're a bit of a nerd like me and enjoy a bit of history, you should give this show a try! This is one of my favorite series from Netflix and I've been following this since their first season. Basically, the story is about the monarchy in the UK. Tapi di season ke-3 ini cast-nya udah ganti semua, and at first it was a bit weird to watch the show without seeing Claire Foy as the queen or Matt Smith as Prince Philip. Tapi setelah nonton beberapa episode, ternyata acting dari casts barunya juga bagus. So overall, this third season is still as good as the previous ones! 
DILA F. HASAN
Graphic Designer
What:
The King – Netflix Original Movie
Description:
Buat pecinta sejarah kerajaan Eropa, ini salah satu film yang digambarkan sesuai kejadiannya, at least apa yang gue tau tentang sejarahnya bener-bener diceritakan disini. Menceritakan tentang awal mula dari kerajaan Inggris di bawah penguasaannya King Henry The V dan bagaimana Prancis menyerahkan kekuasaan kerajaan mereka kepada Inggris. Peran Timothee Chalamet menjadi King Henry The V SANGAT LAKI huhu gimana yak, merinding pas di warfield dan aksen bahasa Prancis Robert Pattinson yang berperan sebagai prince from France sangat sexy huhu dan image douchebag-nya dapet banget. Worth the 120++ mnts to watch!
SABRINA FARIZKY
Marketing & Partnerships
What:
WWE Top 10 Special Edition Video: The Undertaker's 20 greatest moments
Description:
Sama seperti anak lain yang tumbuh kembang di awal tahun 2000-an, dulu gue cukup hobi nonton pertandingan WWF (sekarang udah ganti nama jadi WWE), dan salah satu karakter yang menurut gue paling memorable adalah The Undertaker, dengan segala gimmick horror dan supernaturalnya. Bahkan di tahun 2013, dia dinobatkan menjadi "The Greatest WWE Wrestler Ever," WHAT A LEGEND.
Kemarin iseng nyari video-video lama doi, terus ketemu si video kompilasi ini. Nomor 16 (Dragged to Hell) JUARA SIH. Video ini juga cukup menjadi pengingat betapa extra-nya manusia ini, dengan entrance skit dan signature closing move-nya, yaitu Tombstone Piledriver.
STEFAN TIRTA
Marketing
What:
The Similars (Los Parecidos) 
Description:
"The Twilight Zone" in a modern, mexican way. What could possibly go wrong?