Things We Like: Dari Minggu Ketiga September
Seni rupa, artikel, buku hingga film yang kami sukai.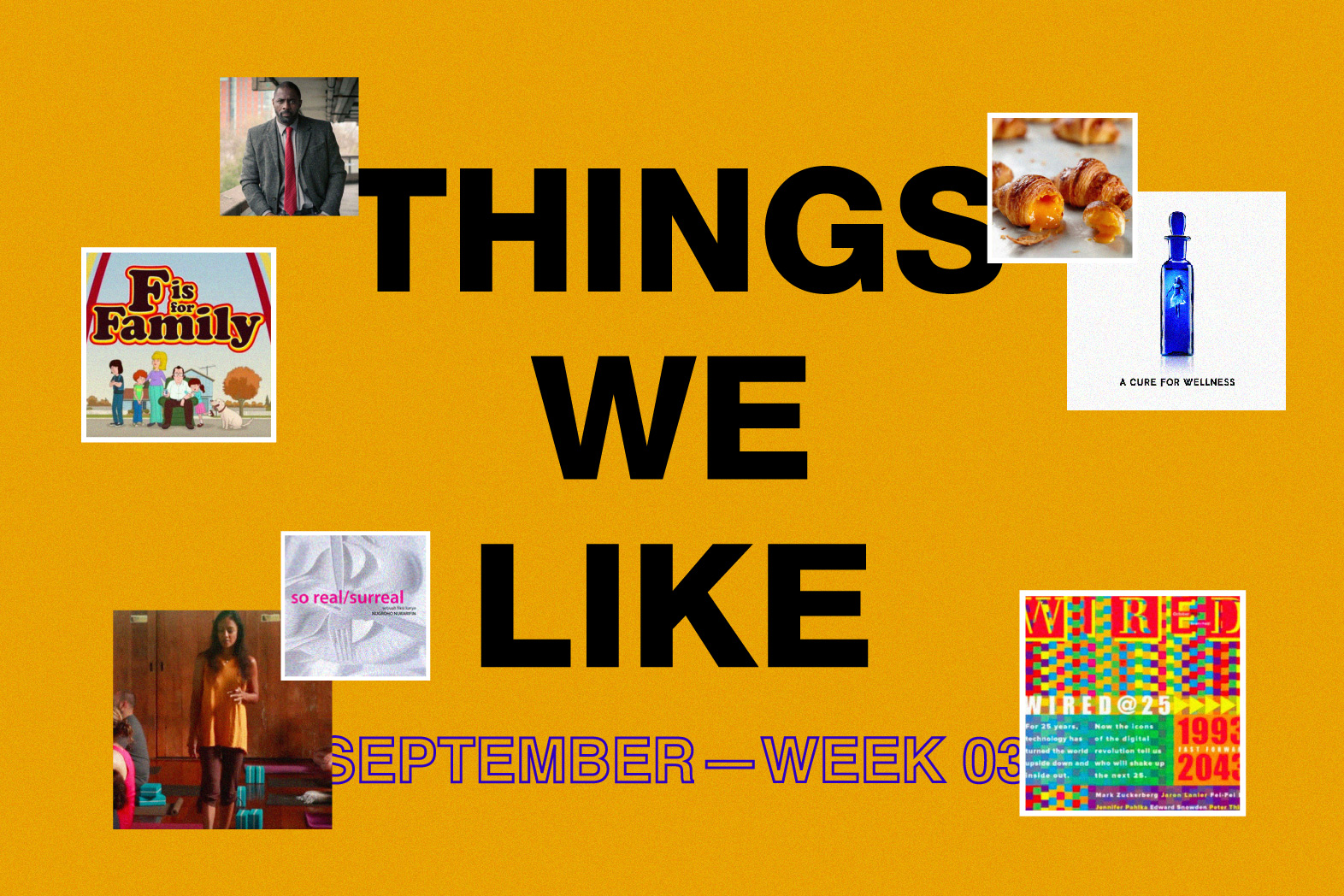 Minggu baru, artinya hal baru di edisi "Things We Like". Kali ini kami kembali mengumpulkan hal-hal yang sedang disukai oleh tim Whiteboard Journal berikut alasannya. Dari makanan, film, sampai seni rupa kontemporer , berikut adalah "Things We Like" dari minggu ketiga September.
M. HILMI
Managing Editor
What:
F is for Family
Description:
Semenjak punya anak jadi ada kegelisahan tentang bagaimana menjadi kepala keluarga, mendidik anak, dan menanggung beban-beban lain yang akan datang. Belum lagi tentang ketakutan yang sangat kelas menengah, bahwa suatu saat nanti akan menjadi pria paruh baya yang tidak relevan dengan zaman, yang bisanya cuma menggerutui keadaan. Semua kegelisahan itu digambarkan dengan akurat di opening scene acara ini. Saat nonton acara ini, jadi paham bahwa menjadi tak relevan adalah keniscayaan. Yang penting adalah selalu ingat untuk menertawakan diri sendiri di sana dan di sini. Acara ini bisa jadi sofa yang tepat untuk mulai melakukan itu.
FEBRINA ANINDITA
Editorial Staff
What:
Duto Hardono
Description:
Duto lagi suka eksperimen medium karya dengan instruksi, jadi bentuknya berupa aktualisasi dan improvisasi. Lumayan kepikiran karena saking kontemporernya, berarti yang dijual adalah instruksinya kan? Tapi di lain sisi, agak bingung dengan makna karyanya – karena saya merasa ga dapet apapun. Hmm.
AMELIA VINDY
Editorial Staff
What:
Akun Instagram Bangijal_Tv
Description:
Awalnya saat salah satu konten dari akun ini muncul di laman explore saya, sama sekali nggak tertarik buat nengok. Eh taunya pas ada teman yang lagi play videonya, saya langsung triggered. Inner betawi seakan berontak dan merasa ditantang sama semua celetukan mereka lontarkan di video tersebut. Lucu mah selera ya, buat yang nggak masuk sama jokesnya, saya punya nggak memaksa, cuman ya coba dulu aja nonton hehe. Btw, konten Bang Ijal yang paling juara dunia buat saya adalah segment "GREGET".

Nih ada sedikit pantun buat para pembaca:
Beli jasjus, di Mangga dua
Biarin aja jayus, asal banyak yang suka
YAAAAAAA
Ini greget gue:
Kemaren gue minum susu,
"Terus?"
Tapi langsung dari sapinya.

YAAAAAAA
GHINA HANA SABRINA
Editorial Staff
What:
Luther TV Series
Description:
Since I have been confined to my bed for the past week, Netflix has been my one and only companion who has helped me get through the day. Started watching "Luther" because of Idris Elba's face on the cover, then what I got was a gripping psychological crime thriller which happened to be set in London. Funny seeing a serial killer living in the Barbican Estate and a bomb being set off 3 blocks from where I lived.

EMMANUELLA PRIMASTIWI
Editorial Staff
What:
Golden Lava Croissants – BreadTalk
Description:
I really don't want to like this, but I do. When my sister bought these I thought it was just another salted egg gimmick and I brushed it off. But then I got hungry and I ended up eating the whole box, It's SO GOOD.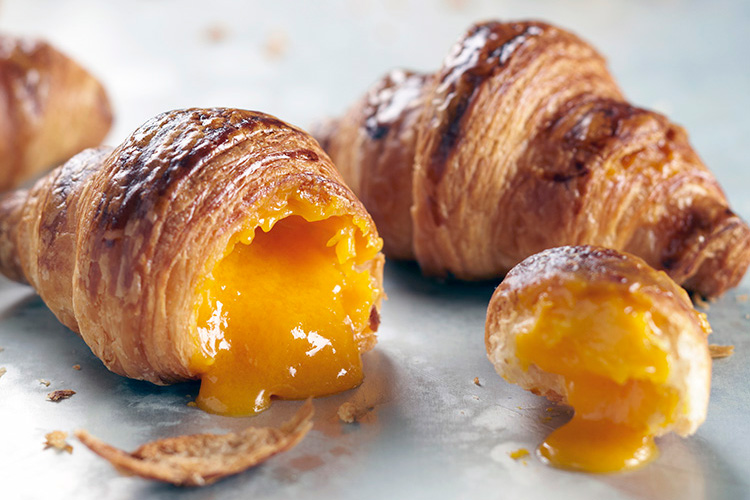 JANUAR KRISTIANTO
Heart Attack
What:
So Real/Surreal – Nugroho Nurarifin
Description:
Pas lagi beberes kamar akhir pekan lalu, gue nemuin buku karya fiksi dari mantan mentor gue di Ogilvy dulu, Lord Nugi. Anjrit, emang absurd sih feelnya, plot diceritakan dari berbagai sudut pandang berbagai karakter yang berbeda, padanan ini seakan mengaburkan batas antara fiksi dan realita. Ada selipan unsur chik-lit, balada kehidupan kota besar dan masih banyak yang lainnya. Jika boleh meminjam terminologi sang penulis, "post-mo lit" adalah genre yang pas untuk menggambarkan karya ini. Ironis, menggelitik & entertaining!
Gue ga tau apakah buku ini sudah out of print, but if you can get a copy of this, cop it!
"Hidup sekali pakai. Itulah yang kumiliki. Dan aku bahagia! Mungkin."
Cek buku di sini.
CLARISSA AMABEL
Art Director
What:
MoMA: In the Studio
Description:
Nothing helped me understand modern art's abstract expressionists better than this web series from MoMA. In simple, captivating terms, art conservator Corey d'Augustine demonstrates the techniques of Picasso, Pollock, Kusama, to Kline, and demystifies their brilliance.
ENRICO EMMANUEL
Graphic Designer
What:
Wing Heng Dim Sum
Description:
Dim sum ini salah satu favorit gw di Jakarta, harganya murah, rasanya enak, dan dia buka 24 jam, sayangnya lokasinya di Pluit jadi butuh perjuangan buat ke sana. Makan di sini selalu berhasil bikin gw bahagia di tengah-tengah hectic-nya pekerjaan :')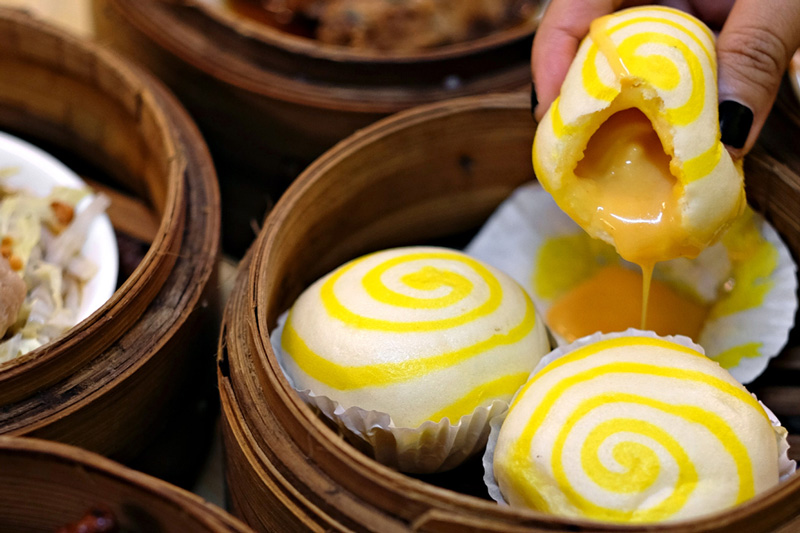 VINCENT WIDJAJA
Graphic Designer
What:
A Cure for Wellness
Description:
A horror-thriller movie that makes you wanna question what's being fed on you, whether you're actually insane or actually those around who manipulates you to think or feel that way, whether very wealthy people are actually trapped by their own insecurities and delusions to blindly pursue the so-called fountain of youth without thinking of its consequences and father-daughterly love that concludes into something…sick…at least those are some of what I've perceived among many others. There are few intense scenes, like this teeth extraction scene without anaesthesia that reminds me of that torture scene from "A Clockwork Orange". That gagging scene is also cringeworthy as fuck! Yikes.
Nevertheless, it's gorgeously shot movie with lots of blue and green color usages that kinda reminds me of "Shape of Water"…Okay maybe it was inspired.
If you are repulsed or have phobia of eels, please stay away from this movie.
Okay thanks bye.
DILA F. HASAN
Graphic Designer
What:
Atypical
Description:
A Netflix TV series, yang menceritakan tentang struggle hidup seorang anak yang terdiagnosa mempunyai spectrum autism, membuat hidup dia jauh lebih berbeda dengan anak-anak lainnya.  Seperti bagaimana dia mengatasi lingkungan sekolah, pertemanan, love life dan keluarganya.
Intinya, TV series ini dengan baiknya dan menyenangkannya memperlihatkan perspektif baru untuk kita semua yang kadang suka memanfaatkan suasana yang ada dengan sia-sia. Sejauh ini sudah keluar 2 seasons, dan tidak mengecewakan seperti kebanyakan TV series yang sekarang-sekarang ini baru keluar. Hope you'll like it!
SABRINA FARIZKY
Marketing & Sales
What:
The WIRED 25th Anniversary Issue
Description:
Dalam rangka merayakan hari lahir ke-25, majalah WIRED mengajak 25 orang paling berpengaruh di seperempat abad terakhir, dan meminta masing-masing dari mereka untuk menominasikan seseorang atau sesuatu yang mereka anggap akan memberikan perubahan besar di 25 tahun ke depan.
Dari usaha penyetaraan hak bekerja bagi komunitas difabel di tech industry, hingga penggunaan DNA sebagai coding language di masa depan, edisi ini membuat saya sangat excited tapi juga lowkey takut melihat betapa advance-nya perkembangan teknologi.
Baca selengkapnya di sini.
ADYTHIA UTAMA
Videografer
What:
Maniac
Description:
Seperti perpaduan "Eternal Sunshine of The Spotless Mind" dan "Inception", tapi agak agak "Black Mirror" juga. Ini juga adalah debut Jonah Hill dengan badan paska dietnya.
MAR GALO
BAMBOO TWIST
What:
The Yoga Barn Guru: Inside Uma Inder's Bali Cult
Description:
Finally met lovely Feby in Bali and we were talking about spiritual journey and what not. She referred me to this notorious case of Uma Inder a few years ago at Yoga Barn. A short read and quite interesting that serves as a reminder that worship and devotion in any form of spiritual or religious belief should be accompanied with a healthy dose of skepticism.
Read the full article here.