Things We Like: Dari Minggu Pertama Februari
Anime series, playlist hingga makanan yang kami sukai.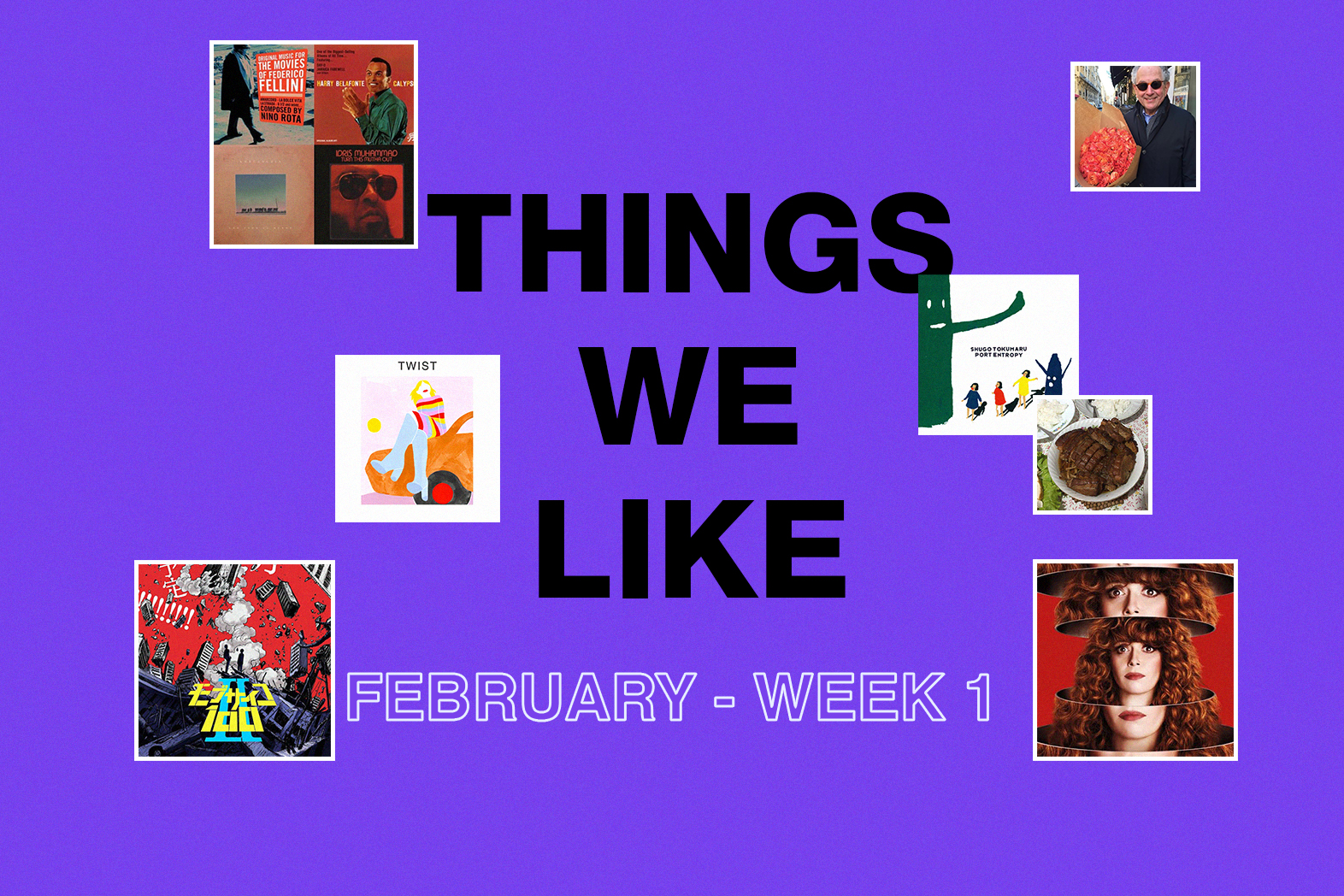 Di edisi pertama "Things We Like" di tahun 2019, kami mengumpulkan hal-hal yang sedang disukai oleh tim Whiteboard Journal berikut alasannya. Dari anime series, series komedi yang menyentuh topik eksistensial, hidangan khas Tahun Baru Imlek hingga playlist berisi love songs, berikut adalah "Things We Like" dari minggu pertama Februari.
M. HILMI
Managing Editor
What:
Mob Psycho 100 Season 2
Description:
Dulu sempat berharap banyak saat mulai nonton "My Hero Academia". Harapannya bisa nemu tontonan anime baru yang seru untuk diikuti. Ternyata "My Hero Academia" biasa saja, tak jelek, tapi tak ada istimewanya. Secara tidak sengaja kemudian menemukan series Mob Psycho dan langsung jatuh hati sejak melihat opening credits. Dibuat oleh ONE (One Punch Man), "Mob Psycho" melanjutkan premis perjalanan hidup jagoan super kuat (berbeda dengan anime kebanyakan – termasuk "My Hero Academia" – yang pemeran utamanya seorang loser). Yang paling menarik dari cerita semacam ini adalah bagaimana sang sosok utama dengan segala kekuatannya justru mempertanyakan soal eksistensialisme dan kehidupan daripada berjuang mengasah kemampuan. Di season kedua ini, "Mob Psycho 100" dibawa ke arahan yang lebih nggerus, membuat kita kadang ikut mempertanyakan nilai-nilai kehidupan.
FEBRINA ANINDITA
Editorial Staff
What:
Russian Doll
Description:
Jadi habis tamat "Sex Education" agak bingung mau nonton apa haha. Lalu cek Instagram Netflix, mereka post tentang "Russian Doll". Pemeran utamanya juga main di "Orange is the New Black". Langsung tamat akhir minggu lalu. Bisa dibilang ringan tapi woke karena Amy Poehler ikut nulis cerita. Pernah nonton film "Groundhog Day"? Kurang lebih konsep mirip tapi ada kematian dan kesempatan kedua di dalamnya. Pada beberapa episode, dialog terasa pretentious tapi ya mungkin di kota itu memang ada orang seperti karakter dalam seri ini.
Apartment Maxine keren banget!
AMELIA VINDY
Editorial Staff
What:
Twist – Distancing
Description:
Setelah sekian lama, baru nyangkut lagi sama per-indie-pop-an setelah mendengarkan materi album "Distancing" milik Twist, yang mereka rilis akhir tahun lalu, under Buzzrecords (Toronto). Twist berhasil mempresentasikan musik mereka dengan kemasan yang sangat menarik dan mencoba mendefinisikan indie pop dengan cara mereka sendiri. Di album "Distancing", lo nggak hanya akan denger "teng nong teng nong" atau dominasi jangly sound seperti band indie pop kebanyakan, tapi lewat album ini kita juga bisa dengar materi-materi dengan summer vibe, post punk, chill hingga elektronik. Tapi yang jelas, menurut gue karakter band ini ada pada warna vokal Laura Hermiston, yang membuat Twist terdengar seperti band lawas yang progresif dan dengan packaging yang sangat modern. Love them.
Favorite tracks: Waves, Distancing, Tunnel, Towers
GHINA HANA SABRINA
Editorial Staff
What:
SUZINE 001 Playlist
Description:
Jadi playlist ini rencananya dibuat untuk jaga-jaga waktu launching event majalah Lazy Susan kemarin karena para DJ gak bakal main all night long – namun pada akhirnya juga gak dimainin in full karena ada DJ dadakan pas event. Turns out, the playlist is A+ and I listen to it on a daily basis; during shower, while driving, as background music while hanging out and every other moments. From Blue Note tracks to Harry Belafonte, The Internet to Blood Orange, Omar S to Chaos In The CBD, the playlist will surely get you in the #mood.
CLARISSA AMABEL
Art Director
What:
My grandmother's Chinese New Year food
Description:
Happy Chinese New Year! In a week that saw me through physical ups and downs, Tuesday was a definite highlight. I took pleasure in receiving money for no other reason than being an unmarried Chinese person. And Popo's food has always been something my entire extended family look forward to every CNY. She's starting to forget things, so we're grateful that we're still able to enjoy her Hakka-style home cooking for another year.
One of her greatest hits is the ham choi kon, the slow-braised pork slices with salted vegetables. I only had a couple of slices this year, but I'm kind of blaming it for the terrible sore throat I'm having. Don't get me wrong, it was scrumptious, but oi the salt and fats! Kionghi kionghi indeed 🍊🍊!!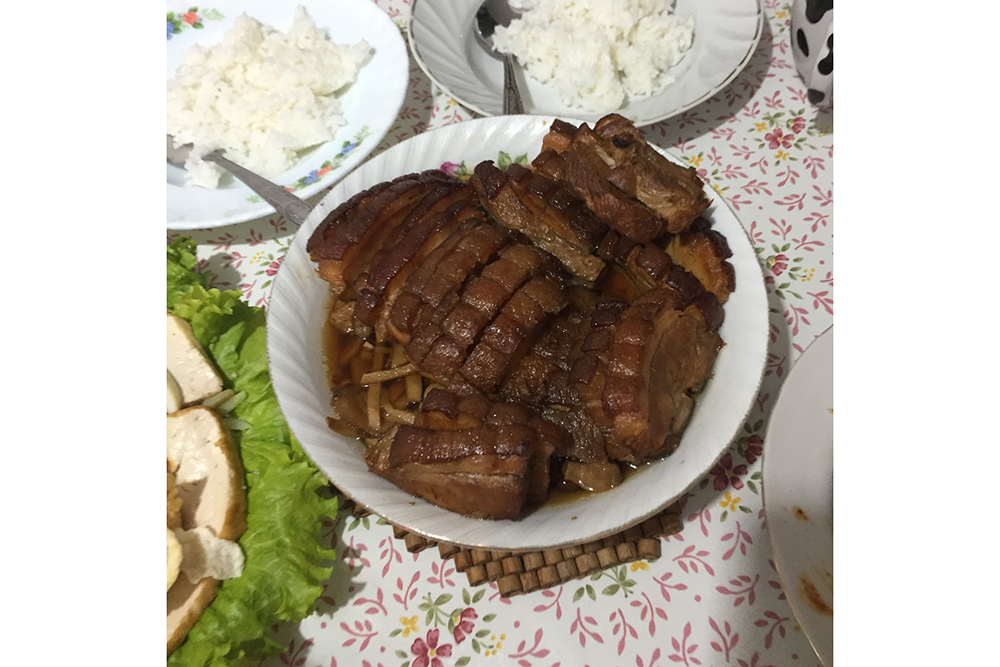 DILA F. HASAN
Graphic Designer
What:
Shugo Tokumaru – Port Entropy
Description:
I'm one of those people yang jarang mencari tahu lagu-lagu di luar bahasa yang ga gue pahami HEHE tapi ini! Irama-iramanya sangat menyenangkan hari-hari panas, macet dan segala kegaduhan rutinitas di Jakarta jadi lebih adem dari biasanya. Personally lagu favorite gue adalah "Tracking Elevator", "Lahaha", dan "Rum Hee" – CUS di play!
SABRINA FARIZKY
Marketing & Sales
What:
Ina Garten's Favorite Love Songs Playlist
Description:
Dari "I've Been Loving You Too Long" milik Otis Redding hingga salah satu lagu kesukaan saya, "Cheek to Cheek" yang dinyanyikan oleh Ella Fitzgerald, Ina Garten baru saja merilis playlist berisikan rentetan lagu-lagu romantis favorite-nya, just in time for Valentine's Day!
Sesungguhnya sih lagu-lagunya cukup standard untuk soundtrack hari kasih sayang, tapi yang membuatnya ekstra spesial karena Ina membuatkan playlist ini untuk suaminya, Jeffrey Garten, bahkan foto Jeffrey pun dipajang sebagai cover playlist-nya <3 Nah, ini baru namanya #couplegoals.
BRB dengerin playlist-nya, sambil makan silverqueen, dan berandai-andai kapan tresno-ku rawuh.