Things We Like: Dari Minggu Pertama Maret
Makanan, channel YouTube hingga series yang kami sukai.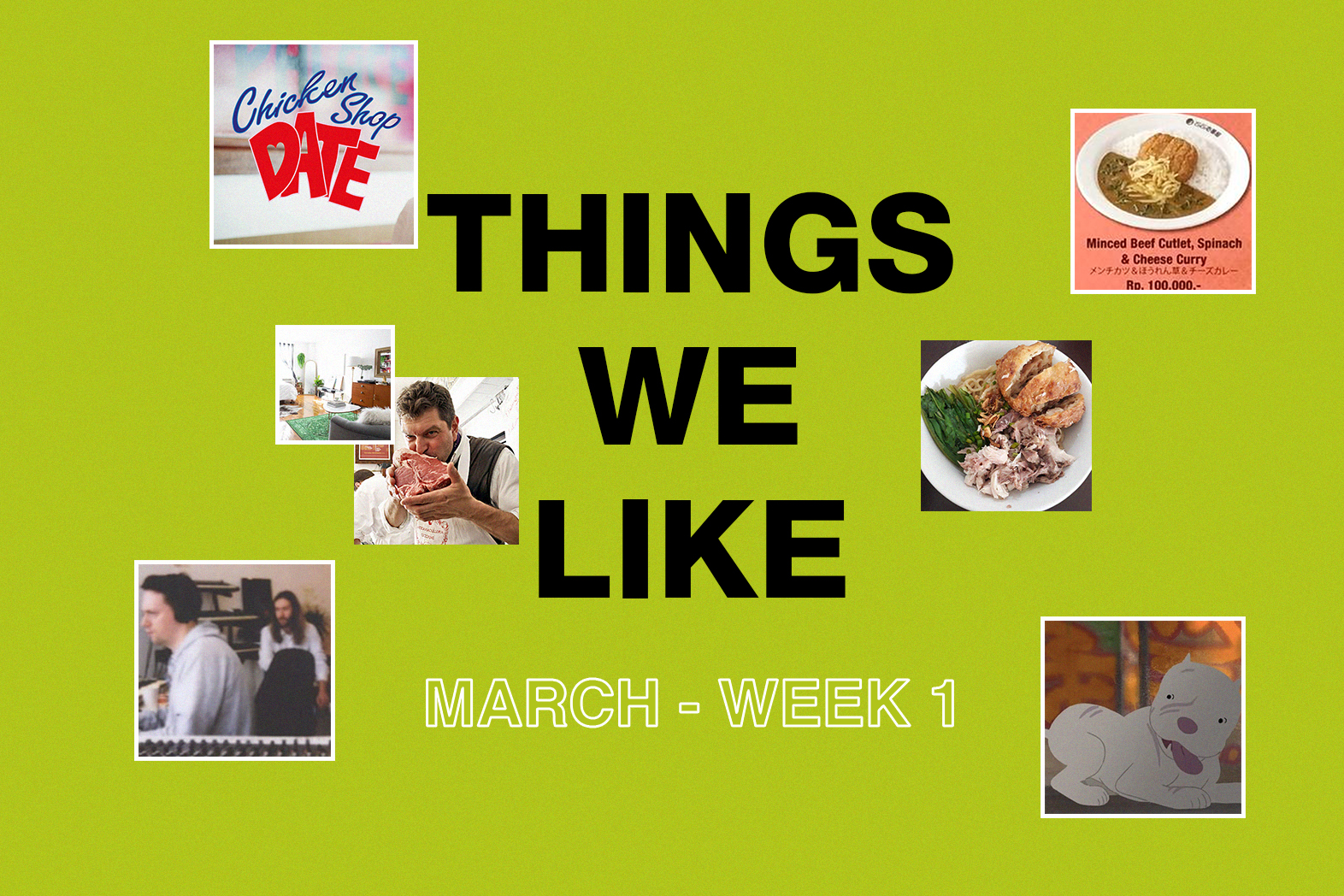 Di edisi pertama "Things We Like" di tahun 2019, kami mengumpulkan hal-hal yang sedang disukai oleh tim Whiteboard Journal berikut alasannya. Dari comfort food, gaming channel di YouTube, kedai bakmi ayam, hingga film animasi pendek, berikut adalah "Things We Like" dari minggu pertama Maret.
FEBRINA ANINDITA
Editorial Staff
What:
Gaussian Curve – Impossible Island
Description:
Hari Minggu kemarin rencananya mau cek semua playlist Selected yang akan datang dan mulai jahit lagu-lagunya jadi mixtape (ribet). Tapi mentok di playlist dari si A dan kecantol lagu ini. Sebenarnya lagu ini sudah sempat ada di Selectednya Galuh Anindita tapi karena pas banget kemarin hujan, jadi looping deh sampai ketiduran.
Lupa jahit jadi mixtape deh…
AMELIA VINDY
Editorial Staff
What:
Jam Skate Videos
Description:
Satisfying. Berhubung baru nemu hobi baru, gue lagi ada di momen digging ina-inu soal roller skate dan akhirnya stuck di video-video jam skating. Jadi jam skating ini adalah salah satu genre gitu lah kasarnya, karena roller skate ada banyak cabangnya, misalnya kaya jam skating, race, dll dan hal tersebut lah yang menentukan jenis sepatu apa yang akan lo pakai. Roller skate nggak cuman soal keseimbangan atau bisa berseluncur doang sih tapi juga soal "fun". Kalau lo belum bisa nemuin fun-nya pasti bakalan susah belajarnya, tapi kalau lo sendiri sudah fun, kayanya prosesnya tuh pasti nggak keras, meskipun harus jatuh bangun dulu.
GHINA HANA SABRINA
Editorial Staff
What:
Chicken Shop Date
Description:
"I think this is how I'd look like if I ever have my own interview show," was what crossed my mind while I watched "Chicken Shop Date" for the first time. In this series, Amelia Dimoldenberg, a very serious journalist, have dates with UK rap and grime artists over chicken nuggets and wings. I first heard of her when my friend told me that she was awarded student broadcast journalist of the year by The Guardian while still studying fashion journalism in Central Saint Martins – and obviously I wanted to check her out.
Here's the deal, what made the series so great is her deadpan, sarcastic, cringe-inducing personality which often caught her guests off-guard. She is the antithesis of a bubbly presenter you often see everywhere, because let's be real, while that is a nice quality to have, not everyone is chatty and bubbly. Anyway, most of her videos are so awkward you'd feel secondhand embarrassment while watching, but that's what makes it terribly funny. Such an inspiration.
EMMA PRIMASTIWI
Editorial Staff
What:
Carrie Carollo's NYC Apartment Tour
Description:
I'm a very nosy person. I'm always down to know how people decorate their houses so I can live vicariously through them. This time it's no different. Carrie Carrollo is a Beauty Editor who managed to turn her studio apartment into a vintage eclectic haven. Sometimes I imagine myself as a character from a show, as some emerging screenwriter paying her dues and living in that exact apartment. Halu
CLARISSA AMABEL
Art Director
What:
Coco Ichibanya – Minced Beef Cutlet + Spinach + Cheese Curry Rice
Description:
In a fucked up week such as last week, I've been looking for comfort in food (I'm a Taurus so there). I usually only eat Coco Ichibanya when I desperately need a mood lifter (because carbs) and it does not disappoint. Wash down the curry breath with gulps of Japanese roast tea + cheese topping. What can I say, I tend to overcompensate. Umai!
DILA F. HASAN
Graphic Designer
What:
Bakmi ayam kampung Alex
Description:
Waahhh gelaseeh!!! (lebay) ini bakmi halal terenak yang pernah gue coba, bakmi roxy ga ada apa-apanya monmaap. OG-nya ada di Meruya tapi ternyata buka cabang di daerah Prapanca Jaksel sini, dan akhirnya gue mesen pake Go-Food. Texture bakminya itu kenyal yang medium tebal, kuahnya gurih nan creamy-greasy, gak terlalu asin, pangsit ayamnya juga tebel banget dengan daging dan ayam yang dia pakai itu ayam rebus! Seada-adanya ayam paha/dada rebus disuir huhuhu seger banget…harganya memang lebih mahal dibanding bakmi pada umumnya tapi ada harga ada kualitas bukan? Patut dicoba untuk penggemar bakmi!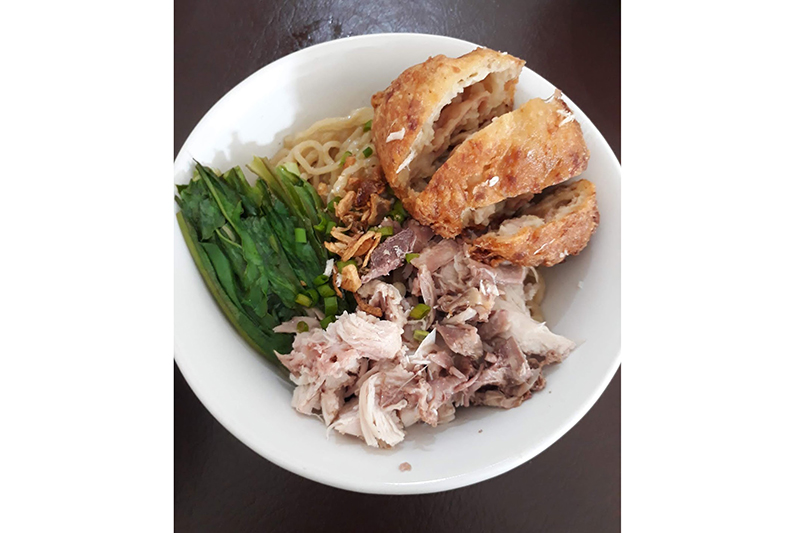 ALMER RASHAD
Graphic Designer
What:
Someordinarygamers youtube Channel
Description:
Gue mungkin bukan tipe-tipe orang yang suka nonton gaming channel di YouTube, tapi SOG punya daya tarik sendiri di mana dia ga mainin game yang terkenal kayak Fortnight atau GTA 5. Anehnya dia suka banget mainin game-game independen yang formatnya pun masih ".exe", dia suka eksplorasi deep web, suka mainin virus komputer buat ngancurin komputernya sendiri, dan bahkan dia mainin game-game yang muncul di ads website. Gue ga pernah nemu channel gaming di YouTube yang mungkin "dank" dengan estetika nya dan konten konten yang gak penting tapi semenarik itu.
SABRINA FARIZKY
Marketing & Sales
What:
Chef's Table S06E02: Dario Cecchini
Description:
"I'm not a cook; I'm a butcher that cooks."
Di season terbarunya, Chef's Table meng-highlight profil chef sekaligus butcher asal Tuscany, Dario Cecchini. Cukup banyak hal yang bisa kita pelajari dari Dario Cecchini, mulai dari bagaimana ia tidak mau menyia-nyiakan bagian apapun dari hewan yang ia potong sebagai bentuk respect-nya terhadap kematian, hingga sarannya untuk tidak menggunakan bumbu apapun (not even salt or pepper) pada grilled steak agar kita dapat benar-benar menghargai rasa dari daging tersebut.
Habis nonton episode ini semakin pengen keliling Italy untuk wisata kuliner, ga ada yang mau bantu galang dana nih? 🙁
MAR GALO
Bamboo Twist
What:
Kitbull | Pixar SparkShorts
Description:
Animasi pendek dari Pixar tentang persahabatan anak kucing jalanan dengan pitbull yang di-abuse oleh ownernya. Sedih woi!