Things We Like: Dari Minggu Pertama September
Musik hingga ilustrasi yang kami sukai.
Di dalam program "Things We Like", kami mengumpulkan hal-hal yang sedang disukai oleh tim Whiteboard Journal berikut alasannya. Dari single milik Texpack, album terbaru dari Lana Del Rey dan Jay Som, hingga gambar-gambar karya ilustrator Abetamio, berikut adalah "Things We Like" dari minggu pertama September.
M. HILMI
Managing Editor
What:
Texpack – Gadog
Description:
Sejak awal kemunculannya, selalu suka dengan Texpack. Beberapa tulisan di website ini telah mengabadikannya (baca di sini dan di sini). Saat kemarin mereka mengumumkan bahwa untuk album penuh nanti mereka akan bergabung dengan Anoa Records, jadi penasaran bakal seperti apa. Penasaran tadi terbayar tuntas saat mendengarkan single pertama mereka. Berjudul "Gadog", lagu ini mengajak kita mengunjungi salah satu area di seputaran Puncak Bogor, sembari mendengar cerocos Edo Wallad, salah satu ikon musik independen Kota Hujan. Jika kemarin-kemarin Pavement yang kuat semerbak di musik Texpack, di single ini, ganti Sonic Youth yang menyeruak mengiringi spoken word Edo yang sepertinya bercerita tentang pensiunnya dia dari aktivitas urban sembari menyindir kaum hipster medioker. Canggih!
GHINA HANA SABRINA
Editorial Staff
What:
"Anak Ko" – Jay Som
Description:
From the first few notes of "If You Want It" to the delicate sound of "Tenderness", "Anak Ko" was kept on repeat for the past few days. It is soothing yet vulnerable. With this album, to quote Pitchfork's review, "she's showing us her world, not sharing it."
EMMANUELLA PRIMASTIWI
Editorial Staff
What:
Norman Fucking Rockwell!
Description:
Wholeheartedly beautiful, complex, surprisingly hopeful! When you think LDR, Jack Antonoff doesn't come to the top of the list, but here? It fits! Before you think it's pLaIn or bOrInG, she intended this to be an album you can just play in the background as you go about your day, then suddenly realizing you've been singing along the whole time! The melodies! The lyrics! The humor! I'm gonna be creaming "GODDAMN MANCHILD" to any boy that tries me in the future.
Pitchfork expressed it best: 
"On her elegant and complex fifth album, Lana Del Rey sings exquisitely of freedom and transformation and the wreckage of being alive. It establishes her as one of America's greatest living songwriters." 
With that I say, welcome to WITCH BITCH AUTUMN.
CLARISSA AMABEL
Art Director
What:
UNIQLO T-shirt Crew Neck Lengan Pendek U 
Description:
I have this t-shirt in white, speckled beige, black, army green, maroon, mustard yellow, and mauve. That's a total of 7. Damn that's a lot of t-shirts. (I plan on getting more)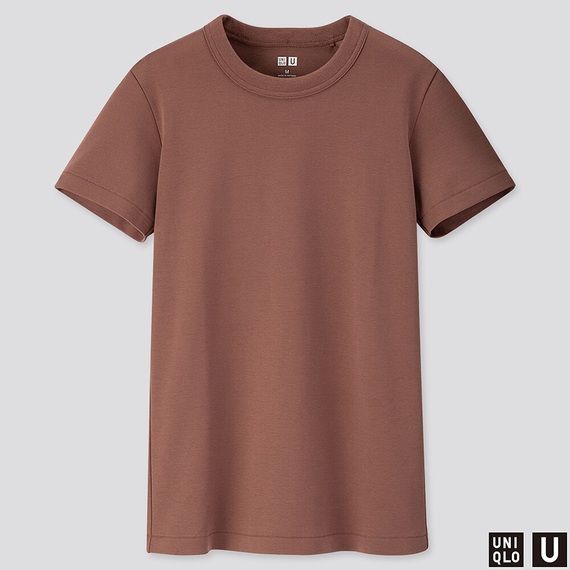 TIANA LONDA
Graphic Designer
What:
Abetamio – illustrator
Description:
Jadi minggu lalu gue lagi iseng-iseng scrolling explore Instagram, terus ga sengaja nemu account ini, @abetamio. Ternyata dia tuh illustrator dari jepang dan gambar-gambar dia gemes bangetttt. Dan majority gambar-gambar yang di feeds dia adalah otter. Gemes banget, bangetttt.
View this post on Instagram