Things We Like: YouTube Videos
Kumpulan konten YouTube favorit kami.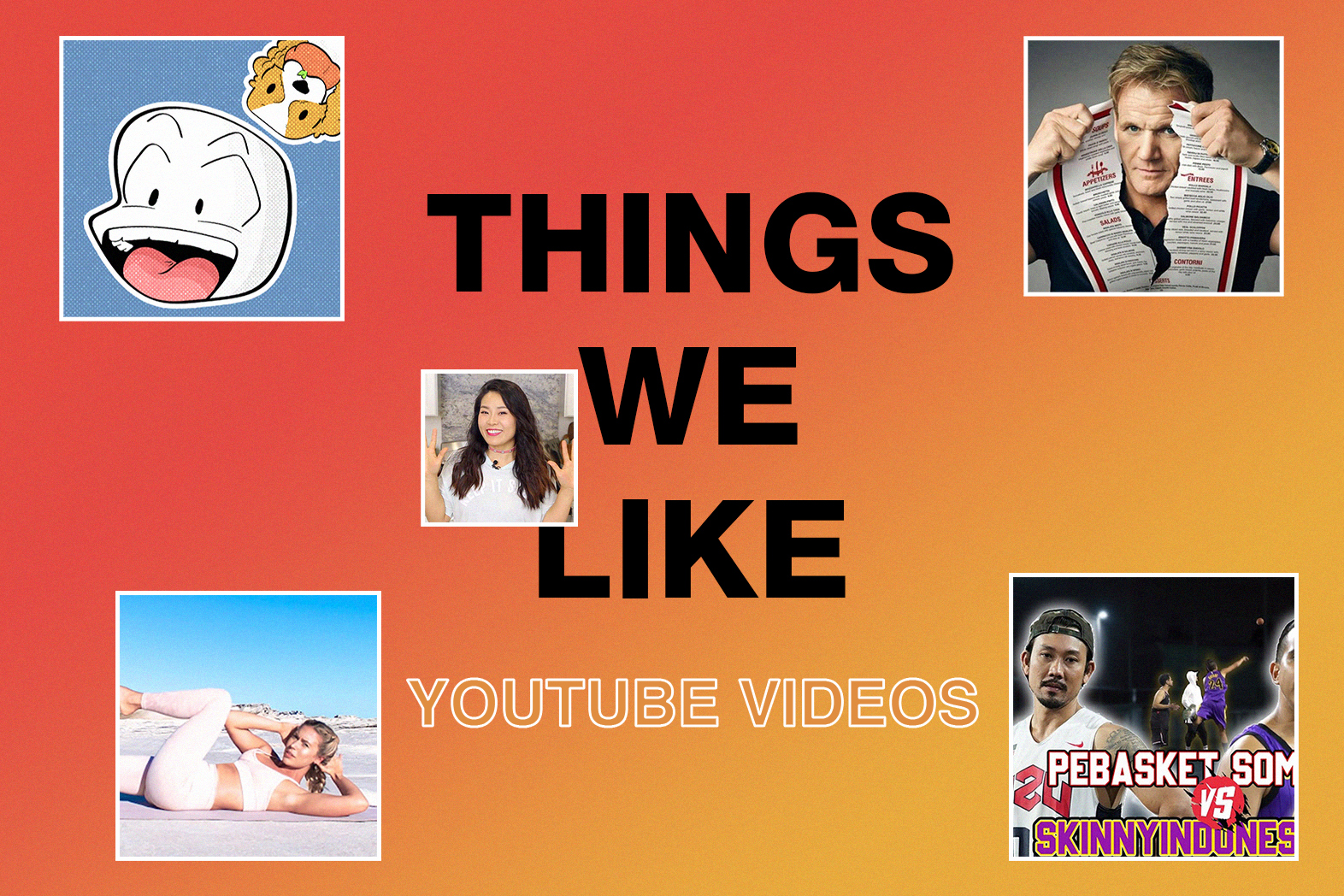 Pada "Things We Like" kali ini, kami meng-highlight ragam aktivitas favorit semasa berdiam di rumah. Kini platform untuk menonton semakin banyak, namun YouTube masih menjadi platform pilihan untuk menghabiskan waktu (dan juga mencari hiburan) di masa pandemi. Oleh karena itu, kami mengumpulkan sederet kanal serta konten yang sering ditonton oleh tim kami. Dari kanal milik Denny Sumargo, Alex Myers, Gordon Ramsay hingga Bailey Brown, berikut adalah beberapa pilihan kami.
M. HILMI
Managing Editor
What:
Pebasket Sombong vs Public Figures
Description:
Iya. Gue tahu kalo Denny Sumargo itu sosok yang obnoxious parah. Tapi nonton kontennya dengan judul "Pebasket Sombong vs " ini lumayan seru (setidaknya dia tahu kalo dia arogan lah ya). Intinya dia main basket aja sama berbagai sosok, mulai dari seleb (Uus, Samuel Rizal, Gilang Dirga) juga beberapa sama pebasket (Andakara Prastawa, Daniel Wenas, dll) di lapangan basket secara 1 on 1. Hampir semua kalah sama doi, bukti bahwa dia memang jago sih, jago parah walau udah pensiun beberapa tahun lalu. Membuat kita bertanya-tanya, apakah dia harusnya tetap setia di olah raga saja daripada main film dan jadi penyiar My Trip My Adventure? (jawabannya: iya).
Nonton ini rasanya kayak pas SMA sebel sama anak basket yang jocks banget, dan pengen dia kalah dipermalukan lawannya. Seru-seru pengen nampol gitu.
HANA DEVARIANTI
Lifestyle Editor
What:
Alex Meyers
Description:
Gak sengaja nemu channel ini pas weekend kemarin dan ternyata menghibur banget. Channel ini pada dasarnya bikin video essay dengan menggunakan kartun. Tapi belakangan channel ini lebih sering nge-review film dan series yang "sfiatnya" guilty pleasure. Mulai dari You sampai Hannah Montana sempat dibahas di channel ini. Cara penyampaiannya ringan dan lucu, plus karena menggunakan kartun bikin video-videonya jadi menarik. 
GHINA HANA SABRINA
Editorial Staff
What:
Kitchen Nightmares
Description:
Do u like seeing how people fail?
I do.
Kitchen Nightmares has been my go-to video to watch on YouTube every time I had the privilege of just sitting down while eating my food. We all know how Gordon Ramsay has always been the best at getting angry, which then resulted in funny one-liners such as the 'idiot sandwich'. And with this series (as well as Hotel Hell), I fully discovered how I love watching stupid people run their business to the ground, and then be saved by Ramsay once and for all.
I'm pretty sure all Kitchen Nightmares episodes (as well as their highlights) are uploaded on YouTube, so that's convenient.
Must watch: Amy's Baking Company. The owners are full-blown insane.
AZZAHRA RIZQA
Graphic Design
What:
Seonkyoung Longest
Description:
The most adorable Korean aunty, cooking a great variety of Asian dishes.
Love her. I've been binging her recipe videos every day without fail.
SABRINA FARIZKY
Marketing & Partnerships
What:
Bailey Brown's 5 Minute Workouts
Description:
This whole self-quarantine period has turned me into a #fitnesshoe wkwk, di mana gue jadi lumayan sering ngulik workout videos di Youtube dan aplikasi NTC. Sejujurnya gue kurang cocok sama program-programnya Chloe Ting (the queen of quarantine workouts), tapi untungnya gue menemukan channel-nya si Bailey Brown ini.
Menurut bio-nya, beliau adalah seorang nutritionist dan fitness Instructor yang berbasis di Sydney. Nah, yang menarik dari workout-nya Bailey Brown adalah dia punya a series of 5 minute high-intensity workout videos untuk berbagai bagian tubuh yang mau lo fokuskan (sedap), jadi si video-video ini bisa saling dikombinasikan, atau sesimple dilakukan kalau lagi ga punya banyak waktu untuk olahraga. Meskipun di semua videonya dia terlihat santai, bahkan dia ngelakuinnya sambil ngomong, tapi mohon jangan dianggap remeh. Selamat mencoba!