We Discuss is Back!
We Discuss akan kembali untuk edisi terbaru!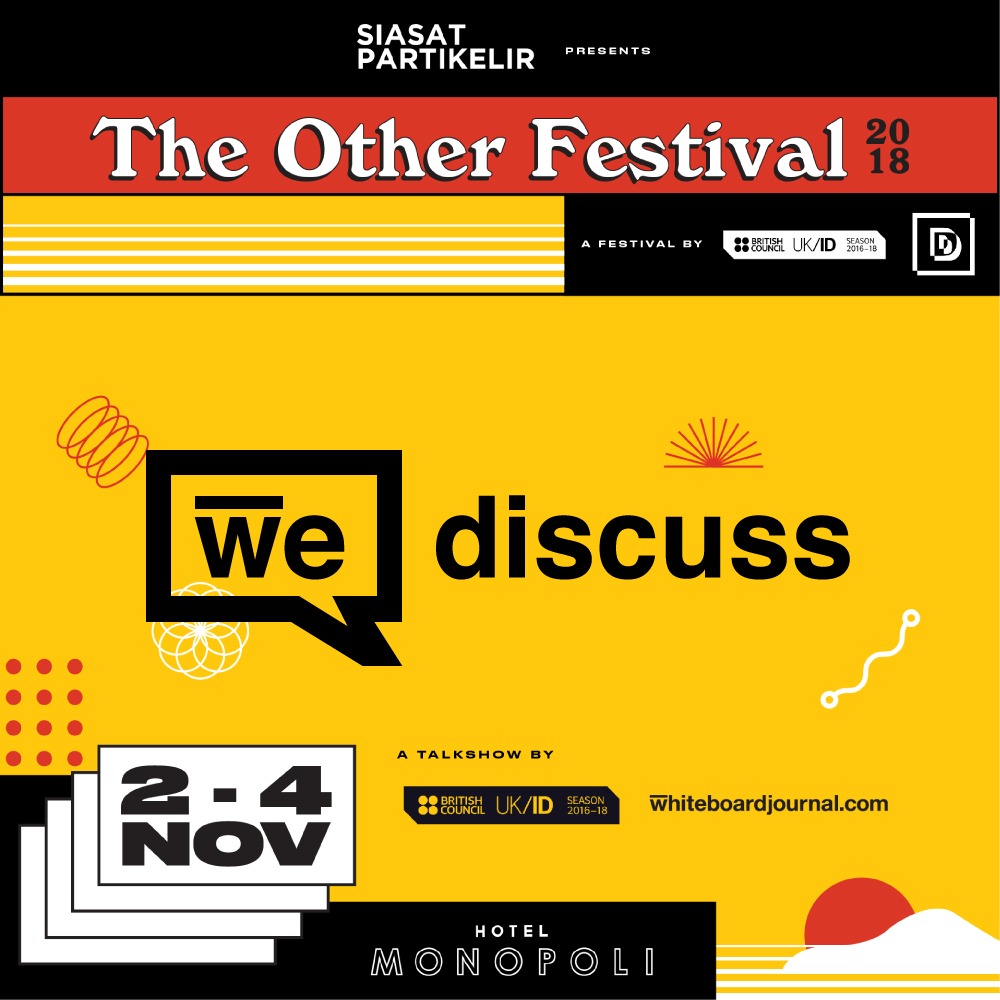 We Discuss telah kembali untuk edisi terbarunya. Untuk edisi kali ini, We Discuss akan bekerja sama dengan UK/ID Festival 2018, tepatnya The Other Festival. The Other Festival, adalah festival seni dan musik yang menggabungkan berbagai talenta UK dan lokal untuk berkarya bersama dan bertukar pengalaman untuk menghasilkan kolaborasi yang belum dilakukan sebelumnya.
Edisi We Discuss kali ini akan mengangkat dua topik, yakni "How to Survive As an Experimental Artist" dan "How to Connect Public in the Era of Creative Technology". Kedua panel ini akan diselenggarakan di tanggal 3 November 2018.
Untuk  "How to Survive As an Experimental Artist" panel ini akan membicarakan kehidupan sebagai seorang seniman eksperimental. Diskusi ini pun akan diwarnai oleh serangkaian seniman eksperimental dari UK dan Indonesia seperti, Laurie Crombie (UK) Salah satu pendiri dari Kazimier Collective, dan Robbie Thomson (UK) seorang seniman visual yang sering bereksperimen dengan suara dan patung-patung kinetik dan telah menjadi Cryptic Associate Artist dari tahun 2013. Digabungkan dengan WAFT (ID) yang sejak awal berdirinya, selalu berfokus pada ketegangan dan interaksi di praktek seni interdisipliner di Surabaya dan Abshar Platisza (ID) dengan latar belakang dalam printmaking, yang telah bekerja dengan media konvensional, dan juga media digital. Panel ini akan digelar di The Bloom, Hotel Monopoli pada jam 16:30 sampai dengan 17:30.
Dilanjutkan dengan "How to Connect Public in the Era of Creative Technology", topik ini menyentuh efek dari perkembangan teknologi kreatif pada hubungan seniman-seniman dan publik. Diskusi ini akan diambil alih oleh Etza Meisyara (ID) yang kerap mengeksplorasi kemungkinan membuat seni dari segala indra, dari suara, instalasi dan tentunya performance dan Grobak Hysteria (ID) sebuah kolektif artis yang mengangkat isu-isu seputar anak muda dan komunitas dalam karya-karyanya. Panel ini akan diselenggarakan setelah panel pertama, tepatnya di jam 18:00 sampai dengan 19:00.
Untuk informasi selanjutnya, ikuti perkembangannya dari akun instagram Whiteboard Journal danThe Other Festival.