Ingenious Campaign with Demokreatif
Muhammad Hilmi (H) talks to Demokreatif's Yoga Adhistira and Hari Prast (D).
by Ken Jenie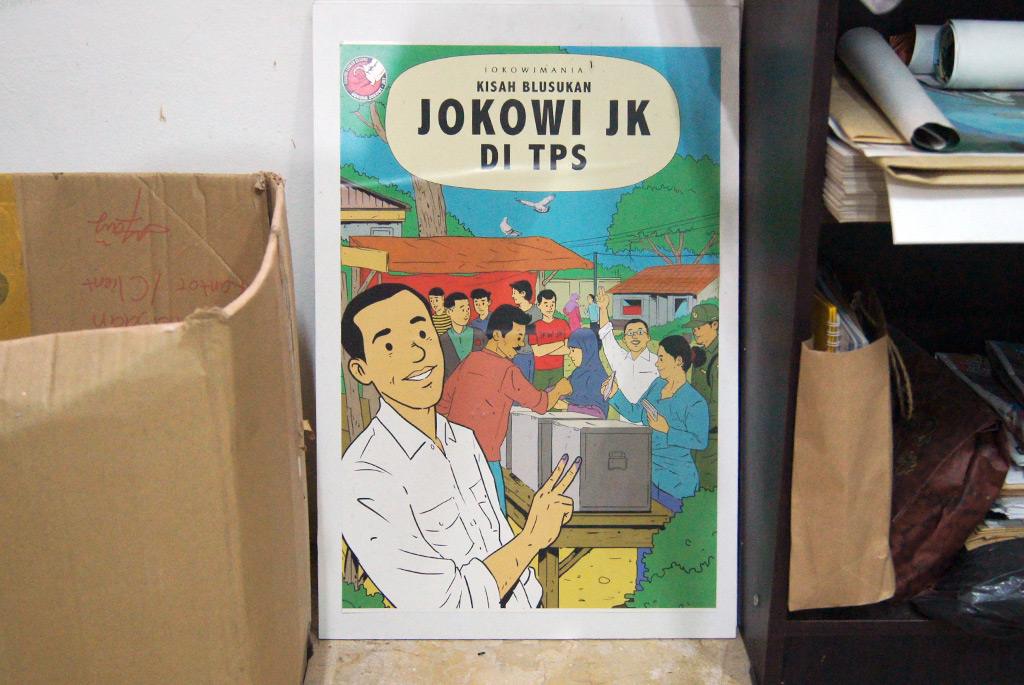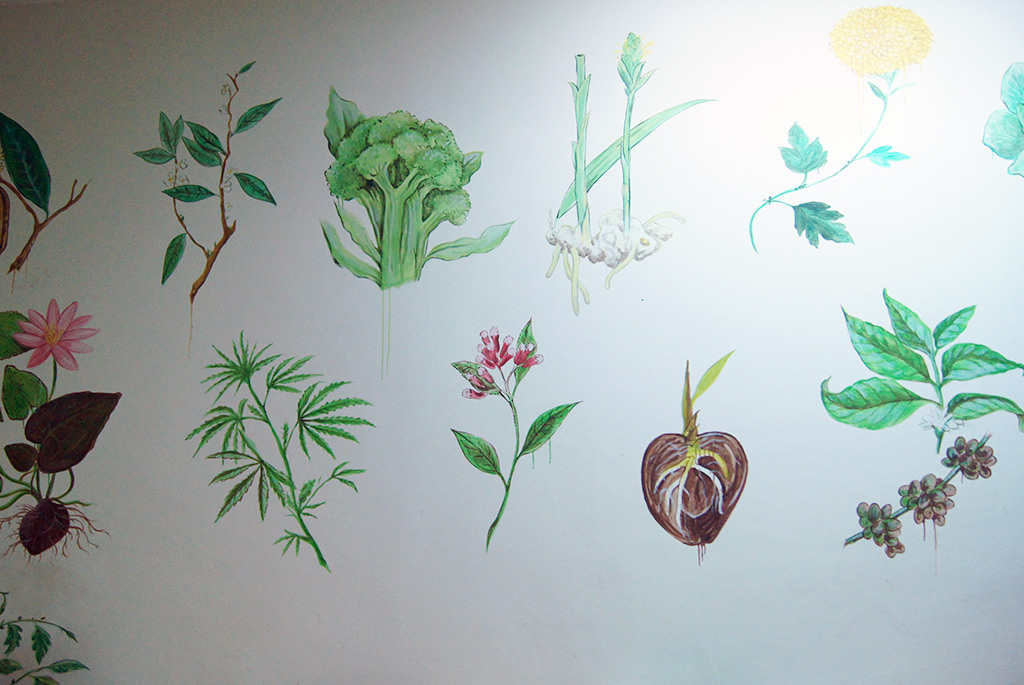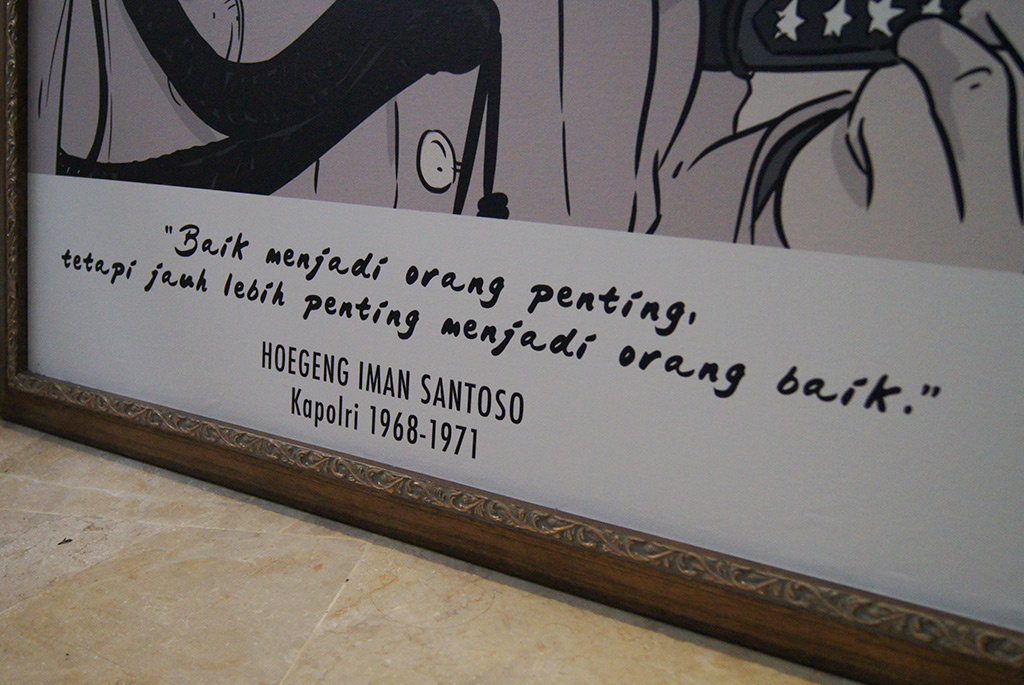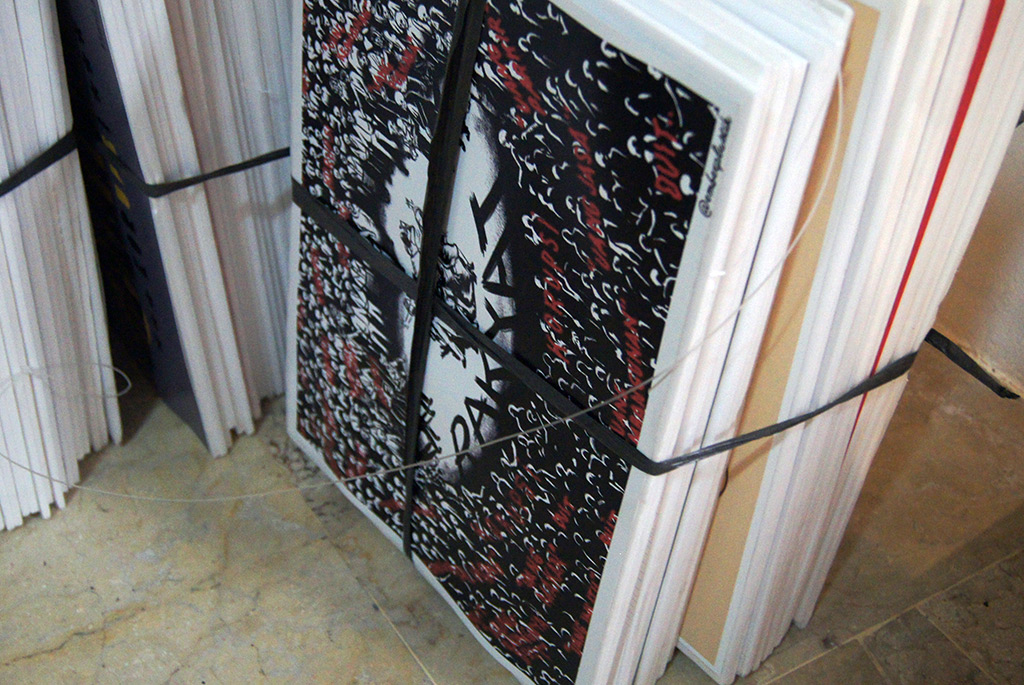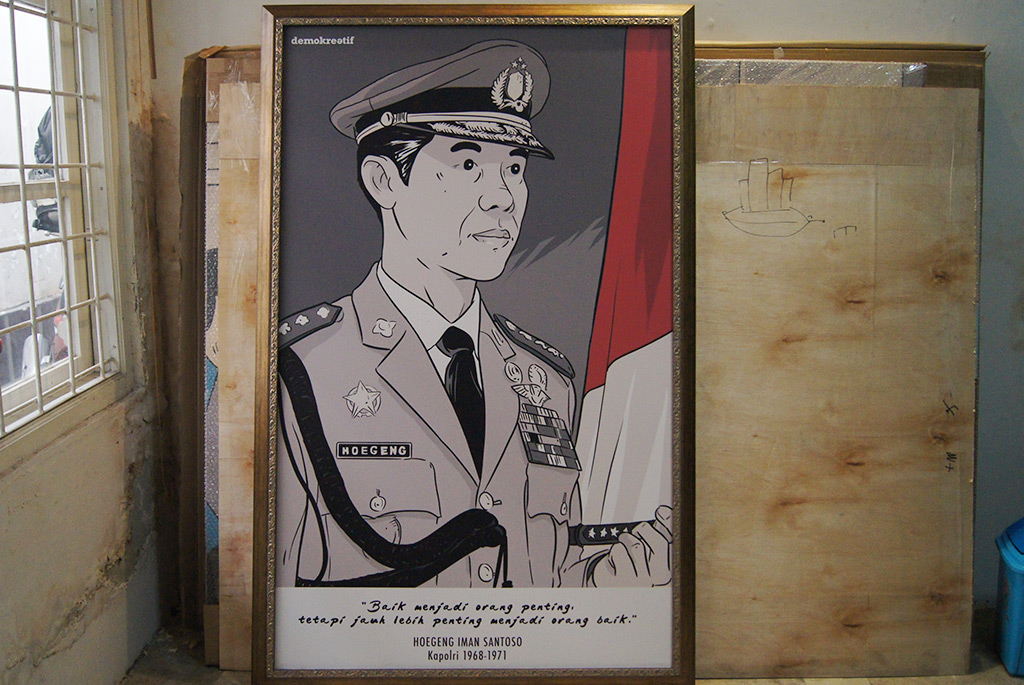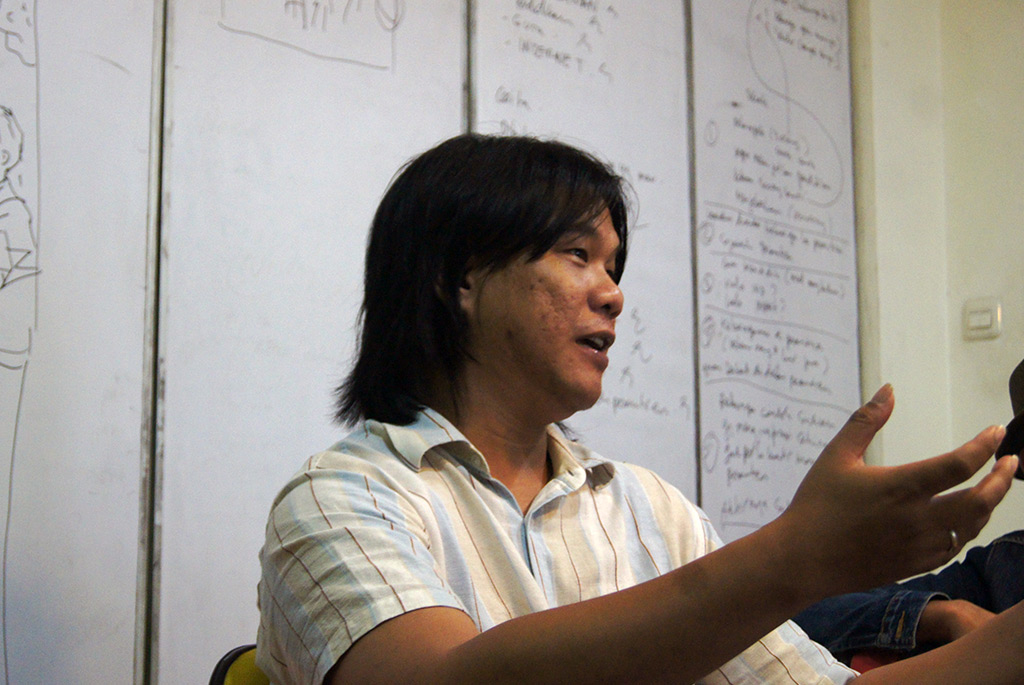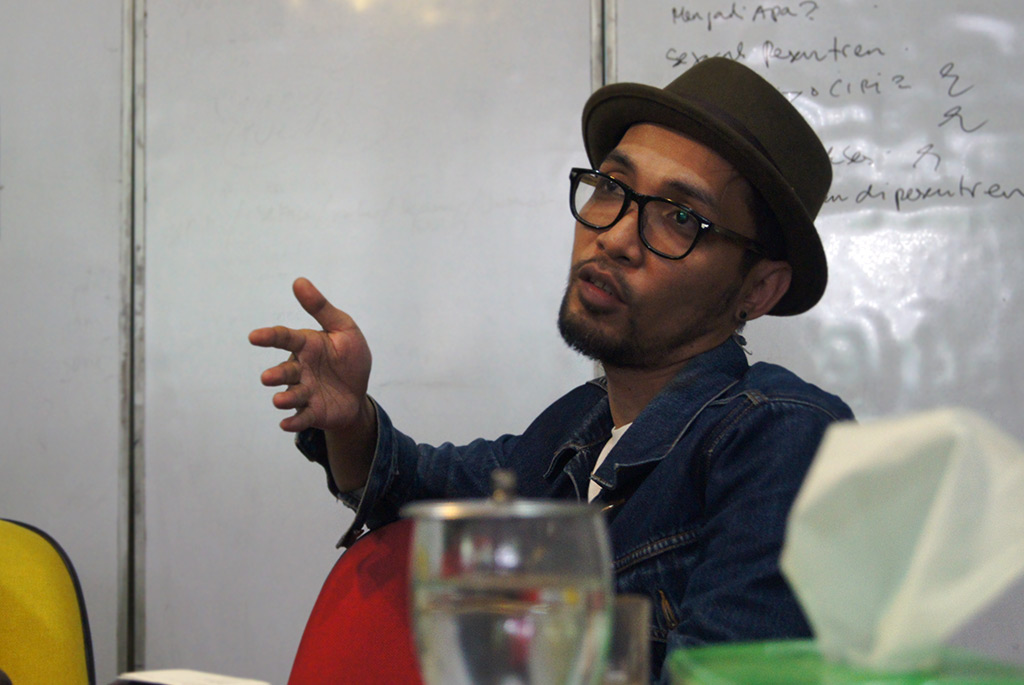 Can you tell us about the reason behind Demokreatif's participation in the 2014's presidential campaign?
At that time, we as people working in the world of advertising felt strange to see that politics has become a crooked subject in this country. We still believe that if it was handled by the right hands, it could become more interesting. We believe that politics will get a better image if creative people from the nation are willing to contribute. When we finally got an offer to work on the campaign, we were quite enthusiastic to do it because we wanted to support our preferred candidate, Jokowi. The only problem with this participation was our limited spare time due to our daily jobs to do this pro bono project. So, on this project we asked for a loose deadline and full artistic freedom to do the campaign.
We did feel that the 2014's presidential campaign was an important moment for us to finally step up to contribute politically. Actually, the thought of us contributing to the political campaign was already there back when Jokowi and Ahok was running in Jakarta's governor elections, but we didn't have any connections whatsoever with their official campaign at that time.
With the contrasting differences between one presidential candidate to the other, it was quite easy to choose which side we'll be on. We've seen our friends already contributing creatively on Jokowi's side as volunteers, and we wanted to join them. And when one of the volunteer asked for our help, it was a dream come true, we were finally able to realize our ideas and what we wanted to do with the campaign.
We also saw this as an opportunity to make some improvements in the terms of political campaigning. The three of us live in Bintaro, and every day on our way home, we saw tons of campaign banners and most of them are visually unattractive. But we don't want to complain about that because it's unproductive. We would rather take action rather than just grumbling without doing anything.
So, you also see your contribution to the 2014's campaign as some kind of protest to the common political campaign in the country?
Yes, you can put it that way. But the main idea of our campaign was to create awareness – that this is the moment where our generation should show its worth. If good people won't contribute in this kind of moment, our land will always be under the command of incompetent leaders.
As one of the Jokowi's volunteers, what are your thoughts of his current handling of the presidency?
We always remember one of Anies Baswedan's quotes regarding the concept of leadership, "To lead a country is almost the same like driving a giant cargo ship, it takes a lot of time to make a turn for a ship like that. And by the time the ship is heading a new direction, most of the passengers won't feel anything, because of that gradual movement". We live in an era where everything is instant, and we demand everything to be happen instantly, where in reality, it's impossible to expect such terms in the context of a country's future. We need to give him more time to do what he's got to do. We believe that in the end, history will be the definite proof.
How do you guys see the role of art in the social change?
In our involvement in the "Seni Lawan Korupsi" movement, we realized that the massive participation of artists in the social act is a sign that the country is facing a chronic problem. And we believe that our participation is essential. As people who work in the advertising world, we basically use art in every element of our jobs, we also learned that art has the ability to draw people's attention, it has a stopping power. At a certain point, art also have the ability to build an internalization of an idea, for example, Yoga learned to care about social concern from Iwan Fals' songs, and Hari got it from Rage Against the Machine's. We can trace the root of art in social change in the Wali Songo era, where they share the value of Islamic culture via shadow puppet, gamelan songs, etc.
Why did you adapt Herge's style in the campaign?
It took a lot of time to draw in the style of American superhero comics or anime, and, as I said earlier, there is no money and resources for this project, and we still have to do our daily job. The four of us thought about the most efficient way to participate in the campaign. We finally came up with the idea of using cartoon illustrations to portray our candidate. The "Tintin style" was chosen because it's quite simple to draw digitally and manually. When we do our research about Tintin, we found that the character has a lot in common with our current president. Like many other European comic books, the main character in Tintin is an ordinary person, not a superhero, but has a strong character. Tintin is a caring character that always bolster the diversity in society, he is also an adventurous person, just like how Jokowi do his "blusukan". The lines and color of Tintin's comic book also symbolize peace, optimism, and hope – perfect to counter the other party's negative campaign. And it turned out that people loved this style – the respond was really positive, especially on social media. With people asking to make more episodes of the cartoon, we ended up doing a series of Jokowi traveling around the country in this Tintin style.
Are you going to maintain this Tintin style in your future works?
We try to move on from that style because we think that it's done when the campaign ended. But we want don't want to leave it abruptly. We want to make the transition smooth. We found the style on our own and somehow became a trademark for us, so there's no need to rush. We are already trying to explore a different style on our recent project. You can see the shape of it on our works in "Seni Lawan Korupsi", "Lawan Reklamasi Tanjung Benoa" and "Hari Film Nasional".
Any interesting stories on how you guys won the Shorty Award?
We always send our projects to these kinds of competition. We've won a lot of local awards and we would like to know what it's like participating on an international level, there are so many of them, but we chose to submit on Shorty because they have an interesting category, "Government and Politics", that fits right in with our campaign. After submitting, we realized that we were competing with NASA for this award. At first we felt really inferior to them because they had really interesting programs, like astronauts talking in space, the photograph of Mars' surface, is it even possible to top that? (laugh). Fortunately, they decided to have two winners: us and NASA, we also won "Best use of Meme" on that event.
What is the vision for Demokreatif after succeeding the last presidential campaign?
Berakar Komunikasi as the forerunner of Demokreatif will keep this project alive with its art and social communication concerns. We will support art and social movements that are in line with our concerns. In the future, we would like to explore more on new medias, such as books, comic, or film. And we're looking forward to collaborate with new people, because we are fully aware that our accomplishment in this campaign also came from collaborating with a lot of people – it is impossible to have done all of this on our own. With more people behind us, the issues will spread better. And we don't have any limitations to work with certain persons; basically, we are open to working with anybody that share the same interests with us.
What is the idea behind your recently released book?

The book tells the story on how we developed the idea of Jokowi's campaign. Basically, what we're trying to do is to share our ideas about the creative campaign. During the writing process of this book, we realized that we unintentionally applied some communication science theory in the project. The final goal of this book is to share our knowledge on handling a campaign that really works, which includes some theory from communication, advertising, and politics.

Do you think that working on a social work like this will enrich you creatively?

Yes! Definitely. By doing a social project, our brain is honed to think creatively, to have more insights. This kind of project also brought us to new people, so that we finally came out from our inner circle, which made us realize that the world was indeed an enormous place. We went through a great inner experience too, something that won't come often from our daily routines. Like how we are a fan of Goenawan Mohamad, and suddenly we became friend with him, he even wrote the prologue for our book! A priceless moment, something that we can be proud of.

For us, doing creative business is just like mastering kung fu, where every person has their own technics, the more person you meet, the more techniques you'll learn.