Music of Malaysia with Noh Salleh
Muhammad Hilmi (H) talks to Malaysian musician Noh Salleh (N).
by Ken Jenie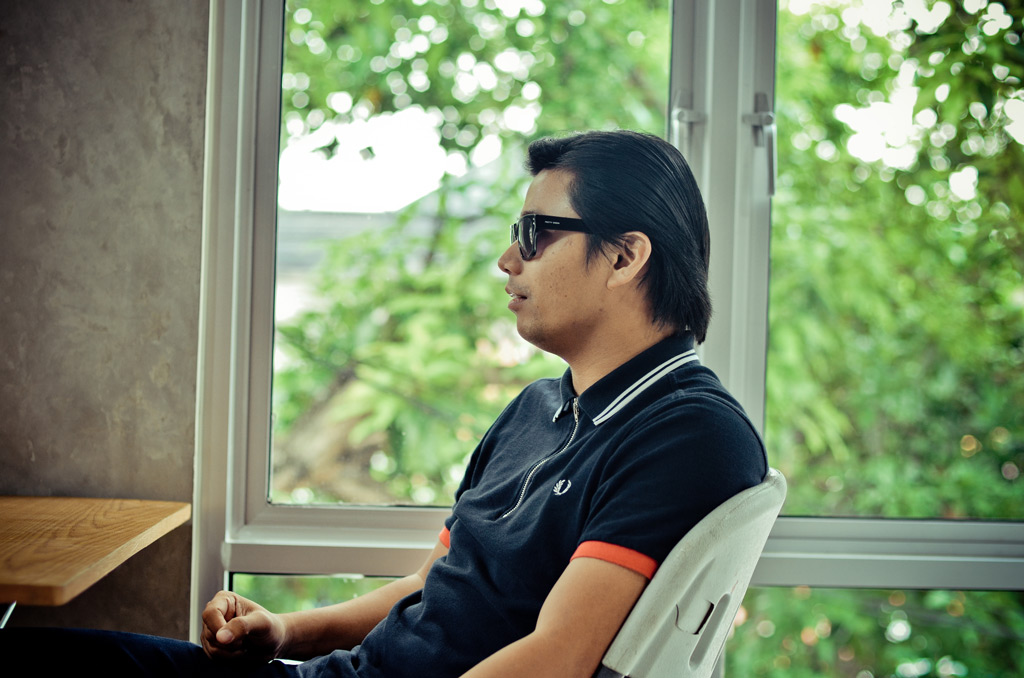 H
How is Malaysian music scene?
N
To be honest, I'm not really around the Malaysian music scene. I'm not the type of person who gets updated about scene. I don't watch TV at home, and I don't listen to the radio. What I know comes from my circle of friends, who are musicians as well, and they say that it's getting bigger. The number of bands is growing and some old bands are also reuniting. So, I guess, it is safe to say that the Malaysian music scene is alive and well.
H
Your band, Hujan, became one of the biggest band in Malaysia. Could you tell us how the band started?
N
It all started naturally as a project of passion. We didn't have a certain plan to be a band, or even, to be the best band in the country. Everything was based on our personal decisions. "Hujan" started as a personal solo project, where I wrote my songs and put it on Myspace. My guitarist found me as a total stranger – he came to me to ask me whether it is ok to use my song as a study material for his class. Then my former boss asked me to play on stage so I got a guitarist and he looked for a drummer and a bassist. It started as unintentionally as that. And suddenly our song spread throughout the country. That's how "Hujan" started off as a band.
H
As Hujan, you received some of the most respected nominations and awards in the Malaysian music scene, any interesting stories?
N
The most interesting experience might be when we are on the same awarding night with Siti Nurhaliza (laughs). We won "the best rock song", "the best album", on Anugrah Muzik Malaysia. Fortunately, we never had a head to head competition with Siti.
H
What are your thoughts on Indonesian music and how it becomes really popular in Malaysia?
N
One time, the invasion was so much that it came to the point where Malaysian really looked down on the local bands. Sometimes, it felt like we're the stepchildren of the family.

We've been dealing with situations where a band from Indonesia is treated as a real superstar with air conditioned tent and stuffs, and the local band gets a small corner with only one chair. That's what we were trying to change with Hujan and some other bands, we tried to build our own following, so people realize that Malaysia do have bands with original sounds. Some might say that bands like Hujan fought back the invasion of Indonesian bands, people also said that in a way, Hujan saved the Malaysian music scene.
It's not like we want to keep Indonesian music out of our country, we do really love bands like Sore, the mainstream side is the one that we're really tired of. That's just one of the way to trigger the scene in Malaysia, because sometimes, we also became more confident, by seeing how an Indonesian band develops and enter our country, we get motivated to create more music, it inspires us to not be complacent or take our local things for granted.
H
This 'invasion' happened particularly during the Melayu music boom in the mid 2000?
N
The majority of people who spent money on that "Melayu" music industry lives in the suburbs. And that's quite different to what happens in the city – people know the music, but they don't spend their money on it.
H
What is the music industry like in Malaysia anyway?
N
Right now, I think it's quite similar to Indonesia's. There used to be a gap between the industry development between Indonesia and Malaysia, when "distro" became a major trend in around Asia, Indonesia is like 10 years ahead of Malaysia. But slowly, Malaysians are catching up. Now, I think people are also starting to collect and release vinyl as well.
H
There are also concerns regarding the development and relationship between countries in South East Asia. Any comments regarding this matter?
N
The language gap might be one of the factors. From what I've seen on Malaysian underground music scene, we don't have bands like Sore, White Shoes and the Couples Company, or Zeke and the Popo who have a wide arrays of listeners-their song can be enjoyed by both mainstream and sidestream listeners. In Malaysia, bands are really divided, mainstream bands only plays top 40 songs, and underground bands are playing straight underground songs which sometimes including drinking fresh blood on their shows (laugh).
H
On the other hand, Malaysia is also quite successful in terms of singer-songwriters such as Zee Avi, Yuna, and Liyana Fizi. What's the story behind that?
N
That name is the representation of a Malaysian new generation, and unfortunately Zee Avi only spend so little time in the Malaysian independent music scene. Yuna spent more time in the scene. Maybe Liyana Fizi is the one who stayed in the scene.
H
In a recent interview with Mondo Gascaro, who produced your EP, he said that the main brief he received from you was: "make it just like how you did your music for Sore". What's the reason behind that, and what Sore-like elements are you trying to incorporate into your music?
N
I always wanted to have an album that sounds like Sore, and obviously, I'm a big fan of them. I am really into the "Nusantara" classic sounds from the 60's to 70's. During the making of this album me and my producers (Mondo Gascaro and Adink Permana, former member of Klarinet, The Upstairs, Tantrum and also plays keyboard for Sore) shared our ideas, where they proposed to me to adopt some French pop on this EP. What I'm really trying to please on this project was myself – making good music for myself. If people in Malaysia are not really into it, I'm completely fine.
I also understand that this will be a totally new direction from me, something that I never did in the past. If there are people that say this EP is a Sore copycat, I understand – my producers are Sore's past and present keyboardist (laugh), in fact, Ade Paloh wrote some of the lyrics too. It's not like I'm only the singer on this album, me and the producers work on my songs. So it's certainly something to be proud of.
H
Regarding the Nusantara music that you mentioned, do you have specific elements of Malaysian music you are incorporating?
N
I have some old CD's that I buy from one of the music stores in Malaysia, but I can't really tell which one is Malaysian, and which one is Indonesian. Because in the 60's the language is almost the same between Indo and Malay. I also believe that if we're using the term "Nusantara", we refer to the concept of South East Asia as one area.
H
Any Malaysian band that you can recommend us to hear?
N
Nastia is quite interesting, an alternative pop band, they also just had a song with Liyana Fizi. And you guys should really check out Killeur Calculator they're a post punk band and they gonna release their album on vinyl next year.
H
Future project for Noh Salleh?
N
Releasing my EP and playing in Indonesia is one of the definite project I can really see right now. I don't have a certain schedule or anything, it just flows naturally. And Insya Allah we're gonna have a 10 years anniversary for Hujan.