Instagram Dikritik Setelah Gagal Meredakan Komentar Rasis Yang Ditujukan Ke Pemain Euro 2020
Pemain Euro 2020 dari tim Inggris yaitu Jadon Sancho, Marcus Rashford, dan Bukayo Saka menjadi sasaran komentar rasis.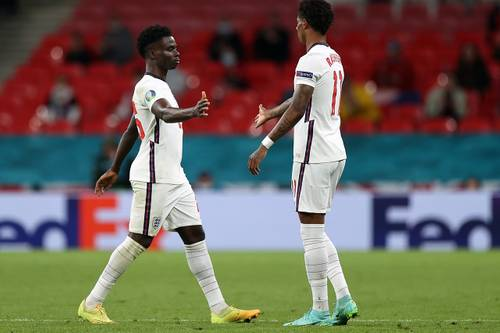 Teks: Hanindito Buwono
Foto: The FA via Getty Images
Final turnamen Euro 2020 berakhir dengan buruk setelah kekalahan Inggris atas Italia memicu gelombang komentar rasis yang ditujukan kepada para pemain. 
Setelah Inggris kalah dalam adu penalti, di mana tiga pemain kulit hitam asal Inggris (Jadon Sancho, Marcus Rashford, dan Bukayo Saka) gagal mengeksekusi penalti, orang-orang mulai mengirim spam rasis ke akun Instagram ketiga pemain tersebut dengan bahasa yang kasar serta emoji.
Sementara mantan pemain, politisi, dan tim Inggris sendiri telah bersatu dalam kecaman mereka atas pelecehan yang dilontarkan, banyak yang mempertanyakan mengapa Instagram tidak berbuat banyak untuk meredakan ujaran kebencian di platform-nya.
Dalam sebuah pernyataan, the Football Association mengatakan bahwa, "Perusahaan media sosial perlu meningkatkan dan mengambil akuntabilitas serta tindakan untuk melarang pelaku penyalahgunaan dari platform mereka, mengumpulkan bukti yang dapat mengarah ke penuntutan dan dukungan membuat platform mereka bebas dari jenis menjijikkan ini." 
Walau pada bulan Februari yang lalu Instagram mengumumkan bahwa pengguna yang ditemukan mengirim pesan kebencian akan dihadapi larangan permanen dari media sosial tersebut, beberapa orang pada saat itu mempertanyakan mengapa pengguna masih dapat membuat akun tanpa wajah untuk memposting secara anonim.
Dalam sebuah pernyataan, Facebook yang merupakan induk Instagram mengatakan bahwa, "Tidak boleh ada seorang yang mengalami pelecehan rasis di mana pun, dan kami tidak menginginkannya di Instagram. Kami dengan cepat menghapus komentar dan akun yang mengarahkan pelecehan pada pemain sepak bola Inggris tadi malam serta kami akan terus mengambil tindakan terhadap mereka yang melanggar aturan kami."