Tes Ombak Studio Ghibli pasca Hiatus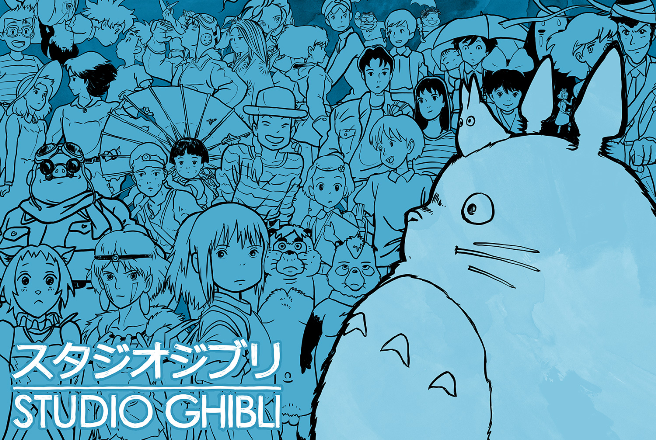 foto oleh: https://christandpopculture.com/capc-mag-volume-2-issue-17-studio-ghibli/appreciation-studio-ghibli/
teks oleh: Shuliya Indriya Ratanavara
The World of Ghibli Jakarta bisa jadi kabar bahagia untuk banyak penggemar Studio Ghibli, tidak cuma di Jakarta, tapi juga di Indonesia. Rangkaian acara ini akan terdiri dari tiga fase dan pemutaran 22 film Studio Ghibli di 45 layar bioskop di Indonesia. Pertama adalah pemutaran lima film all time favorite karya Hayao Miyazaki selama lima bulan ke depan yaitu: Spirited Away, My Neighbor Totoro, Ponyo, Princess Mononoke, dan Howl's Moving Castle yang akan ditayangkan bergilir dari bulan April-September 2017.
Menonton film-film Ghibli tentu menjadi sesuatu yang istimewa untuk penggemarnya di Indonesia. Bagaimana tidak, film-film Ghibli hampir tidak pernah diputar di bioskop-bioskop tanah air. Sehingga untukk kita-kita di Indonesia yang terbiasa menikmati warna-warni cerita film Ghibli via vlc media player, askes menontonnya di bioskop menjadi suatu kemewahan tersendiri.
Belum cukup dengan lima film yang ditayangkan selama lima bulan ke depan, The World of Ghibli Jakarta juga menggelar pameran yang akan memajang berbagai hal dari set film-film Ghibli yang ikonik. Mereka semacam ingin memanjakan penggemarnya lebih lagi dengan membawa mereka masuk ke dalam dunia Ghibli yang magis. Pameran ini kemudian juga menjadi fase kedua dari rangkaian acara tersebut dan berlangsung dari 10 Agustus-17 September 2017. The World of Ghibli Jakarta ini kemudian akan ditutup dengan pemutaran 22 film Studio Ghibli sampai Maret 2018.
Di sisi lain, rangkaian acara ini juga bisa dilihat ajang Studio Ghibli untuk menguji antusiasme pasar Indonesia terhadap film-film Studio Ghibli mengingat Studi Ghibli kini sedang melakukan proses developing pasca hiatus 2015 lalu. Sambutan hangat terhadap The World of Ghibli juga dapat dikatakan sebagai lampu hijau bagi pasar Studio Ghibli di Indonesia nantinya. Tapi terlepas dari apakah pameran besar-besaran Ghibli di Indonesia ini hanya sekadar untuk memuaskan kerinduan para penggemarnya di Indonesia atau memang ajak cek ombak, kapan lagi bisa nonton film Ghibli di bioskop?