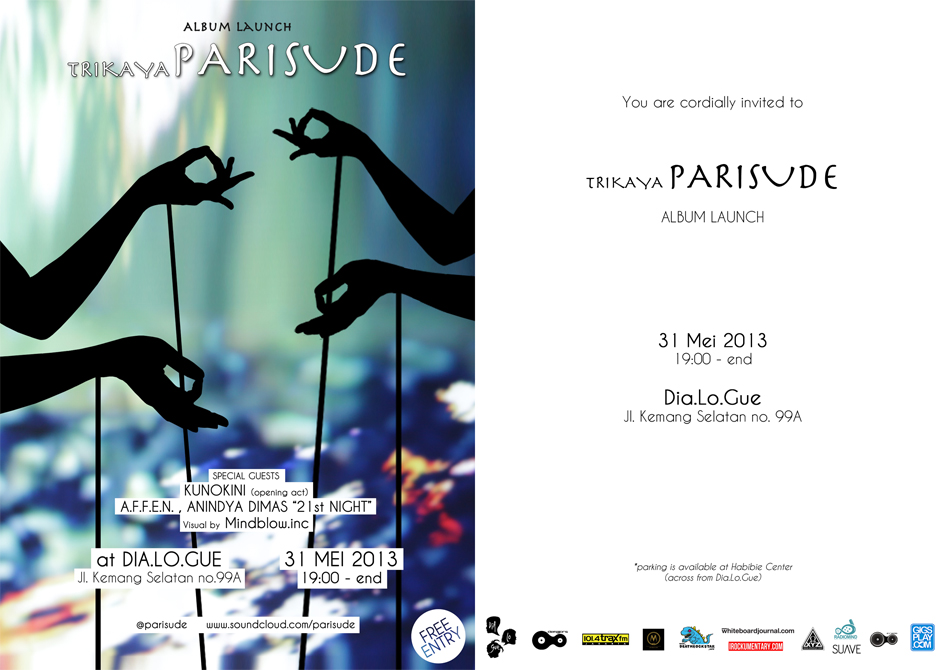 It has been 4 years since both Yudhistira Mirza (music composer/guitar) and Amanda Chitarra (vocals) decided to explore the Indonesian electronic scene. After their EP launch in 2011 and after so much preparation Parisude is proud to present to you their first full album titled 'TRIKAYA PARISUDE'.
The title of the album is taken from the Sanskrit saying of 'TRIKAYA PARISUDHA', which basically means the balance between all good doings, sayings, and thoughts that a person has to do in order to live a balanced life.
The album is filled with 11 original songs by Parisude, 3 of them in collaboration with 3 different local musician, band, and vocalist; Kunokini an ethnic percussion group, A.F.F.E.N a post-rock band from Bandung, and Anindya Dimas from '21st Night'.
This coming Friday 31st of May 2013 Parisude will launching their first full album at Dia.Lo.Gue Artspace in Kemang starting at 8pm – end. The album will be available at the event.
For more information or inquires, kindly contact Danica Kevi at +6287887111840 or danica.kevi@gmail.com