Visual Galleries
Creating Images for Your Social Media.
by Ken Jenie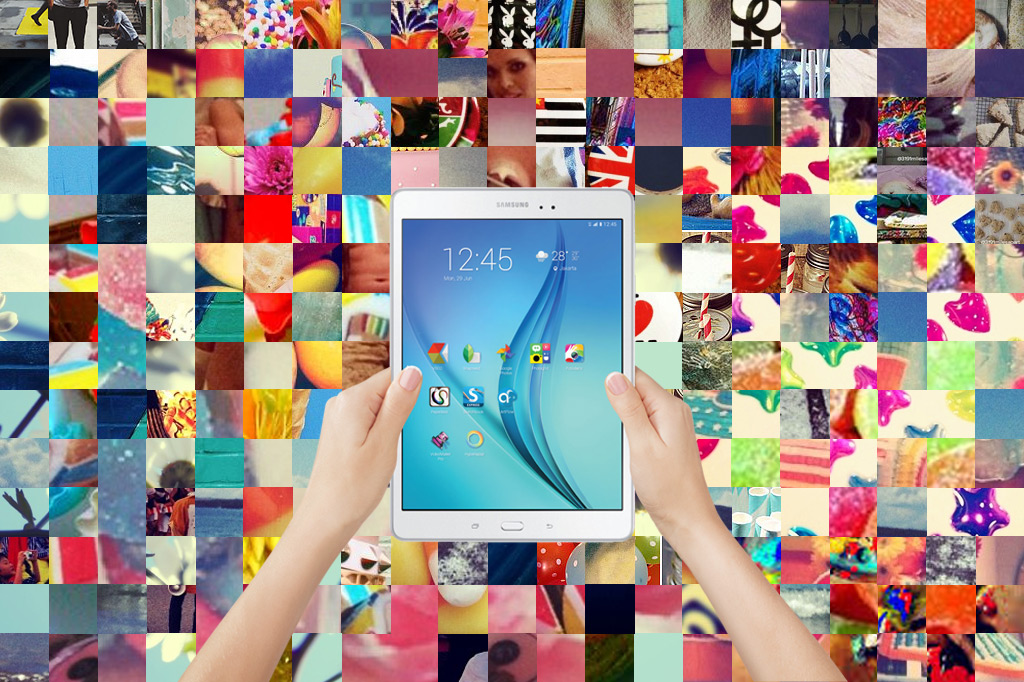 There is no denying that the internet has become an integral part of our lives. With the advent of social media, we now have control over our presentation to our friends and the public. Social media has become a medium of extension for our personalities – they are a curated means to present our interests, opinions, activities and character.
Photography and video have become very popular in social media recently. Particularly through the now common tablet, smartphone and their high quality photo capabilities, image sharing is an ordinary, fun and instant activity in one's social media life. Like the saying "A picture says a thousand words," whether you use Facebook, Twitter, Instagram, Vine, or Path, a beautiful image can pique the interest of many, and can describe who you are and what your interests are with little to no words.
How one presents his or herself is, of course, entirely up to the individual. Some people use photography, some use illustrations, and some use videos. With the different gadgets and apps available, you can get creative with visuals through editing using filters, effects, etc. The following are some of our favorite social media accounts and their imageries, and some of the apps we recommend using to create your own. The possibilities are only limited to your imagination, so be creative, and experiment until you can create images that best represents you.
PHOTOGRAPHY
Installing digital cameras to tablets and cell-phones has changed the gadget industry. This evolution turned gadgets from a communication device into an essential apparatus for daily life. Nowadays, almost every person is equipped with a decent digital camera allows them to capture their surroundings at the touch of a finger. Not only for social media, but also to enhance your productivity by snapping everyday object that inspires you to build new ideas.
It takes a good moment and a good eye to take a good photos like Davy Linggar's warm yet clean photos, Ernanda Putra's sleek snapshots, and Nicholas Saputra's visual travel journal. With the right app, it will be a lot easier to capture good photographs. With an abundance of photography app options in the Google Play Store, it isn't always easy to find the best one. We explored the app store to find the best Android photo-capture and – editing apps that are worth downloading.
The first one that we would like to recommend is Snapseed. The semi-professional all-purpose photo editing app is essential for those who seek an advanced editing software to tune their photos. The app enables you to snap a new photo to edit or select an images already on your phone before enhancing it with the app's gesture-based editing interface. The app also offers an incredible level of control over its effects and filters.
Visual Supply Co., that is known widely as VSCO, is an option for one looking for a simpler editing app that produce beautiful pictures. With its simple navigation system, the app dramatically simulates the effects of different kinds of film in the photos. If the premise of Instagram filters is to turn your mobile photos to look good, VSCO is the app that aims to make them look real.
Once the editing process is done, it is important to have the photos stored in a safe space. Google Photos is the perfect app that answers that need. The app provides storage as well as a photo management app. Google Photos will save space on your device with its cloud storage service. The photo management feature will also help to organize, search and share the photos. Photogrid is also a handy app that provides the option to make worth-sharing photo collages in high-resolution.
ILLUSTRATION
The option to sketch on the screen of a smartphone and tablet became a popular trend in the digital age with the existence of the stylus technology. It is easy to use and allows people to express their creativity with a doodle or more serious digital art. We can find a lot of artists explore the use of their gadget to do their works, with names like Motulz with his urban sketches, Azer with his satire digital comic and Ernachai with her heartfelt doodles. Here is our selection of sketching app that will help the artist in you draw and express yourselves.
For starters, Paperless is an app that that allows you to sketch color and add annotation texts. This app works well as an app to draw doodle as well as a way to draw the draft for future projects. Paperless comes with a feature of sketching and painting with watercolors, feather, pencil, and brushes.
SketchBook Express is a sketching app with an excellent user interface. Skecthbook will help you do simple sketches to complex works that involve layers and intricate brushes. Its sophisticated brushes and 4 different drawing modes is a great catch for a professional-grade app, and it is free.
With its intuitive navigation, high-performance features and functionality, Artflow is the app for professionals. The app will transform your smartphone/tablet into a canvas with the simplicity of the digital technology. Furthermore, this app allows you to save your works in various file extension such as .png, .jpeg and .psd, so that it will easier to import your work into Photoshop without losing the layers. Another special point from this app is that Artflow specially built to work with special styluses (including Samsung GALAXY Tab A with S Pen).
VIDEO
Just like photography, the existence of the digital camera in handheld gadgets also sparked video making on the go. With the rise of video-based social media like Instagram videos, Vine to Youtube, the field of video making is attracting new attention from a lot of people. There are new video bloggers (or vloggers for short) that go viral every day. Tbputera's Vine and Instagram videos are one example of how video editing could set a new craze in the digital media. These are the apps that could make vloggers, home movie-makers, and video enthusiasts have a lot of fun and get professional video results.
The first one is Video Maker Pro. This is a portable movie studio app that can create professional looking videos in minutes. It has a simple, yet intuitive user interface and fetching icon pack that helps in creating custom videos, with basic effects, and edit them in a drag and drop navigation. Video Maker Pro is also equipped with an option to edit in separate audio tracks, making it one of the most usable products in stores today.
To play around with recorded videos, Lapse It and Fotodanz are two notable apps to download. With Lapse It, people can capture high-quality time lapse videos. Lapse It helps you to create time lapses with a cinematic look, quality, and feel. With its built-in post-capture options, Lapse It enables you to create a unique handheld time-lapse videos. With the trend of GIF videos, Fotodanz is a great way to explore the fun world of animated photographs (cinemagraphs). This app is super easy, and it also makes great looking photos that truly dance.
To begin the action with these visual journal activities, Samsung GALAXY Tab A with S-Pen is a great gadget to start with. Running the latest version of Android Lollipop 5.0 as its operating system, the Samsung GALAXY Tab A with S-Pen will assure the ability to install and run all the apps in the store. Its multi-window function is convenient – the tab can handle two running apps at once so it won't keep you from an unnecessary app to app navigation in the middle of work. This feature is designed to run without a hitch with its 1.2 GHz quad-core Qualcomm Snapdragon CPU, 1.5GB of RAM, and 16GB of internal storage, with a microSD card slot that's expandable up to 128GB. The full mouse-like functionality of the S-Pen is also an essential feature in this Samsung Tab A to help you in visual journal activities.
Whether you would like to express yourself through photography, illustrations, or video, the always-improving technology can accommodate your ideas, helping you achieve images that capture your imagination. Creating pictures is a fun art form, so think of yourself as the artist and your social media as the gallery. The Samsung GALAXY Tab A with S-Pen is your palette and canvas to express your ideas. We hope you enjoy your creativity, and never hesitate to begin the Action!