An Invitation to See The Elemental Version of Ourself
A review of S.E.A. Focus 2023: a world, anew.
Words by Muhammad Hilmi
In partnership with S.E.A. Focus
Photo: S.E.A. Focus & M. Hilmi
It is quite intriguing to forecast what kind of art will foster under the grey and sterile landscape of Singapore. Especially when we are looking at it as Indonesians where chaos is an integral part of our daily lives, and we have to see rays of bright colours clashing everywhere we look. And it becomes even more puzzling to do when the world we know changed after the pandemic. Does the art that comes from one of the most modern cities in Southeast Asia present itself as a longing feeling, or does it materialise as an apathetic emotion? And how does the pandemic distort it?
Sadly, our trip to Singapore couldn't find a definite answer to that question. Instead, we are coming home with a head full of wringers. But does it mean that our Singapore trip is a waste of time? Quite the opposite.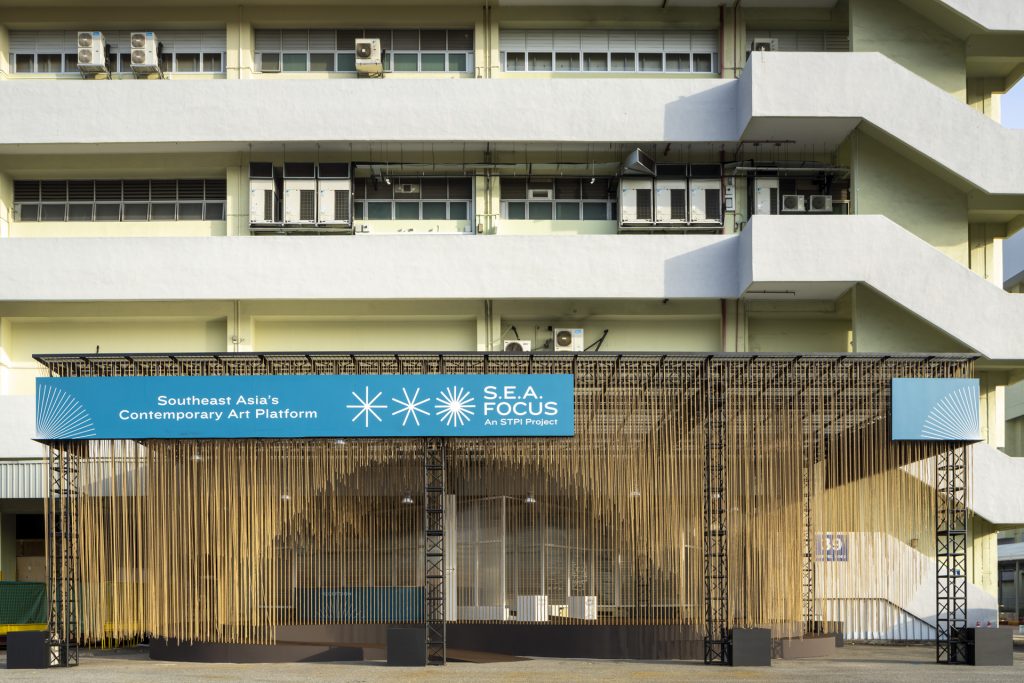 In the era where you can find answers just a Google away, discovering the right question has become a thing to celebrate. And S.E.A. Focus provides you with just that. As an event commissioned by the National Arts Council of Singapore, S.E.A. Focus presents itself as a platform for Southeast Asian artists to showcase and provoke dialogues surrounding the art landscape while also functioning as an art market – providing a 360 function for it to foster.
This year, S.E.A. Focus reaches its fifth instalment and they celebrate it with a really appealing theme, "a world, anew". Though it offers a positive mindset on seeing the world after the pandemic, it takes us beyond the simplistic paradox of the future (dystopian/utopian), rather, the event took us way back into the origin of ourselves. It reminds us to understand ourselves first before deciding the shape of the world to come. The result is an exhibition filled with some of the most personal and emotional art pieces that have ever come from participating artists. 
Held in the newly appointed art district of Tanjong Pagar Distripark (currently performs as Singapore Art Museum as the original building is under renovation), this venue offers a bittersweet nostalgia for the ones that missed the heyday of Gudang Sarinah. As a historic port of Singapore, Tanjong Pagar offers a raw and rough canvas for the exhibition – a perfect foundation for an event that invites its audience to see intimate art pieces that come from all around the region.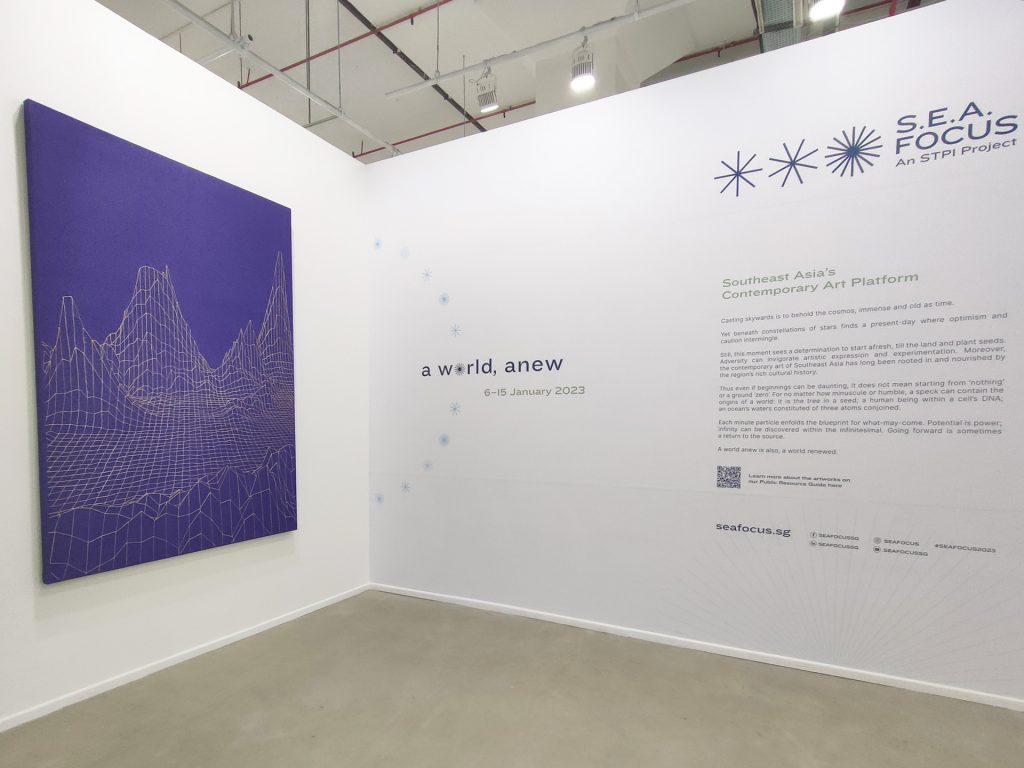 Inside the venue, we are greeted with profound pieces in various shapes and colors. All respond well to the theme by how every art piece offers a deep cut into the person that made them. Take Jumaadi for example, he created a series of artworks that depict his relationship with everything around him, from his connection with his lineage, nature, as well as his relationship with his wife and his future death. This privy view became even more poignant with his delicate artmaking approach: he painted these stories on traditionally processed water buffalo hide – the same material as wayang kulit puppet (which has become a rare practice itself in the modern era of wayang culture). 
The other exciting translation of the theme came from Aliansyah Caniago. In his piece that is called "Barus Expedition #1: Kew Garden Specimens", Aliansyah invites us on a journey of self-discovery through 100 pieces of watercolor painting of camphor leaves – one of the main products of North Sumatra, a place where Aliansyah grew up. The journey of self-discovering and root tracing doesn't end there. Once we are absorbed with the gentle watercolour brushes and its immersive pieces, Aliansyah plants an eloquent question into our heads, now that the camphor tree (once a staple item of the city) has become hard to find in North Sumatra (just like every tradition that fades into a new one), where does his origin linger? Isn't this an existential question that we all need to address?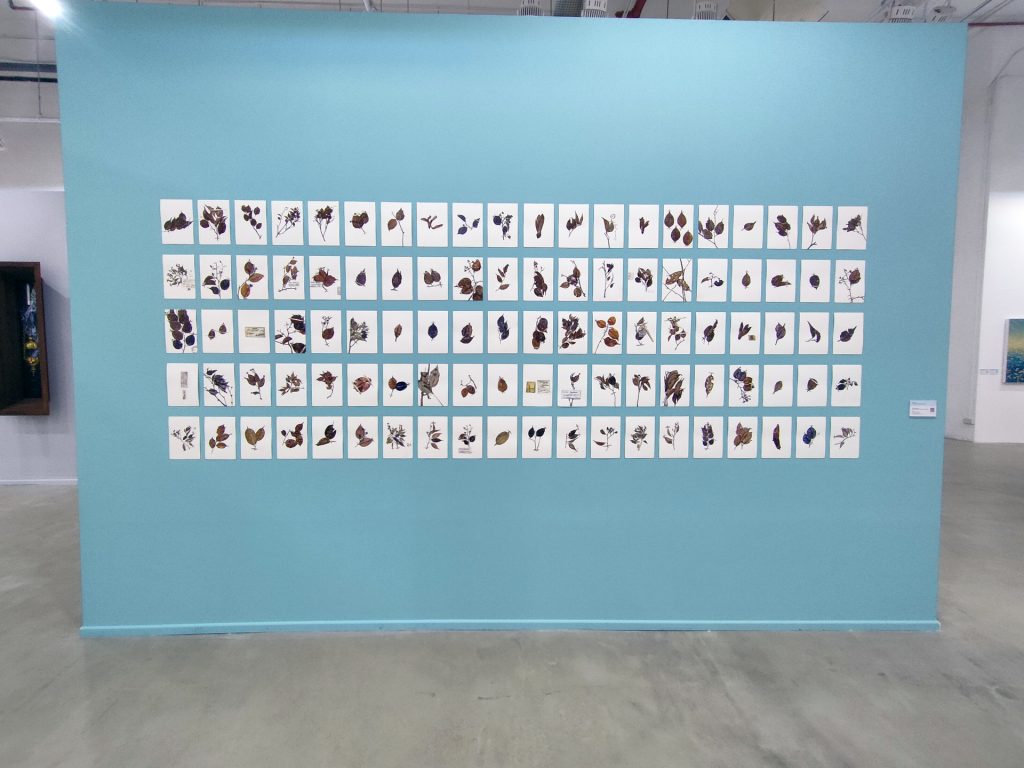 With this kind of approach, each artwork presented on this year's S.E.A. Focus has peculiar characteristics, since every artist tells their own journey and self-discovery unique to one another. But there is one thing that the showcase consistently presents: by being candid, personal, and showing their vulnerabilities, this event successfully invites all the artists and the attendees to look into the core of themselves. Are we ready to see the elemental view of ourselves? And if you are in fact ready for that, how do you find your life purpose if, at the beginning of time, we are all made of the same material with slight variations of DNA moulded into our atomic parts? 
Ok, enough with the experiential questions. What about the relevance of these interpersonal approaches to art-making in the era of a socially progressive society? Where everything has to embody social issues and be politically aware to be relevant? Joyce Toh, the curator of S.E.A. Focus 2023 is ready with an answer, "I don't think that to be personal and being socially progressive are two different things. In fact, being personal can also provoke progressive thoughts about social conditions." It's hard to not agree with her when we can see a lot of political issues becoming a prominent fixture in the exhibition. On one corner, we can see an artist questioning the impact of colonialism in his worldview, while on the other side, we see an artist sharing how a corrupt government made him worried about the future generation. 
With how we have to get up and get ourselves ready to face the ever-changing future, S.E.A. Focus 2023 plays an essential role in making us remember the origin of ourselves before getting prepared to deal with it and to shape it into a new world (hopefully a better one). 
—
S.E.A. Focus 2023
Tanjong Pagar Distripark,
Singapore
6-15 January 2023
https://seafocus.sg/