"Call Me By Your Name" Kembali Jadi Referensi di Lagu Baru Tyler, the Creator
Kecintaan Tyler terhadap film "Call Me By Your Name" belum berhenti.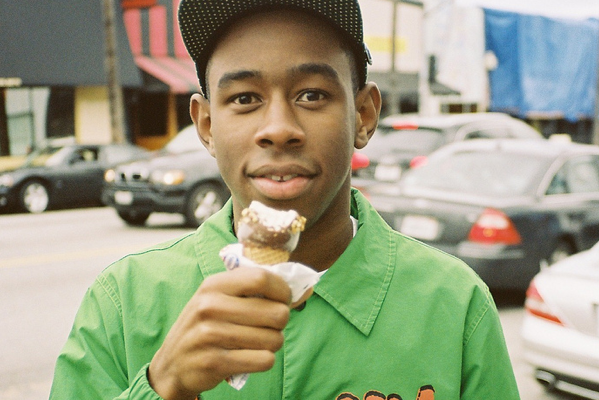 Teks: Emma Primastiwi
Foto: The Super Slice
Tyler, the Creator kembali dengan rilis lagu terbarunya "Gelato" sebagai remix lagu Jacquees, "No Validation". Namun, berbeda dengan rilis kumpulan musik sebelumnya, di lagu ini Tyler mengekspresikan pikirannya secara tulen, bahkan mereferensikan karakter utama film "Call Me by Your Name" di lagu ini dengan lirik "You got me on tippy toe / So who's Oliv? Who Elio?"
Dari lirik tersebut, Tyler secara halus menganginkan keberaniannya dalam mengeksplorasi diri, sehubungan dengan kehidupan pribadinya yang sangat privat. Tapi, walau Tyler memilih untuk tidak menyebarluaskan kehidupan pribadinya lewat media, ia mengundang para penggemarnya untuk mengintip isi kehidupannya melalui lirik musiknya.
Hal yang menarik sehubung film tersebut, Tyler juga sudah pernah mencantumkan referensi dari film yang sama, saat ia membicarakan aktor utama Timothée Chalamet di lagu "OKRA" dalam lirik "Tell Tim Chalamet to come get at me / Skin glowing clear of acne diamonds see through so holographic" yang secara keseluruhan, cukup menceritakan efek film tersebut dalam kehidupan pribadinya.
Jika bicara tentang pendekatan Tyler, terlihat jelas bahwa lagu ini adalah lagu dengan lirik dan aransemennya paling lirih dibanding kreasi lain keluaran awal tahun ini. Keistimewaannya bisa terlihat lewat perbedaan eksekusi tema yang disampaikan, serta penyampaian lagu yang seakan menunjukkan Tyler dalam mencari validasi – berlawanan dengan tema utama kreasi lainnya yang mengatakan dengan tegas bahwa dirinya lah yang terbaik.
Dengan pola rilis baru yang cukup random, kiranya kita bisa menanti musik baru dari Tyler dalam beberapa bulan mendatang.