Gucci Menampilkan Karya Kolaborasi dengan adidas di Milan Fashion Week
Creative director Alessandro Michele kembali dengan kolaborasi menarik untuk Gucci.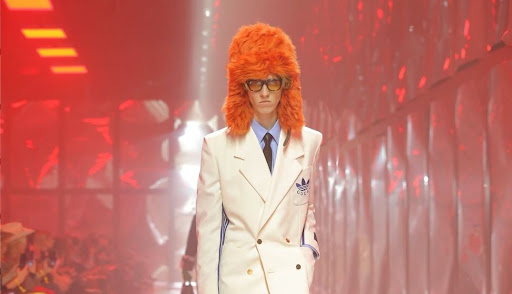 Teks: Nancy Rumagit
Foto: adidas x Gucci
Berawal dari sebuah rumor pada akhir tahun kemarin, kini para pengagum dan pelanggan setia Gucci dan adidas akhirnya bisa menikmati hasil kolaborasi Alessandro Michele dengan brand sportswear tersebut.
Pada presentasi Gucci di Milan Fashion week tahun ini, dengan ruangan yang dipenuhi oleh figur-figur ternama seperti Rihanna dan A$AP Rocky, Gucci memberikan berbagai penampilan khas mereka dengan berbagai cap-cap karakteristik kreatif adidas.
Walaupun kolaborasi ini belum diluncurkan secara umum, nampaknya Alessandro Michele lagi-lagi telah berhasil menciptakan karya yang kini telah menggaet pengagum setia adidas, dengan masih mengangkat ciri khas tradisional Gucci. Sejauh ini ia telah memimpin kolaborasi 'Xbox by Gucci' dengan Xbox, The North Face x Gucci dengan The North Face, serta Doraemon x Gucci untuk Lunar New Year tahun lalu.
Gucci x Adidas just got announced, and I'm really into it.

Collaborations are tired, but this one really makes sense that it has me asking, why hasn't this happened sooner? Adidas stripe branding fits perfectly with Gucci's image, and I'm excited to see the collection in full. pic.twitter.com/XyNrKNu6RE

— Streetwear Night Live (@StreetNightLive) February 25, 2022
Kolaborasi ini pun merupakan kolaborasi nomor sekian untuk adidas dengan brand-brand ternama. Sejauh ini, mereka telah meluncurkan kolaborasi dengan figur-figur seperti Raf Simons, Rick Owens, dan Yohji Yamamoto.