Terbaru dari Goth dan Grunge Revival: Dystopia-core
Film-film seperti Dune dan The Matrix Resurrections telah menginspirasi perkembangan Dystopia-core fashion.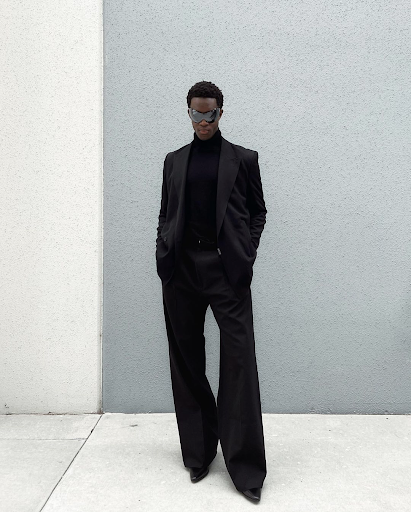 Teks: Nancy Rumagit
Foto: Wisdom Kaye di Instagram (@wisdm)
Dystopia-core merupakan tren terbaru di fashion yang mengambil inspirasi dari film-film seperti Dune dan The Matrix Resurrections. Gaya berpakaian ini bisa dibilang adalah lawan dari dopamine dressing, yang menurut British Vogue dapat membuat tangy orange dan lemon yellow menjadi the new black. Dystopia-core lebih memberikan konsep bahwa black is the new black.
Mantel kulit panjang, celana kargo, dan warna-warna gelap yang memberikan tema ominous adalah beberapa signature piece yang membuat Dystopia-core. Beberapa luxury brand seperti Balenciaga, Khaite, dan A-Cold-Wall* telah bereksperimen dengan konsep Dystopia-core ini, yang semakin berkembang di dunia fashion mainstream.
"I think that the concept of mortality has informed a sense of shape," ujar Samuel Ross  kepada i-D mengenai koleksi AW22 A-Cold-Wall*. "I guess I've allowed my subconscious to really run wild, and if that's what people are seeing, then that is, to a degree, what it is! That said, that hasn't necessarily been my specific intention, but an awareness of mortality and the finality of life has enabled a freedom to really double down on creative expression. We don't have a lot of time, and when you know that, you just have to make sure that each expression, whether it's left brain or right brain, fills the room."
Foto: A-Cold-Wall* AW22
TikTok pun telah melakukan eksperimen sosial mereka sendiri dengan Dystopia-core. Namun dalam aplikasi sosial media tersebut, tren ini disebut Avant Apocalypse dan telah memiliki 265,000 views. Tren ini bisa dilakukan dengan mengenakan sejumlah pakaian-pakaian tipis di atas satu sama lain untuk menciptakan, "an angular, futuristic look," menurut The Guardian, mengambil inspirasi dari beberapa desainer seperti Nensi Dojaka dan Thierry Mugler.
Foto: Nensi Dojaka AW20
Foto: Thierry Mugler SS21
Beberapa tokoh di dunia fashion yang dapat dilihat bermain dengan Dystopia-core adalah  Kanye West dan Wisdom Kaye, yang dikenal dari kreasi-kreasinya menciptakan pakaian untuk karakter-karakter fiksi dari Marvel dan sejumlah Anime seperti Bleach dan Jujutsu Kaisen.