Ana de Armas Mewujudkan Beberapa Penampilan Ikonik Marilyn Monroe di Trailer Film "Blonde" 
Trailer pertama telah diluncurkan untuk "Blonde", film biografi kontroversial Netflix tentang Marilyn Monroe.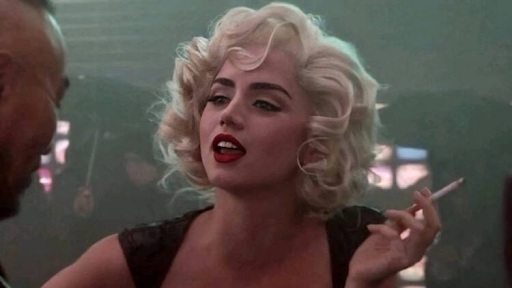 Teks: Jesslyn Sukamto
Foto: Netflix
Ada banyak film yang membuat penonton bersemangat untuk menantikan sederet rlisan di paruh kedua tahun 2022. Tentu saja, ada film superhero seperti "Thor: Love and Thunder" dan "Black Adam". Namun, bagi sebagian orang, film yang paling dinanti tahun ini bukanlah proyek superhero atau sesuatu yang berhubungan dengan alien, melainkan tentang salah satu wanita paling ikonik yang pernah menghiasi Hollywood, Marilyn Monroe.
Film "Blonde," yang dibintangi Ana de Armas sebagai Monroe, mengikuti kehidupan aktris terkenal dunia saat ia berasal dari awal yang sederhana untuk mengambil alih budaya pop. Film ini sudah meraih perhatian atas rating NC-17-nya, rating yang diberikan untuk film dengan konten yang sangat grafis. 
Disutradarai oleh Andrew Dominik yang terkenal lewat film "The Assassination of Jesse James by the Coward Robert Ford", film ini dibintangi oleh Ana de Armas sebagai sang ikon dan mengadaptasi kisah sebuah novel dengan judul yang sama karya finalis Pulitzer Prize, Joyce Carol Oates.
Netflix meningkatkan promosi untuk "Blonde" lebih awal. Film ini tidak dijadwalkan untuk keluar di platform streaming tersebut hingga 23 September mendatang, tetapi kita sudah melihat trailernya serta banyak foto produksi yang menawarkan sekilas transformasi Ana de Armas menjadi ikon. Banyak yang memuji performa Ana de Armas sangatlah mirip dengan Monroe pada wujud aslinya, banyak juga yang kurang setuju terhadap persamaan Monroe dengan Ana de Armas dan menyatakan bahwa tidak ada aktris manapun yang bakal bisa menggantikan Monroe.
Ana de Armas Marilyn Monroe
in BLONDE in the 1950's pic.twitter.com/GPKudlN0rT

— Diego Andaluz (@thediegoandaluz) June 16, 2022
Dominik menyebut film "Blonde" sebagai kisah "bagaimana trauma masa kecil membentuk orang dewasa yang terbelah antara persona publik dan pribadi". Dominik telah menekankan bahwa seperti novel Oates, film ini adalah karya fiksi tetapi "mempertanyakan mengapa dia bunuh diri, jadi tentu saja itu akan mengganggu" sementara juga membandingkannya dengan "Citizen Kane" dan "Raging Bull".
Hollywood was her dream, but fame became her nightmare.

Ana de Armas is Marilyn Monroe in BLONDE, on Netflix September 23. pic.twitter.com/lOnCgXsDi9

— NetflixFilm (@NetflixFilm) June 16, 2022
"Blonde" dikabarkan bakal rilis di Netflix pada 23 September mendatang.