David Fincher Menggunakan "Citizen Kane" untuk Membicarakan Keadaan Hollywood Kini
Melalui protagonis, David FIncher menunjukkan kekejaman Hollywood dan kapitalisme yang mementingkan kerja dibanding kesehatan.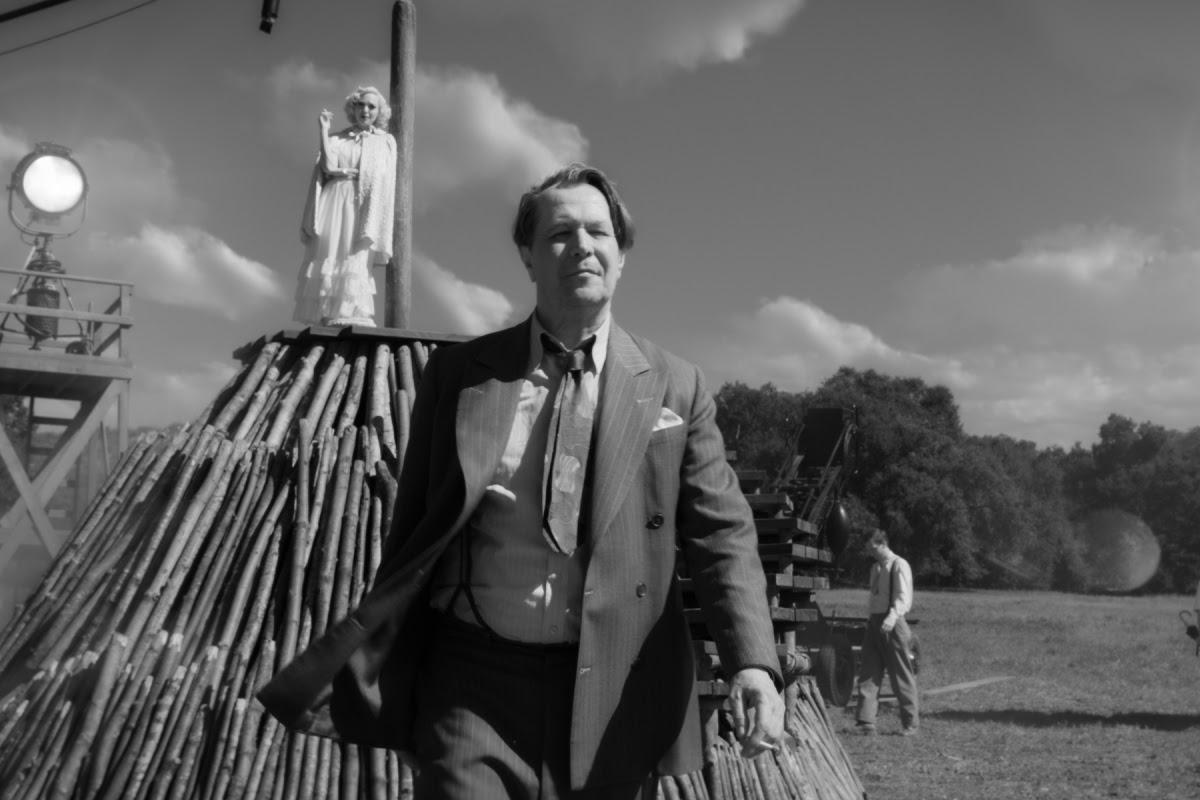 Teks: Niskala H. Utami
Foto: Netflix
Dalam sejarah film Amerika, "Citizen Kane" merupakan salah film terbaik yang wajib ditonton. Pertama keluar di tahun 1941, karya Orson Welles ini mengkritik peran kapitalisme di era Depresi Besar yang terjadi di Amerika pada tahun 30-an. Sebulan yang lalu, diumumkan bahwa David Fincher akan menyutradarai semacam biopik tentang proses produksi "Citizen Kane" itu sendiri. Berjudul "Mank", film ini berlaku sebagai sebuah comeback untuk David Fincher ke dunia film setelah hiatus beberapa tahun. 
Dibintangi oleh Gary Oldman, "Mank" bercerita tentang seorang alkoholik bernama Herman J Mankiewicz, dipanggil Mank, yang mesti menyelesaikan naskah "Citizen Kane" tetapi selalu terhambat berkat kecanduannya. Sedangkan karakternya Lily Collins, Sam Troughton, dan Monika Grossman, mencoba menyadarkan Mank agar bisa menyelesaikan naskah. 
Gagasan yang ingin disampaikan oleh "Mank" tidak ditemukan dalam bagaimana naskah "Citizen Kane" dibuat, tetapi bagaimana Mank mengalami adiksi dan beban kapitalisme yang mementingkan produk dibanding kesehatan. Orang-orang terdekat Mank sepertinya hanya ingin Mank pulih demi menyelesaikan naskahnya. Bahkan Ketika Mank menemukan seseorang yang bisa mendengarkan, ternyata orang itu hanya mengejar kekuasaan dan menggunakan Mank untuk kebutuhan egois.  
Dari mata Mank, terlihat bagaimana keras industri Hollywood pada masa itu. Walaupun dijuluki sebagai "The Golden Age of Hollywood", masa itu merupakan era yang sangat berat bagi pembuat film. Demi mengejar market dan produksi, banyak sekali bintang film dan pembuat film yang beralih ke alkohol dan narkoba sebagai bentuk pelarian. Walaupun kondisi kerja yang tidak ramah, orang-orang tetap datang ke Hollywood untuk menjadi bintang film. Hal itu terlihat dalam karakter Mank, dengan kecerdasan dan intelektual yang tinggi tetap terjatuh dalam depresi dan adiksi.
Melalui film "Mank", David Fincher mampu membahas bermacam masalah yang masih hadir dalam industri Hollywood sekarang. Dengan sinematografi yang menawan, David Fincher menggambarkan dengan detail bagaimana tokoh pinter ini memisahkan diri dari orang lain. 
Walaupun "Mank" hanya berfokus pada Herman Mankiewicz, pembuatan naskah "Citizen Kane" sudah membawa drama dan konflik sejak filmnya pertama keluar. Beberapa orang, termasuk Orson Welles, mengklaim dirinya sebagai pencipta naskah. Memang konflik tersebut cukup kompleks yang melibatkan banyak faktor dan tidak bisa diceritakan dalam satu film. Seperti karakternya Gary Oldman mengatakan kepada karakter Sam Troughton, "You cannot capture a man's entire life in two hours. All you can hope is to leave an impression of one." 
"Mank" karya David Fincher akan tayang di Netflix pada 4 Desember mendatang.