Joseph Gordon-Levitt, hingga Uma Thurman Membawa Penonton untuk Riding off Uber's Journey dalam "Super Pumped: The Battle for Uber"
Showtimes meluncurkan trailer resmi untuk antologi series mendatang mereka, "Super Pumped: The Battle for Uber," yang menampilkan Joseph Gordon-Levitt, Kyle Chandler, dan Uma Thurman sebagai jajaran pemerannya.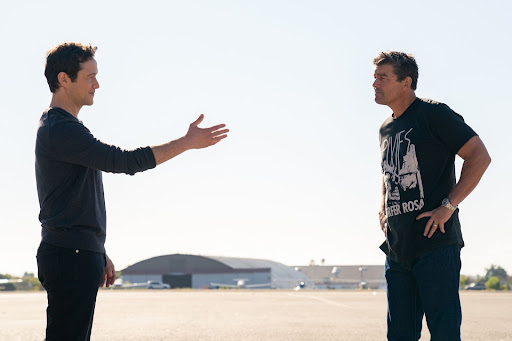 Teks: Hafiza Dina
Foto: Twitter/SHOWTIME
Siapa yang tidak tahu Uber? Meski mungkin, tidak semua masyarakat pernah menggunakan jasa salah satu raksasa transportasi online ini━mengingat perusahaan ini sudah meninggalkan pasar Indonesia dari beberapa tahun lalu, tapi, semua orang pasti pernah mendengar namanya.
Mungkin, banyak masyarakat bertanya-tanya, bagaimana perusahaan yang sangat kenamaan ini pada masanya bisa berada di posisi yang terbilang sulit dan mudah dilupakan, seperti saat ini? Nah, perjalanan Uber dari bawah, ke atas, lalu ke bawah lagi, dapat disaksikan dalam serial antologi terbaru Showtime, "Super Pumped: The Battle for Uber".
Serial ini diangkat dari novel berjudul sama yang ditulis oleh seorang Reporter New York Times, Mike Isaac. Keduanya memiliki alur cerita yang tidak jauh berbeda; sama-sama mendokumentasikan budaya toksik laki-laki di tempat kerja, yang kemudian mengarahkan pada kejatuhan Travis Kalanick, mantan CEO utama dari Uber. 
Kalanick akan diperankan oleh Joseph Gordon-Levitt, bersama dengan Kyle Chandler sebagai Bill Gurley sang venture capitalist, dan Uma Thurman sebagai Arianna Huffington. Penonton dapat menyaksikan serial ini di Showtime mulai dari tanggal 27 Februari mendatang.