Penuh Kejutan: Nominasi Emmy Awards 2022 Resmi Diumumkan
Mulai dari "Inventing Anna", "Reservation Dogs", hingga "Better Call Saul", deretan nominasi Emmy Awards tahun ini nampaknya sedikit menyimpang dari ekspektasi khalayak.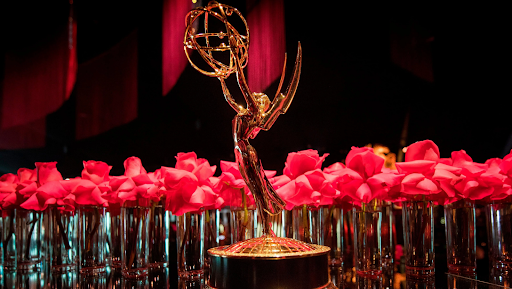 Teks: Setto Lintang
Foto: Mark Ralston/AFP
Para penggemar serial "Better Call Saul" akhirnya bisa bernapas lega. Rhea Seehorn, aktris pemeran tokoh Kim Wexler dalam serial drama-kriminal tersebut tahun ini mendapatkan nominasi di kategori Outstanding Supporting Actress in a Drama. Tidak mengherankan jika antusiasme penggemar "Better Call Saul" terkait dengan nominasi Rhea tersebut cukup membludak. Pasalnya, dalam perhelatan Emmy Awards selama beberapa tahun terakhir, Rhea selalu digadang-gadang untuk masuk ke dalam nominasi—atau memboyong tropi—pagelaran penghargaan program televisi Amerika Serikat tersebut.
Di samping nominasi aktris kelahiran Virginia tersebut, para penggemar serial televisi juga menyambut baik daftar nominasi Emmy Awards tahun ini. Sebut saja seperti "Barry", "Dopesick", "The Dropout", dan "Squid Game"—ketiganya turut masuk ke dalam barisan nominasi tahun ini.
Hard to express how thrilled and please I am that Rhea has been nominated. It's the capper on a great morning. Thanks everyone for the good vibes this whole year https://t.co/IL4Unw7AMM

— Mr. Bob Odenkirk (@mrbobodenkirk) July 12, 2022
Namun, jika ditilik lebih teliti lagi, Emmy Awards 2022 ternyata membawa kejutan—bahkan hingga ke taraf yang mengecewakan—bagi para penggemar serial tevelisi. Seperti serial "Station Eleven" yang dinominasikan dalam kategori komedi, dan absennya sejumlah serial yang ditunggu-tunggu untuk menyabet piala Emmy tahun ini; mulai dari "This Is Us", "Yellowstone", sampai serial "Reservation Dogs". Ketiga nomor andalan penggemar tersebut bahkan tidak masuk ke dalam deretan nominasi Emmy Awards 2022. Belum lagi jika mengingat fakta bahwa "Winning Time" hanya dinominasikan dalam kategori sinematografi.
The #Emmy nominees for Writing for a Limited or Anthology Series or Movie are:@DannyStrong (@DopesickOnHulu)
Elizabeth Meriwether (@TheDropoutHulu)
Sarah Burgess (@ACSFX)@SmithMetzler (#MAID)@Patrickerville (@Station11onmax)
Mike White (#TheWhiteLotus)#EmmyNoms #Emmys2022 pic.twitter.com/fNdLrFdr2l

— Television Academy (@TelevisionAcad) July 12, 2022
Tidak sampai di situ, sejumlah aktor dan aktris kelas kakap Hollywood pun tidak terlihat dalam daftar nominasi. Seperti Anne Hathaway dan Jared Leto dalam mini-serial "WeCrashed"; Nicole Kidman dalam serial "Roar"; Julia Roberts dan Sean Penn untuk akting mereka dalam "Gaslit"; hingga peran Samuel L Jackson dalam "The Last Days of Ptolemy Grey".
Sambutan baik yang kemudian berubah menjadi kekecewaan penggemar serial televisi agaknya berpotensi bermuara menjadi kemarahan ketika melihat serial "Inventing Anna" yang membabat tiga kategori nominasi dalam Emmy Awards tahun ini. Selama penayangannya, mini-serial tersebut terlihat tidak mendapat sambutan baik dari pada penonton, dengan rating 6.8 dari skala 10 di situs IMDb, dan skor di angka 35% di situs Rotten Tomatoes.