Rating Medioker Belum Cukup, Warganet Temukan Hal Lain untuk Menggunjingkan Don't Look Up
Selain mendapatkan rating standar alias medioker dari para kritikus, bahkan penonton, Don't Look Up kembali menjadi perbincangan sebab adanya adegan yang secara jelas bocor dalam film.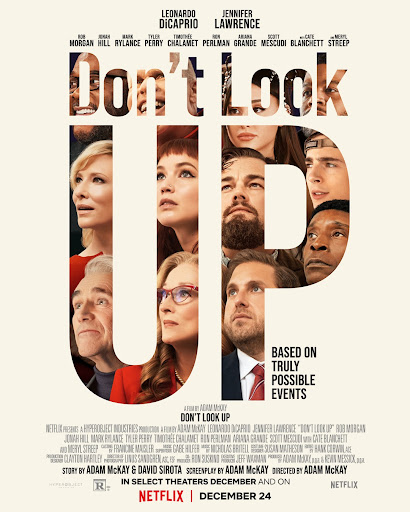 Teks: Hafiza Dina
Foto: Twitter Don't Look Up Film
Don't Look Up tidak hanya dinilai buruk oleh para kritikus, tapi ternyata, terdapat kesalahan editing yang membuat seluruh kru produksi film garapan Adam McKay ini ikut terlihat. Bagian ini pertama kali disadari━dan dinaikkan ke publik━oleh Ben Köhler. Melalui akun Tiktoknya, Köhler menyebutkan bahwa adegan ini dapat ditemukan pada waktu 01:28:10. Seluruh kru film tampak berdiri, bahkan sampai tiga atau empat frame, dan tidak dihilangkan dari film sama sekali.
Sang Sutradara, Adam McKay, menyampaikan melalui Twitternya bahwa adegan tersebut memang secara sengaja dimasukkan, sebagai pengingat atas proses syuting yang McKay sebut strange.
Good eye! We left that blip of the crew in on purpose to commemorate the strange filming experience. #DontLookUp https://t.co/7W4EpkHm3V

— Adam McKay (@GhostPanther) December 29, 2021
Tertarik untuk melihat "kesalahan" ini? Atau, tetap tergugah untuk menonton keseluruhan film meski mendapatkan rating medioker? Don't Look Up tersedia di Netflix.