Trailer untuk Season Ketiga "The Umbrella Academy" Dibuka dengan Konflik dan Ragam Karakter Baru
Adaptasi seri TV "The Umbrella Academy" kini kembali untuk musim ketiganya, dengan membawa kiamat lagi untuk ketiga kalinya.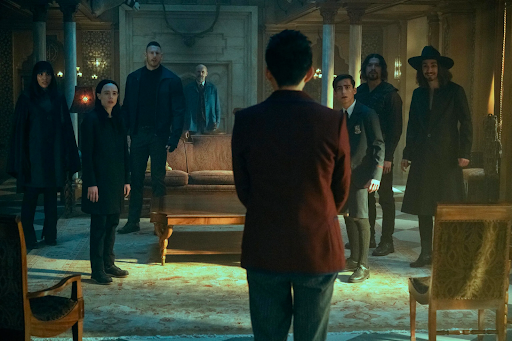 Teks: Jesslyn Sukamto
Foto: Netflix
Setelah penantian yang lama, drama superhero hit Netflix "The Umbrella Academy" kini kembali dengan trailer baru untuk musim ketiganya.
Family Meeting. The World is Ending Again.

Season 3 of The Umbrella Academy premieres June 22 pic.twitter.com/LfLLljM8G8

— Netflix (@netflix) May 19, 2022
Musim ketiga dari "The Umbrella Academy," yang akan streaming pada 22 Juni mendatang, dimulai setelah grup tersebut menghentikan kiamat pada tahun 1963. Anggota "The Umbrella Academy" sempat kembali ke masa 'sekarang' tetapi segera menyadari bahwa perpecahan garis waktu memiliki konsekuensi yang drastis. Menurut sinopsis musim resmi, Sparrow Academy akan bentrok dengan The Umbrella Academy dalam pertarungan yang sengit.
Trailer berdurasi dua menit ini mengungkapkan bahwa kiamat akan datang lagi, dan "The Umbrella Academy" sekali lagi hanya memiliki beberapa hari untuk menghentikannya, meskipun kali ini harus bersaing dengan Sparrow Academy dalam pertarungan garis waktu lainnya. Trailer ini juga menunjukkan beberapa karakter baru, yang muncul setelah anggota "The Umbrella Academy" kembali ke masa sekarang.
"Menelusuri tantangan, kerugian, dan kejutan mereka sendiri — dan berurusan dengan sebuah entitas destruktif tak dikenal yang mendatangkan malapetaka dalam Semesta," dikutip dari deskripsi Netflix. "Akankah mereka menemukan jalan kembali ke kehidupan pra-malapetaka mereka? Atau apakah dunia baru ini akan mengungkapkan lebih dari sekadar cegukan dalam garis waktu?"
Netflix mengkonfirmasi musim ketiganya on its way dari November lalu dan kemudian mengungkapkan tanggal rilisnya pada 22 Juni mendatang. "The Umbrella Academy" terakhir terlihat di katalog Netflix dengan musim keduanya pada tahun 2019 silam.
Tonton trailer musim ketiganya dibawah ini.