Instagram Mungkin Akan Mengeluarkan Fitur 'Edit Grid' dan Feed Kronologis
Kini pengguna Instagram dapat menyusun urutan post di profil mereka, dan chronological feed pun mungkin akan kembali.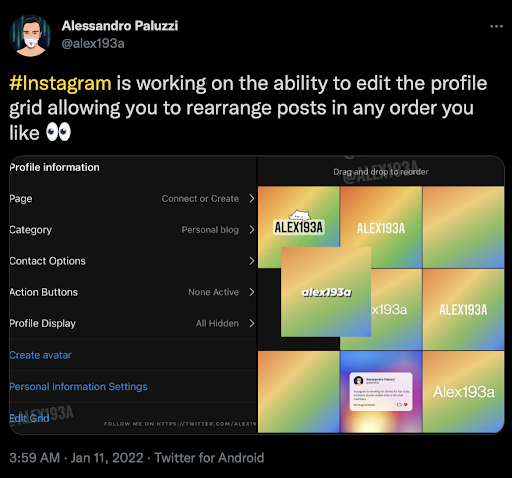 Teks: Nancy Rumagit
Foto: Alessandro Paluzzi di Twitter (@alex193a)
Menurut leaker Alessandro Paluzzi, sebentar lagi Instagram akan mengeluarkan fitur 'Edit Grid,' di mana para pengguna dapat menyusun urutan post di profil mereka sesuai dengan keinginan masing-masing. Paluzzi mengunggah dua foto screenshot ke profil Twitter-nya (@alex193a) untuk menunjukan preview cara fitur tersebut akan bekerja.
Walaupun fitur 'Edit Grid' ini belum dikonfirmasi oleh Instagram, Adam Mosseri telah mengumumkan fitur lain yang secara resmi akan diluncurkan oleh mereka, yaitu fitur di mana akan ada tiga opsi feed berbeda untuk para pengguna, di antaranya adalah 'Home', 'Favorites', dan 'Following.'
Mosseri menjelaskan bahwa 'Home' adalah opsi yang kini tengah digunakan oleh para pengguna seperti biasa. 'Home' akan memperlihatkan tiap konten di sesuai dengan relevansi dengan masing-masing pengguna.
'Favorite,' ujar Mosseri, adalah, "A list of accounts that you want to make sure you don't miss things from." 'Favorite' akan memberikan para pengguna opsi untuk menambahkan akun-akun yang mereka inginkan, agar mereka tidak melewati unggahan dari akun-akun tersebut.
'Following' tampaknya adalah opsi pada fitur ini yang telah ditunggu-tunggu oleh para pengguna Instagram. 'Following' akan menunjukan secara kronologis semua unggahan-unggahan di Instagram dari semua akun yang mereka ikuti.